Stairways to Heaven


Perspectives No. 108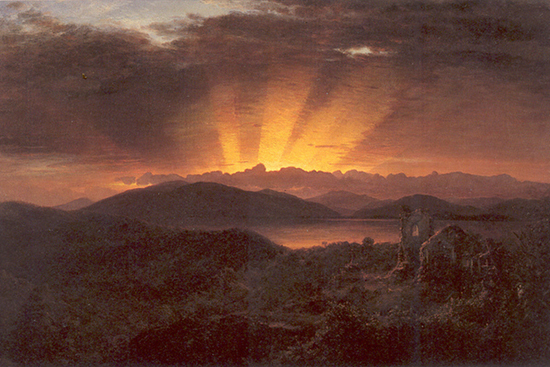 The Afterglow Frederic Edwin Church


"Of the original phenomena, light is the most enthralling." - Leonardo da Vinci
Crepuscular rays are those wonderful beams of light we see at the beginning or end of the day which appear to radiate from the single point of the sun and stream through gaps in the clouds or between other objects. Their name comes from the Latin word "crepusculum", meaning twilight, and refers to their most common occurrences during the hours around dawn and dusk. They have long been sources of inspiration to artists, poets and movie-makers, for they seem to inspire a feeling of hope and wonderment. It is easy to understand why these dramatic shafts of light are also known as Buddha Rays, Stairways to Heaven and God Fingers.

Because crepuscular rays pass through the atmosphere at dawn and dusk, their path takes them through up to forty times as much air as rays from the overhead midday sun pass through. Particles in the air scatter the light from short wavelengths, such as blue and green, more strongly than that from longer wavelengths, such as yellow and red causing crepuscular rays to usually appear red and yellow.

They can be surprisingly difficult to paint. Their edges are soft, and become more softened as they get wider and closer to the ground. They are usually uneven in density and widths. Because they are a very short-lived phenomena, a good photo is very helpful to study their effect. Trying to paint a background and then applying a thin glaze of tinted white over the top looks artificial and pasted on. To create this effect convincingly, each ray and everything it passes over or through must be painstakingly painted individually, with the lighted tones of each object in its path varying in chroma and value along the entire length of the sun beam. When painted masterfully, the effect is one of light emanating from the canvas itself. Painting the effect of crepuscular rays, or light beams coming through a mist is a great exercise to practice mixing correct values, colors and edges. It is difficult to get right, but definitely worth a try, and we guarantee that you will learn a good deal from the effort.