Stealing Mona Lisa

Perspectives No. 431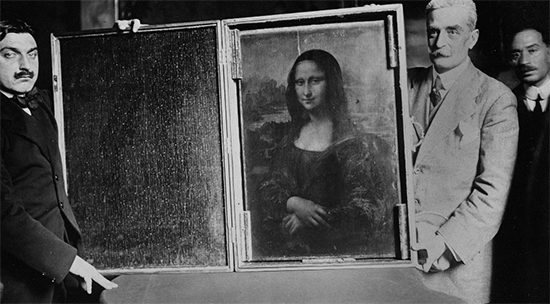 The Return of the Mona Lisa to the Louvre Museum in 1914
(Wikimedia Commons)
Netflix recently released a new 4-part series, This is a Robbery, about the unsolved Gardner Museum heist of thirteen works of art. Thirty years later, the story still fascinates—where are the paintings and why has no one returned them for the ten million dollar reward and guarantee of no prosecution? As the largest art heist in history, the story has received massive amounts of publicity with no substantive result.

Because major works of highly recognizable art are considered to be non-marketable, the reasons for their theft are often hard to discern. The billionaire recluse orchestrating the theft of a favorite painting for his personal collection seems to be a long-shot. Instead, using the stolen art as ransom or as a way to reduce sentencing for other crimes or criminals may be more likely.

Another art heist that is no longer in the headlines, but was equally shocking was the theft of the Mona Lisa in 1911 by Vincenzo Peruggia. The former Louvre worker, wearing the white smock worn by other employees, either spent the night in the museum or entered it with other workers, lifted the painting from the wall where it was secured by four iron pegs, removed the frame and protective case in a nearby stairwell, and departed.

Although Peruggia's motivation is still unclear, he declared that he was bringing the painting back to its homeland of Italy—that it has been stolen by Napoleon. History shows that Leonardo da Vinci gave the painting to the King of France, Francis I, two centuries before the birth of Napoleon. Letters by Peruggia indicate that he felt he was going to make a fortune from his "prize", indicating that he either anticipated selling it or receiving a handsome reward for its return. Regardless, Peruggia was seen as a great patriot in Italy and subsequently served only seven months in jail. The Mona Lisa was returned to the Louvre in January of 1914. Peruggia had kept it hidden in his apartment in Paris and later Florence for two years before contacting a gallery owner in Florence, who, in turn, contacted the director of the Uffizi Gallery. The police were notified and Peruggia was arrested.

Interestingly, the notoriety of the theft and the subsequent celebratory exhibition of the painting in Italy escalated the Mona Lisa's fame far beyond its former renown.
You can see the national FBI list of currently stolen artwork here: FBI National Stolen Art File. Interpol also maintains a Stolen Art Works Database.