Le Pont d'Avignon - A 12" x 16" plein air watercolor

We are always impressed on our visits to Avignon how much there is to see and do in the town and the surrounding area. Avignon is a walled town, with impressive ramparts and a gigantic palace built by Pope Clement when he moved there from Rome in the 14th century. The village is very scenic with lots of subject matter to paint, and when we take our workshop students here, we always arrange some time to visit a winery in the fabled Chateauneuf-du-Pape vineyards nearby. We also love the river scenery, and despite the overcast, could not resist painting the famous bridge of children's song.

My Palette:



Cerulean Blue, Prussian Blue, Violet, Burnt Sienna, Yellow Ochre, Naples Yellow


Lesson of the Masters: "Break it Down into Shapes"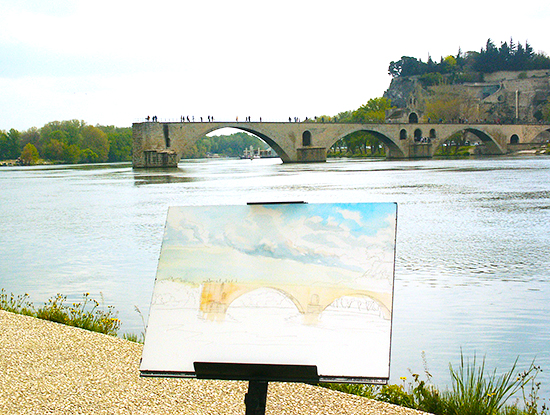 Step 1. Painting architecture requires that we get the proportions and shapes right. In this case those ellipses of the bridge spans are really what make up the charm of the scene. Because we were doing a lot of walking that day, I was using my lightest-weight watercolor gear: an Arches block mounted on my aluminum Anderson easel and my aluminum folding palette.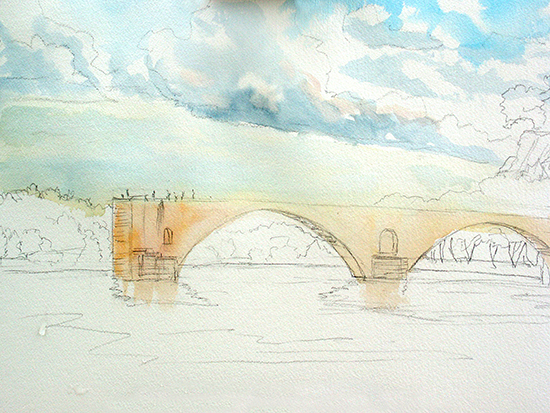 Step 2. This shows my start - I had already applied washes of Cerulean Blue mixed with a little Prussian Blue to the sky with a bit of Naples Yellow for warmth near the horizon, followed by an initial wash of Yellow Ochre to the bridge and the water. I let the washes run together at this point to preserve a misty feel to the scene.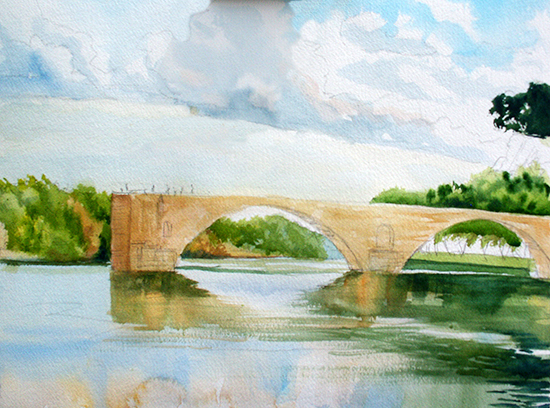 Step 3. Now I'm really flying along, keeping things very wet as I dropped my Cerulean Blues into the water wash, followed quickly by Sap Greens, which I cooled in the shady areas with some Prussian. As the paper dried, I dry-brushed some reflections back onto the water. It is very important when working with washes on this lightweight Arches watercolor block to keep aware of the dampness of the paper. It dries very quickly outdoors. No time to worry about those mistakes at the bottom of the page, either.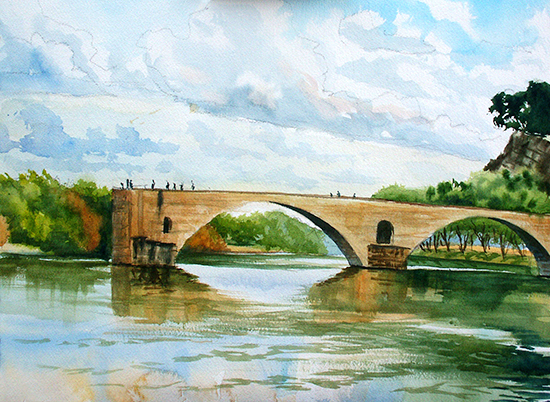 Step 4. Just adding the finishing touches to the bridge, water and background. I decided to strengthen some contrasts and values to make the bridge have more presence in space and create the illusion of water surface/reflections. Once I establish my initial color palette for the picture, I don't introduce more colors. Instead, I unify the piece by using the same colors all over the picture, as in the trees, where I used colors from the bridge for the warm tones, and also in the bridge, which has tones from the water reflected up on to it. Notice how I didn't worry about those color "blooms" at the bottom of the page - they work nicely to suggest clouds in the water.