Summer Greens
Perspectives No. 411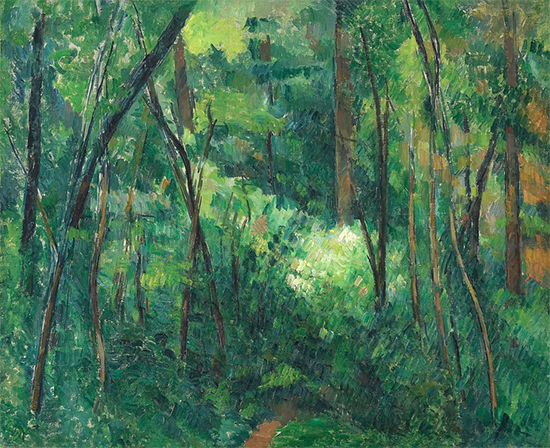 Interior of a Forest 1880-90 Paul Cézanne
We've been mixing a lot of greens for our Impressionism Workshop. Of all the color mixes, greens can be the most troublesome to mix accurately. We're not sure why, but we understand the challenges. Greens vary widely in perceived temperature—cool or warm, with the value measurement to be dealt with on top of that. We use a limited palette of split primaries: a warm and cool of yellow, blue and red, plus white and black.

It is crucial to select the correct primaries, either warm or cool, to mix and match a subject's greens. We use Cadmium Yellow Medium or Cadmium Yellow Light mixed with Ultramarine Blue or Cobalt Blue to make our greens, generally. There is a also an interesting range of greens which can be made from yellow and black. See: Mixing Beautiful Greens from Black.

Since there are 4 possible combinations of primaries in this palette, cool/cool, cool/warm, warm/cool and warm/warm, knowing them by heart can greatly speed one's plein air or studio efforts. To illustrate, we created a set of short color strings from these combinations which show a part of their ranges of temperature and value. From these mixes, one might choose to add white, black, or in the case of Impressionism, complementary mixes to temper the greens into a set of 'colorful grays'. Colorful grays, rather than pure primaries, make up the lion's share of color masses in works of Impressionism, since black was generally eschewed in the impressionist palette.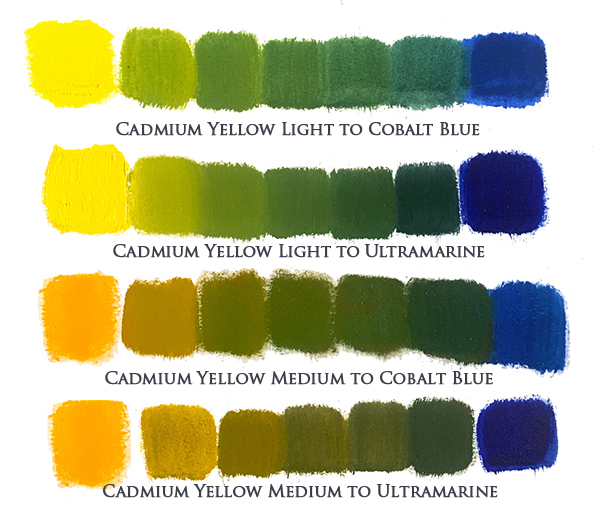 Knowing one's palette mixes well is a huge benefit when analyzing a landscape subject or floral still life. Either may contain a myriad of greens of different temperatures, values and textures. However, as we learned, perception and reality can often be two different things.

We found this out when we conducted an interesting and highly unusual experiment in landscape painting. Some years ago, we were tasked to hide a large brown patch of damaged foliage in a yew hedge—never mind the reasons why—it's a long story! We perceived that the foliage of the shrub was a cool-ish green, especially when compared with the warm green lawn next to it. We bought all the different cool green spray paint colors we could find, certain that we could mix and match. We were completely surprised when none of them came even close! The foliage was, upon further comparison, a warm yellow green hue, which now seemed obvious. We did finally get the color right, and our paint job made the damage disappear at a little distance. We learned a valuable lesson that day long ago about the importance of careful observation and comparison which still serves us well in our palettes today.