The Rise of the Synthetic Weasel

Perspectives No. 299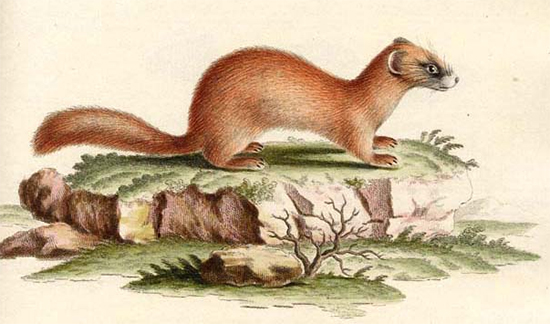 Mustela sibirica Johann Christian Daniel von Schreber
For discerning watercolor painters, a hand-made pure Kolinsky sable brush has always been the ultimate tool with which to create. These brushes are not made from sable hair at all—rather, they are made from only the tail hair of the winter coat of the male Siberian Kolinsky (Mustela Sibirica), a species of the weasel family. Because the animals are isolated to Siberia and northeast China, and because they do not do well in captivity, the cost of their hair has always been very high, usually about three times the cost of gold, or approximately $58,000.00 per pound today!

Since 2013, the Kolinsky has been included in the Convention on International Trade in Endangered Species of Wild Fauna and Flora, or CITES agreements. The import ban on Kolinsky, which only affects United States customers, has made the pure Kolinsky brushes more difficult to find and much more expensive to buy. Eventually old stocks will be exhausted and there will not be any more available in the U.S., unless the ban is lifted. However, the ban has had some positive consequences (for both the male Kolinsky and for us) with manufacturers working hard to satisfy the demand for exceptional professional watercolor brushes.

Thirty years ago, most synthetic watercolor brushes were not comparable to the Kolinsky, but a few manufacturers began to develop new fiber technologies in an effort to mimic the qualities inherent in natural Kolinsky hair. Since John was painting a lot of illustration and landscape work at that time, he was wearing out a lot of very expensive sable brushes and looking around for any alternatives. Around then, Jack Richeson created a new brush, the Series 9000, which behaved very similarly to a Kolinsky for a small fraction of the cost. It was made from seven different types of pointed synthetic fibers which gave it marvelous painting qualities. John switched from using a $125 size 12 Winsor and Newton sable round to a $25 Richeson size 20 synthetic round and has never looked back.

Today, the latest technology allows the nylon fibers to be tapered to extremely fine points. Fibers are extruded in varying weights allowing the brushes to be made up of different thicknesses of "hairs" providing hard snap. Fibers can also be curved along their length so that they cup to form a brush with a large paint-holding belly ending in a razor-sharp point. Most of the major brush manufacturers have adopted these technologies in their synthetic watercolor brush lines. They are so affordable that John can now paint using three of these at a time, each loaded with a different color.

We think this development is a very positive move by the brush industry and encourage watercolorists out there to give synthetics a test drive. We will probably always have a couple of old Kolinsky brushes nearby for touches here and there, but the rise of these inexpensive and superb synthetics is a good thing for artists and Siberian Kolinsky weasels alike.
Save
Save
Save
Save
Save