The Artist's Hands

Perspectives No. 434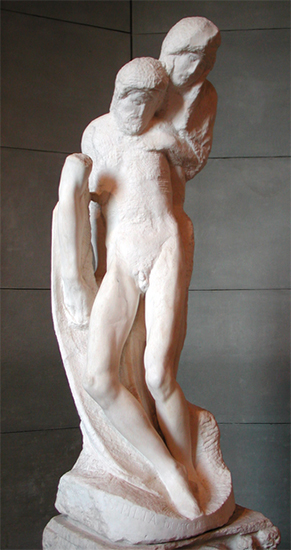 (Unfinished) Pietà Rondanini 1564 Michelangelo

"No one has mastery before he is at the end of his art and his life."
Michelangelo di Lodovico Buonarroti Simoni (1475 - 1564)
In a 2016 essay published by the Royal Society of Medicine, prominent surgeons and rheumatologists from Italy and Australia posit that Michelangelo suffered greatly later in his life from osteo-arthritis, particularly in his hands. They reached their conclusions after studying Michelangelo's writings and reviewing several portraits done of him, focusing on how his hands were portrayed. With great dedication and skill, Michelangelo sculpted until his death. A note he wrote to his nephew points to the impairment he was suffering. "I have received several letters from thee of late to which I have not replied because my hand refused to write. In the future, therefore, I shall get others to write for me and will sign the letters myself." Michelangelo's final, unfinished sculpture is the Rondanini Pietà (above).

Another story of artistic determination working through physical disability is that of Pierre-Auguste Renoir (1841 - 1919). Renoir continued to paint even through the most advanced stages of his rheumatoid arthritis. When he became unable to pick up a brush, he had an assistant place the brush into his deformed hand. His palette was placed on his knees or fixed to his wheelchair. Yet he continued to paint and to maintain a positive attitude. Matisse, after visiting with Renoir late in Renoir's life, said, "As his body dwindled, the soul in him seemed to grow stronger continually and express itself with more radiant ease." It is estimated that Renoir completed over 4,000 paintings during his lifetime, with his physical challenges beginning at about age 50. He painted until the day he died. Matisse once asked him why he tortured himself by continuing his work. He replied, "The pain passes, Matisse, but beauty endures." One of his final paintings, which Matisse called "one of the most beautiful pictures ever painted" is The Bathers.

The Bathers 1918 - 1919 Pierre-Auguste Renoir
This rare film was made late in Renoir's life and shows his incredible dedication.