The Landscape Sense

Perspectives No. 449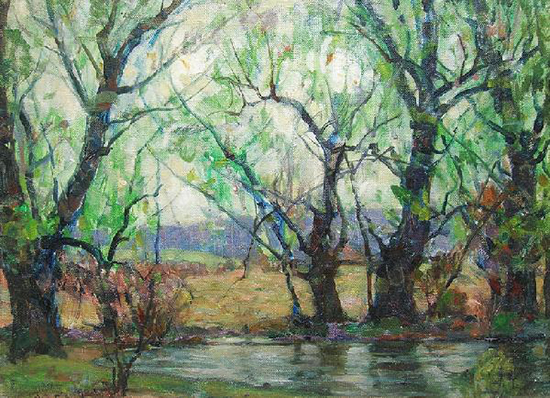 The Trout Stream Oil John F. Carlson

"We must not imitate the externals of nature with so much fidelity that the picture fails to evoke that wonderful teasing recurrence of emotion that marks the contemplation of a work of art." - John F. Carlson

Among the top ten art instruction books in any painter's library should be the classic, Carlson's Guide to Landscape Painting by John F. Carlson. With the resurgence of interest in traditional representational painting, the lessons that Carlson teaches are again highly valued by painters for their timeless insights into the mysteries of plein air painting and making art. Of the many different volumes in our library that teach painting, none surpass Carlson's publication in organization, clarity and revelation. His Guide to Landscape Painting was originally published in 1929 and has been repeatedly republished through 1973.

Originally written as a book for beginners, it is actually much, much more than that. Carlson's deep and thorough understanding of outdoor light and its effects on the landscape is clearly presented in plain language and revealing drawings. But perhaps the greatest value of this material is his enthusiastic love of painting from nature. Carlson continually ties scientific observation of the natural phenomenon of light back to its relationship to paint, painting and the outdoor experience:

"Study direct from nature. Study to feel, and to know something of her visible functionings. Nature, to the thoughtful, will always remain a vast and delightful storehouse, the fountain of inspiration. Nature is forever providing for the artist untabulated surprises; it is for these that he is to be envied. It is the artist's privilege and prerogative to capture these miracles and to transmute them into an expressive form."

In pursuit of that prerogative, Carlson exhorted his students to develop a "landscape sense" that he defined as "something apart from beauty, or color relation, of form relation . . . the 'float of a cloud' – the lightness of it . . . the weight of the ground, its solid, massive form."

This sense, which is so necessary to a work of art, can only be acquired through experience and joyous labor—lots of it. Whether it takes 100 paintings or 500 to gain it depends upon the artist, but eventually, we can all be confident that with Carlson's help, we will arrive at that place where painting the landscape becomes an expressive dance of paint upon canvas.

To learn more about Carlson's theories and teachings, read our article: Understanding Light in the Landscape - The Carlson Theory of Angles.