The Blue Shift

Perspectives No. 300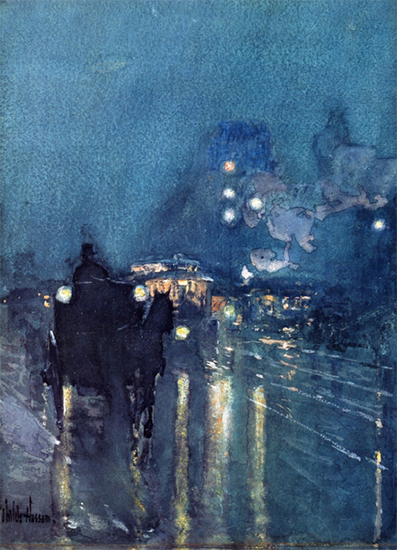 Nocturne, Railway Crossing, Chicago 1892-93 Childe Hassam


Moonlight is the light of the sun reflecting off the surface of the moon. It is about 400,000 times fainter than direct sunlight. Surprisingly, we perceive it to have a bluish cast when we are painting a nocturne outside, but it is actually a slightly warmer color than the color of direct sunlight.

The color temperature of moonlight has been measured at 4100 to 4150K versus the color temperature of sunlight which is measured at over 5000K. Why then, do we perceive a blue color from moonlight? The effect seems so natural that even filmmakers often use a blue filter over the lens to simulate a moonlit scene when they are shooting during the day. However, it isn't really natural at all!

We know that the human eye contains rods and cones. The approximately six million cones (of three types - blue, green and red) in our eyes are color and detail sensitive and work only in light. The 100 million or more rods in our eyes are 1,000 times more sensitive than the cones and are responsible for our night vision, but are not color sensitive.

We become nearly color blind under low levels of illumination. As the light dims, the rods take over from the cones, and before color disappears entirely, our color perception seems to shift toward the blue-green spectrum.

Saad M. Khan and Sumanta N. Pattanaik from the University of Central Florida, are two scientists who have studied the subject. They write, "It should be noted that the perception of blue color or any color for that matter in a purely moonlit environment is surprising, considering that the light intensity is below the detection threshold for cone cells."

They hypothesize that perhaps signals from our rods spill onto adjacent blue-sensitive cones under illumination of the full moon, creating an illusion of blue. The hypothesis has not been fully proven, however.

It also doesn't account for those lucky people who are considered to have "moonvision", perhaps extra rods or unusually sensitive cones that allow them to see more color in moonlight.

For more interesting information on our amazing vision, read Perspectives No. 97 - The Purkinje Effect and Perspectives No. 275 - The Island of the Colorblind.