The Colors of the Night

Perspectives No. 346



The clouds have broken and the nights are tolerable at last—just in time for our first nocturne oil painting tutorial of the season this evening. We firmly believe that more painters should try night painting because there are many learning benefits in the practice for an artist. For instance, darkness forces us to focus on the large masses first. That discipline helps us to see the daytime world with greater clarity. At night we learn to create simplified compositions which are strong in design instead of superfluous details, and that skill improves all of our paintings. We learn how to use and exploit a limited color and value palette to suggest spatial depth and form. All of the truly accomplished painters whose work we admire have these skills well in hand but it may have taken them years to master them. What an opportunity, then, is the nocturne! Like anything, it takes some trial and error to figure out the palette colors and the technical approach to night painting, so we decided to give you a head start by introducing our palette colors. We are illustrating here a larger set of palette colors than one would normally need, to try and cover a variety of different lighting situations —especially city street lighting which can vary these days from yellow to bluish in cast, depending on the type of lamp. Transparent Yellow Green, Cadmium Yellow Medium and Ultramarine Blue are optional colors.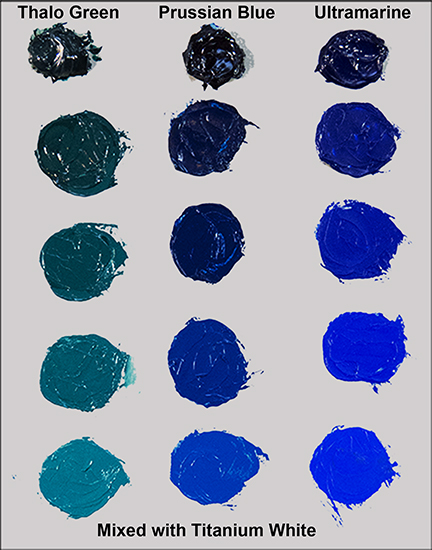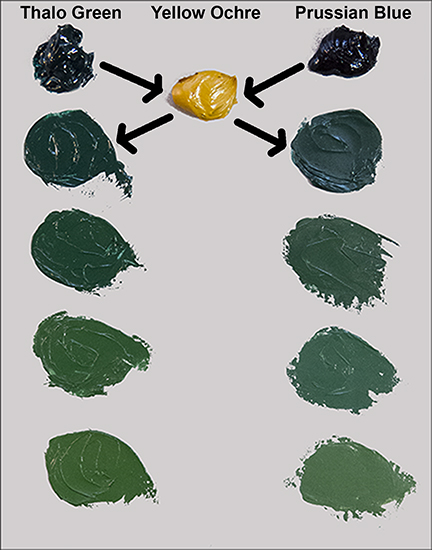 These two color strings illustrate some of the deep nocturnal colors we need to be familiar with. On the left are our three darkest cool colors, Thalo (or Pthalo) Green, Prussian Blue and Ultramarine as they appear very gradually mixed with touches of Titanium White. Depending on your location and the amount of light pollution from town, one of these will probably match your overall sky tone.On the right are some common mixes of dull, cool green, using Thalo Green and Prussian Blue mixed gradually with Yellow Ochre. Try these yourself before you head out into the night. They are easy to mix and will serve you well out there. Above all, have fun!

Read more about painting at night in our downloadable or softcover book, Nocturnes - A Primer on Night Painting.