The Gremlin Color

Perspectives No. 305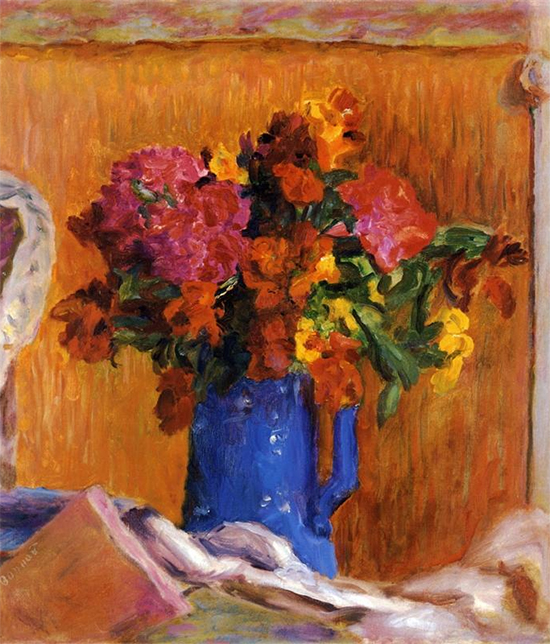 The Blue Pot * Pierre Bonnard

Having just bought a small tube of Cobalt Blue oil paint for about $25.00, we thought it would be interesting to understand a little more about why it is such an pricey pigment.

In German folklore, Kobald was a goblin who lived in the earth and disliked any intruders. Cobalt, the element, is named after that gremlin, most likely because of its tendency to be found in minerals combined with other elements, such as toxic arsenic. Because of this, medieval miners often threw it away. Its ore could release deadly fumes when smelted. A Swedish chemist, George Brandt, first isolated the element in the 1730s.

We know it, of course, for its pure color, indispensable in our palettes. But today cobalt is in high demand for use in gas turbine engines and other components used in space vehicles and aircraft. It is also a component in the magnets used in electric motors and computer disc drives, and in the rechargeable batteries used in mobile phones, laptops and hybrid vehicles. The reasons it is so valuable for these uses is its ability to maintain strength at very high temperatures and its impressive magnetic properties when combined into super alloys. It is estimated that only around 30 percent of the cobalt that is produced annually is used in the paint and ceramic industries.

Although cobalt is considered a relatively abundant element, there is risk to our supply of it due to its limited sources of production, most of which are outside of the United States. In addition, we are now becoming more aware of the risks being taken to procure cobalt in other countries. China, Russia and Zambia provide about one quarter of the world's production, but it is estimated that at least half of the world's cobalt comes from the Democratic Republic of the Congo. DRC is a country which has been known for its use of child labor. Amnesty International and the African Resources Watch report that very young children are working long days in dangerous conditions to mine cobalt. They recently released a report on the subject.

Because restrictions in the world-wide supplies of cobalt could affect energy, defense and manufacturing in the United States, the government stockpiled about 300 metric tons of it in the National Defense Stockpile in 2010 for emergency use. Geologists continue to study satellite maps in efforts to locate formations where additional cobalt may be found and responsibly mined.

In a global distribution market, it may be very difficult, if at all possible, to trace the source of the pigment in artists' paints to a particular mine. Awareness of the issue is a first step, however, along with support of the groups that are working to change the intolerable conditions under which some of the world's cobalt is mined.
(More information on cobalt can be found here.)
* This artwork may be protected by copyright. It is posted on the site in accordance with fair use principles.
Save
Save
Save
Save
Save
Save
Save
Save