The Nature of all Things

Perspectives No. 337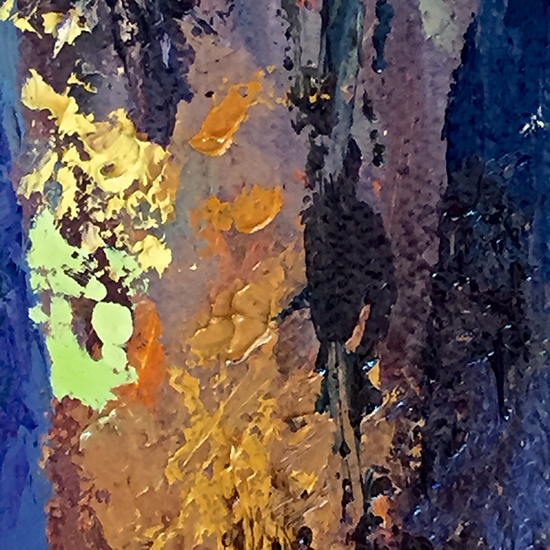 Detail from Transcendence Oil © John Hulsey

Change. It's the nature of all things, yet there is also a natural human inclination to avoid it whenever possible—perhaps because it can be uncomfortable—even painful. But change is what propels our art forward and to deny it in our work can doom us to repeating what we have already done. We learn through failure, more often than not. We try to practice that sound principle and to teach it to our students. Once we get comfortable with failure as our constant companion, we become free to explore wherever we like.

Last year, I began to seriously practice what I preach and took up a new way of painting. I decided that I needed a less precise set of tools with which to experiment in my oil painting. I had gotten to the place where I could realistically render in detail and I was wanting to go deeper beyond the appearance of things. The world I could see and sense in my walks through the woods was more complex and interesting and full of something ineffable than my traditional painting techniques could express. I still wanted to have a recognizable subject, but I also wanted to express this "more-ness"—what Doug Fryer refers to as poetry. See our interview. <https://www.theartistsroad.net/articles/douglasfryerinterview>

I realized that to express this deeper, spiritual quality in painting meant that I had to be imprecise, suggestive, even vague with the imagery, so that each viewer could make their own interpretation. Everyone draws on their own experiences when engaged with nature and that is surely also the case with art. The risks seemed great—possibly losing some of my collector support—but the artistic gain could be immeasurable. All I knew was that I could not go on working the way I had been any longer.

I needed tools that would make abstract, even unpredictable kinds of marks. Painting knives and scrapers are perfect for this. I wanted to create surfaces with depth to them, layered up the way nature is layered. That would require some planning but also some scraping and sanding away layers as I went. I wanted to recreate the palpable feeling of light and color vibration I witnessed often on my walks. I wanted to dissolve foreground and background whenever possible so that disorientation would take me away from identification. I wanted to have fun and really enjoy the act of painting again!

The detail above, is from Transcendence, the third in a series I have been developing with these thoughts in mind. I'm still experimenting and diving deeper into this new way of working, but so far I feel that this big change is the right direction to go. I did not do it with the intention of selling them, but all three of the new paintings have been quietly snapped up by collectors while they were still wet.

What changes might you embrace in your art this year?