The Night is Ours Again

Perspectives No. 345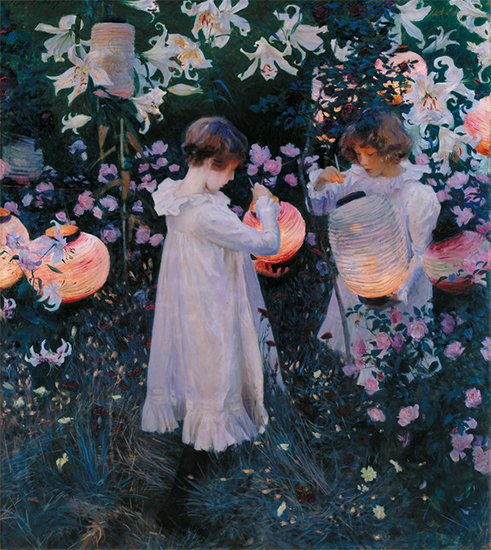 Carnation, Lily, Lily, Rose John Singer Sargent

She turned to the sunlight

And shook her yellow head,

And whispered to her neighbor:

"Winter is dead."

- A. A. Milne
We hope the whispering daffodils are right, even though recently they took quite a beating from winter's unexpected resuscitation! Next week, we are teaching the first of a three-night plein air nocturne class, and are hoping for fair, spring-like weather. We plan to paint the night lights and colors of our riverfront and in one of the downtown city parks. With fair skies we will also be able to take advantage of the light of a full moon, allowing us to paint a landscape in the dark of our country setting around the studio. This will be a fun experience for all the participants, most of whom have never painted outdoors at night. There are many reasons why painters don't explore the night—security being at the top of the list, followed perhaps by unfamiliarity with the process. A group excursion eliminates the security worries, and having experienced guides helps with all the rest.

Night painting is challenging on many fronts because our eyes physically change at night. Once light levels fall below a certain threshold, let's say deep dusk, the color-receiving cones in our eyes quit working and our vastly more sensitive rods take over. Normally, this is just fine, but for painting it can present problems. In particular, we cannot see any red or orange tones under purely natural illumination, such as moonlight. We tend to be able to perceive only blues, blue-greens, some cooled-down ochres, greens and browns. However, scientific research shows that we should not actually be able to see any colors at all, because our rods do not register color information! Why we do pick up some color is still a scientific mystery yet to be solved. (We will let you know as soon as they figure it out).

For picture-making purposes, we're glad that we have some colors to work with, but that isn't enough. To make an interesting nocturne picture we have to indulge in a few creative deceptions. First, we need to expand the range of values we perceive from around five steps, to at least eight. This is relatively simple to do in the low-key ranges we work, and allows us to artificially imply depth of field and to create individual details which are not visible as such. Second, we will have to liven-up our paintings by adding warm colors which we cannot actually perceive. Sometimes artists have added firelight, or the lights of a distant cabin or a train, etc., to help with this. This is a good exercise for the imagination. Finally, we have to remember to lighten our values outdoors as we work. Even with a good headlamp or one of our lighted hats, it is very easy to paint a picture which looks fine outside, but appears too dark or murky indoors. This is a big issue, because we are painting a nocturne to be viewed forevermore under indoor light.

Clearly, to be able to paint a successful and exciting nocturne plein air takes some repeated practice. We can tell you that the effort is worth it. We love to be out on a warm and pleasant night with the quiet of the world enveloping us as we work, listening to the plaintive calls of the owls or the mad mantra of a whippoorwill. It takes us back to the freedom we felt when we were children and we owned the night.

Happy Painting!