The Path of Totality

Perspectives No. 320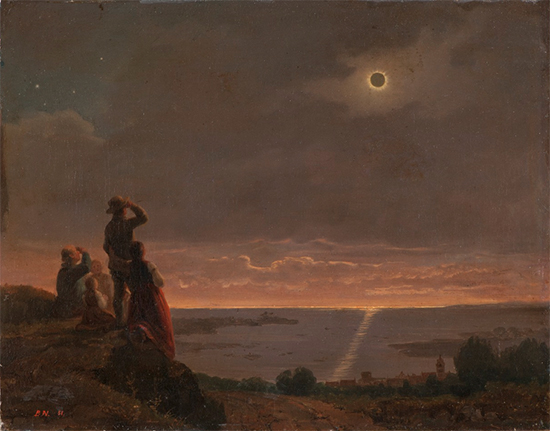 Solar Eclipse 1851 Brengt Nordenberg

As the day of the total solar eclipse rapidly approaches, we are making preparations to be in a perfect spot to view it—with special glasses, of course. Our painting studios are located just a few miles outside of the Path of Totality—the path that the moon's shadow will take when blocking the Sun for the total solar eclipse next week. The path is narrow, and people are traveling from all over the country to see it. Hotels nearby have been booked for months. As it happens, one of our out-of-town students will be here taking a watercolor workshop, so she will also be able to enjoy the brief, but amazing rare celestial event.

The last total solar eclipse viewed from the United States was on February 26th, 1979, visible only in a small area in the Northwest, and the next will be on October 14th, 2023, visible in the U.S. from northern California to Florida.

Before people understood the true cause of an eclipse, they were viewed with fear and bewilderment, and often interpreted as portents of doom. History tells us of the strange rituals, sacrifices and ceremonies ancient societies engaged in to make their relationship with the cosmos right once more. It is written that in China, flaming arrows were shot at the sun to try to make it catch on fire again!

Throughout history, artists have traveled with scientists and astronomers to record eclipses. A special exhibition of Howard Russell Butler's eclipse paintings will be on view at the Princeton University Art Museum until October 15th. Edward Adams, amateur astronomer and trustee of the Metropolitan Museum, commissioned Butler to join an eclipse expedition to Oregon in 1918. Butler continued painting eclipse paintings, traveling to several other eclipses in 1923, 1925 and 1932. The first three became the triptych over the entrance to the Hayden Planetarium.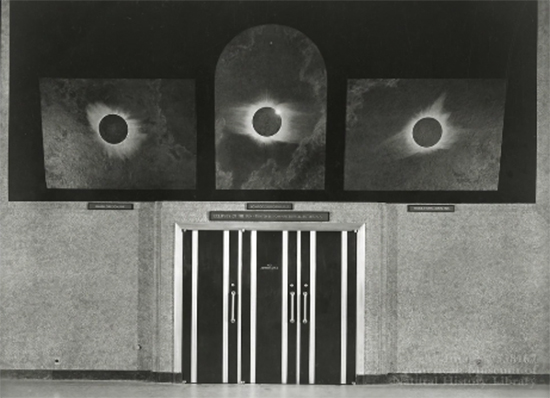 During next week's eclipse, the path of totality will cross the country from Oregon to South Carolina in just ninety minutes. Although the partial eclipse will extend over more than two hours, the total solar eclipse will be only about two minutes in duration. Before and after the maximum total eclipse, ephemeral phenomena will occur—"a multitude of faint rapidly moving bands that can be seen by placing a white sheet of paper several feet square on the ground. They look like ripple of sunshine at the bottom of a swimming pool . . ." (NASA)

We will attempt to record the eclipse and some ripples for you - look for them on our FB page.
Save