The Studio Boat
Perspectives No. 375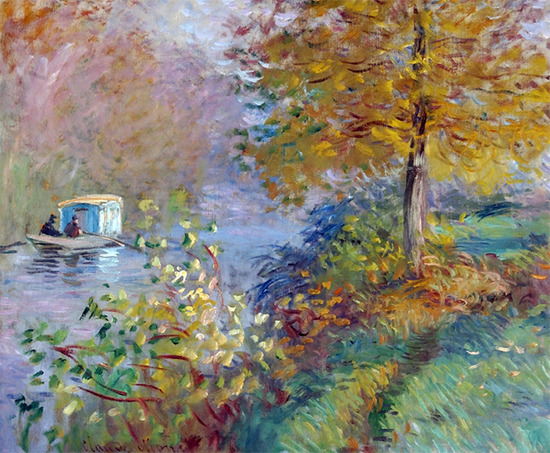 La Barque-Atelier 1876 Claude Monet
Among our very favorite paintings Claude Monet created while living in Giverny, are the series of views of the Epte and Seine rivers. Some of these views were clearly painted from a position in a boat on the river, not from the shore. We have always admired that Monet had a special purpose-built painting boat (his "bateau-atelier", or studio boat) constructed just so he could get a vantage point on the water. That floating studio allowed him to row onto the Epte and even the larger Seine to paint subjects otherwise not viewable from land.

Guest artists were occasionally invited to paint with Monet. The list includes Renoir, Pissarro, Manet and more. Manet chose to paint Monet himself working in the boat alongside his wife, Camille.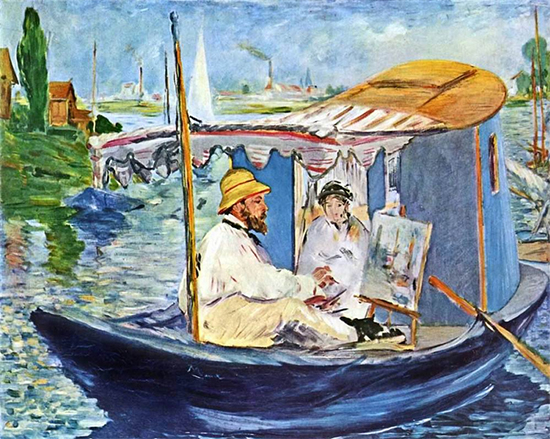 Monet Painting in His Studio Boat 1874 Edouard Manet
Monet also invited a young artist-to-be, Abel Lauvray, to paint from the boat. The wealthy Lauvray family (of notaries) lived nearby and was instrumental in helping Monet with legal matters. After studying law, Abel Lauvray went on to become a painter. Monet later gave his floating studio to him. Sadly, Monet's original boat is no more, but a replica of it has been created near Giverny. It is surprising how large and heavy a boat it is. We can't imagine the strength required to row such a large craft on the Seine.

Monet's studio boat was not the first of its kind. It is thought he may have been inspired by Charles-François Daubigny who painted from his boat, the Botin, more than a decade earlier on the Seine and Oise Rivers. Daubigny published a book with illustrations done from his boat painting travels.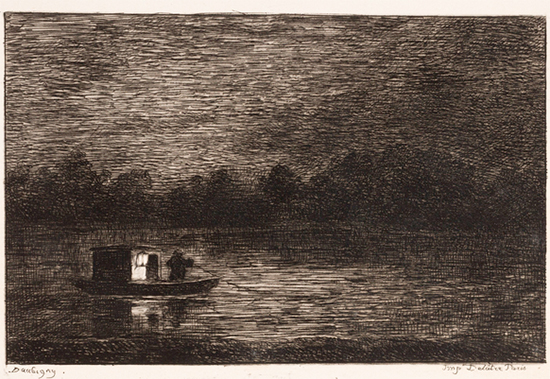 Night Voyage 1861 Charles-François Daubigny
The boundless inspiration bestowed on us by the forested pond nearby has inspired us to christen our own "bateau-atelier". While we can't afford to have a custom-built boat made for us, there are many good used boats available which can be adapted. We found an old flat-bottom aluminum jon boat which we have now repainted in dark green with red rub-rails. We look forward to painting the shoreline planted with water iris and American lotus from our floating studio. The next addition to the boat will be a canvas roof. We'll keep you posted on our water-borne adventures and hope you will write us about any painting adventures you may have had "en bateau"!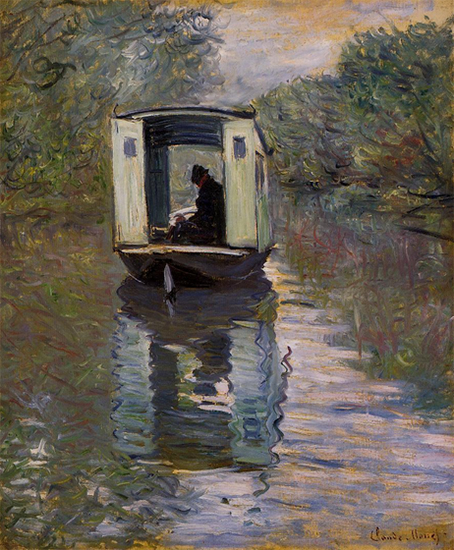 Le Bateau-Atelier 1876 Claude Monet