Voices of Experience

Thomas Schaller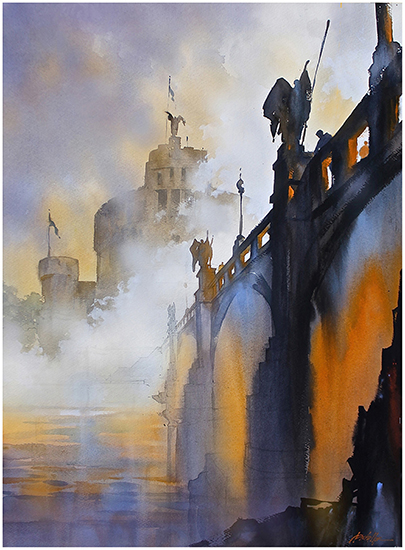 Fog on the Tiber - Rome 30 x 22" Watercolor

As a young boy, Thomas Schaller dreamed about traveling to foreign places. He has fulfilled his dream and used those experiences to create impassioned watercolors, giving us, the viewers, a way to enter the mysteries of new lands through the senstivie mind of the artist. Schaller's studio is in Los Angeles, where he has practiced architecture and architectural rendering as well as his fine art work. His paintings have been featured around the world, including Italy, China and Russia, and in multiple books and magazines. Schaller has also authored several of his own books and teaches workshops and classes in watercolor.

He wrote to us about his childhood, about combining his passion for architecture, drawing and painting, the nuts and bolts of his processes and materials, and what sparks his imagination.

Did you grow up in an environment supportive of creativity and art-making? Were there other artists in your family?

I've come to believe that many people are artists—only some wield a paintbrush. Anything created out of thin air, that wasn't there before, and is done with passion and commitment, can be art. So in my family I was surrounded with parents and siblings who were and are very creative—artists in their own right. My father was a farmer and skilled builder. My mother, an amazing decorative painter, baker, gardener, and parent. Most of my sisters sew beautifully, and have created incredible quilts, gardens, families, and do stunning needlework. But I am the only one who followed the path of fine art painting.

Your education and subsequent career was in architecture and architectural rendering. How has that informed your artwork and your style today?

Architecture and architectural arts were, and are still, a very big part of my life. But over time, I learned that it was the two-dimensional ideas and images about buildings and the built environment that most fired my imagination.

As a kid, I sat in my room and sketched imaginary cities and worlds—places to which I wanted to escape. Not much has changed in some ways. So now, I see my creative life as a whole, and not so much as a different course. Everything is connected.

Did you receive formal training in art? How did you first learn watercolor specifically?

Yes, I did undergraduate and post-graduate study in fine arts at university—painting and sculpture—in the USA and in France. I studied watercolor with the great Jeanne Dobie every summer for a number of years long ago. And as a professional painter now, I find that I learn from her still. She was good enough to write the forward for my new book Thomas W Schaller – The Architecture of Light, to be released by North Light in September 2018. I also took two workshops with Joseph Zbukvic about eight years ago. That's when I decided—with his encouragement—to begin a career as a fine artist.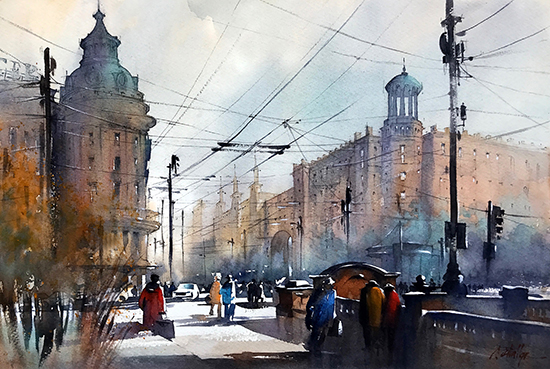 Winter Light - Moscow 18 x 24" Watercolor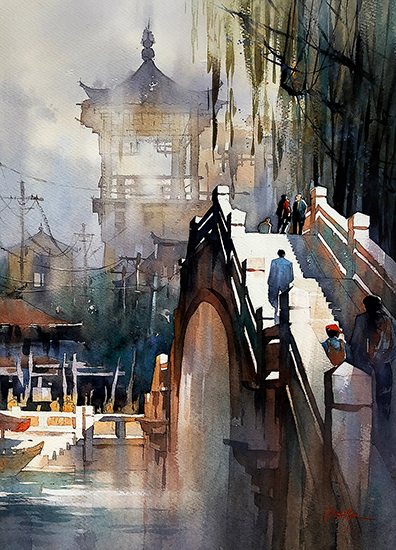 Bridge - China 23 x 16" Watercolor

Why watercolor? What is it about watercolor that has made it your medium of choice?

I came to watercolor as a natural extension of my love for drawing. I see painting in watercolor as a type of "drawing". But rather than using simple lines, we draw in watercolor with shapes—shapes of tone, of color, of light, and of dark. Additionally, due to its transparency, and the variety of edges and dynamic range possible, I find it the most personally expressive and intuitive of all painting mediums.

What is the one most valuable technical lesson you've learned about painting in watercolor?

It was revelatory when I discovered one of the most obvious things about watercolor. And it is this: "What is not painted in a watercolor is at least as important as what is painted." Watercolor is a subtractive medium in the sense that the only real light available to the artist is the pure white of the unpainted paper surface. Any tone we add subtracts from the ultimate amount of light available. So when I'm asked, "How do you paint light?", my answer is, "I don't. It's already there - just waiting for me."

So it's very critical for the artist to identify what areas of the painting need to be preserved, and to guard them vigilantly. Once the light in a watercolor is gone, it is all but impossible to get it back.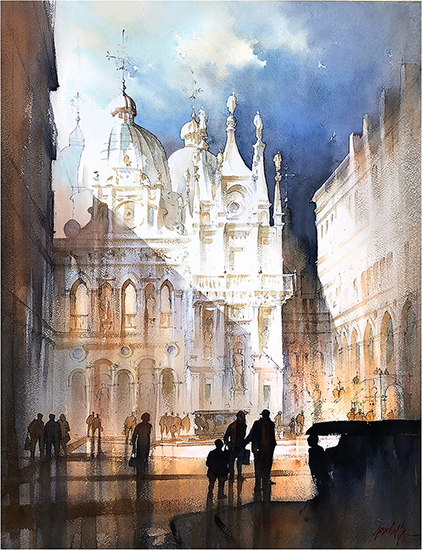 Courtyard, Doges Palace - Venice 30 x 22" Watercolor

Would you tell us about your materials—papers and paints?

Almost always, I paint on paper of 140lb (300 gsm) weight, and with the most rough and textured surfaces available. Brands most often used are Saunders Waterford, Fabriano Artistico, and Arches.

I choose pigments that are more sediment-based, rather than stain-based. The actual sediment of the pigments floats over the "hills" and sink into the "valleys" of the rough paper I prefer. This gives a dimension and depth to a watercolor and can result in that beautiful characteristic shimmer that can make a watercolor painting appear wet even after it is long dry.

Daniel Smith, Holbein, and Sennelier are the pigment manufacturers I almost always choose.

The palette depends a bit on what type of painting I am doing—what mood and atmosphere I wish to establish. I paint always using complementary tones, so Yellows (French Ochre and Naples Yellow) vs. Violets (Imperial Violet, Lavender, Mineral Violet, Neutral Tint). Cool Tones (Cobalt Blue, Manganese Blue, Ultramarine Blue, Serpentine Green, Jadite Green, Cobalt Teal); Warm Tones (Light Red, Burnt Sienna, Alizarin Crimson, touches of Cadmium Orange Light, Cadmium Red Light).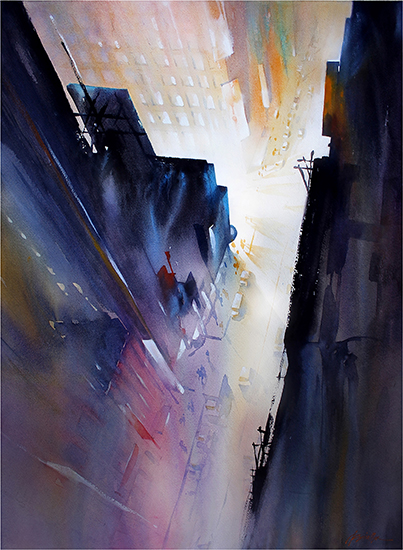 Night in the City 30 x 22" Watercolor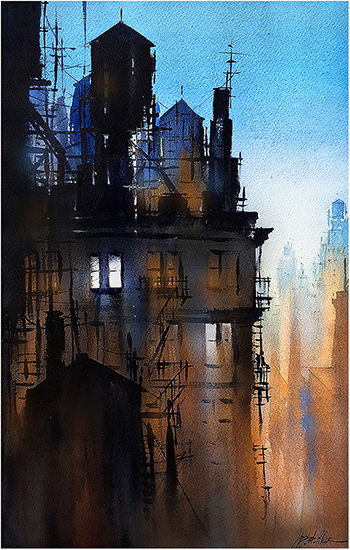 The World was Quiet 22 x 15" Watercolor

In what other artists' work do you find inspiration?

Other artists certainly do inspire me, so many in fact, I could never list them all. But most often, I turn to works by J.M.W. Turner, Caravaggio, and Mark Rothko. These are very different artists to be sure, but all touched on themes so important to me: the transcendent power of art—figurative or not or somewhere in between; the relative nature of reality; and the mysteries and narrative power of light above all else.

But more often than not, I am moved to paint by other things—a piece of music I hear, a novel or newspaper or poem I am reading, a conversation I overhear on the street, a memory, or a dream.

Can you lead us through your process?

I love to draw and I am a relentlessly sketching. These sketches may be of something I see, or of something I remember or think about, or simply something I invent. These may be wholly based on observable reality, or just in part, or not at all. I'm deeply aware that the reality of what we see is a related, but very different, reality from what we paint.

In any case, these sketches are most often the basis for the paintings I will eventually do. Even if I don't complete a painting right away, days, week, or even years later, I will flip through my sketchbooks and my doodles will launch me back to that place—that state of mind when I was moved to complete the sketch in the first place. Reference photos may or may not be consulted.

And this—that feeling, that reaction, that memory or dream—becomes the cornerstone for whatever painting I may do. Then I will often design a final painting based on that reaction or state of mind. I will decide on a format and begin to design the arrangement of shapes of darks and lights that will become the "blueprint" for the final work.

I have a hierarchy of "design" elements in my work—1. Intent (What is the purpose, narrative, story, or reason for this painting?) 2. Design (What elements will you choose to best advance your intent? What is left in? What is left out?) 3. Value (One of the most critical parts of any painting's design is the arrangement of its values. A good painting can be a great one if the values are improved. A bad painting can almost always be made better if the values are sorted out. They are what gives the two-dimensional work a sense of depth, perspective, and an emotional, dynamic range.) 4. Color. (I love color, but for me, it has to be in service to Value. No color, however beautiful, can save a painting with a disorganized or weak value design.)

Finally, I have to allow for a healthy portion of "mistakes" and "accidents". No matter what plan I have, I must remember that watercolor has a mind of its own and will often do what it likes. As you learn to let go, and listen to your work, you begin to learn that often these "accidents" turn out to be the most unexpectedly successful parts of the final work.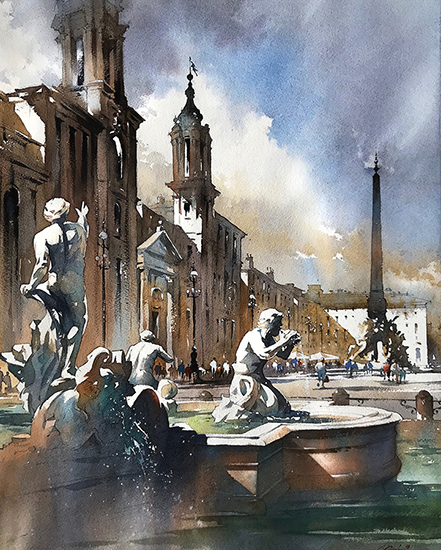 Piazza Navona 24 x 18" Watercolor

How has travel informed your work?

As a kid, I was so restless. I wanted to move around and dreamed of seeing the world. And I have been so fortunate to be able to do just that as an exhibiting artist and instructor. It's true that travel can help teach us the productive habit of seeing things in different ways. So even when back home, travel can help expand the capacity of the painter to be able to look at familiar things in unfamiliar ways. So it can make it easier for us to understand that there may be more than one way to think about our painting—or about life in general. Moreover, it can help us to realize what it is we may choose to paint, and how we choose to paint it.

All that said, it only has helped me realize too, that travel is only one way that we can learn to see in a more expansive way. I'm aware that there are many who do not have the means or ability to travel, but that does not mean that their creative vision needs to be constricted. Many roads can lead to the same place.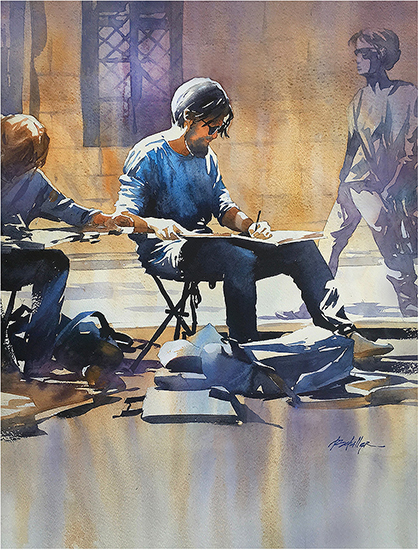 Sketching in Rome 22 x 15" Watercolor

Is teaching an important part of your artistic life?

Teaching workshops and classes, speaking engagements, recording my DVDs and videos, and writing books and articles has become a crucial part of my creative process. At first, as something of an introvert, I was very reluctant to teach—horrified actually. But I've come to love it. In writing or speaking, or in trying to explain my process to another, it makes it easier for me to more clearly articulate what I truly believe, and how I wish to proceed. And so, I wind up learning along with my class.

Plus, just spending time with like-minded individuals is a joy. If you find that you may even have the possibility to help or inspire another to pursue his or her dreams, it is a genuine privilege.

What are your goals for the future in your art?

It sounds simplistic perhaps, but my goal is to keep building what I have begun to construct. I am a work in progress and I hope I will continue to learn, and to improve always. I am so fortunate to have finally found my reason for being. And so I hope to be able to continue to paint all the days of my life.

I've become very aware of the ways in which art-making has always helped me navigate an often confusing and chaotic world. It is a silent form of conversation—communion—between painter and viewer. And it has given me a voice when I had none. I would be lost without it.
I have found that this is often true for others. So, to whatever degree I may help those who struggle to be heard, I wish to help however I may be able to do.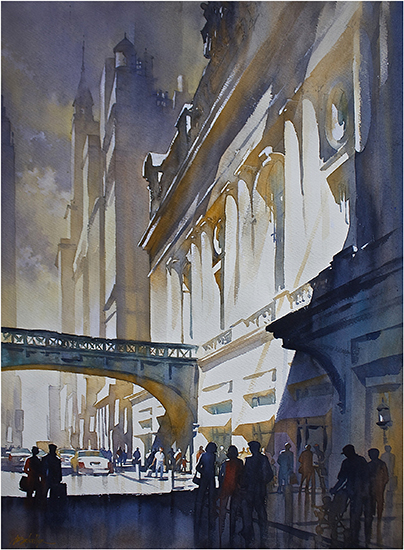 Grand Central Light - NYC 30 x 22" Watercolor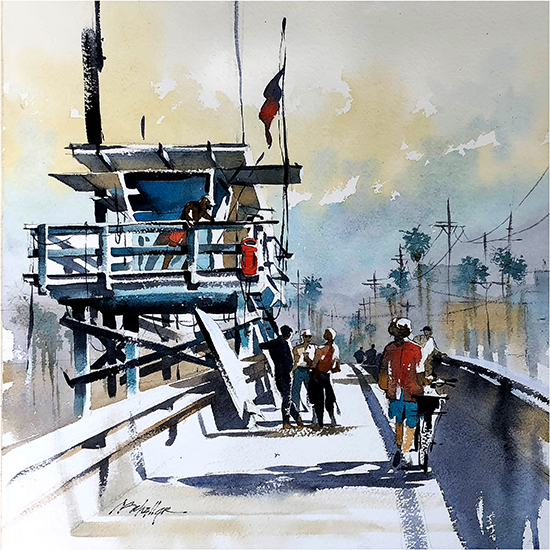 Morning - Venice Beach Pier 14 x 14" Watercolor
What words of encouragement would you give a beginning artist?

In the end, we all must make our own way and make our own choices. Listen to and trust your own voice and instincts always.

I would say, "Don't take any advice too seriously." Listen, if you wish. Some may actually have advice that can prove to be useful. File the rest away, or discard it altogether. One day, it may—or may not—be helpful.

Also, I do think it really important to not become too influenced by anyone who overly praises or criticizes your work. This can turn your head and may well lead you down the wrong road—one way or the other.

In the end, if we're honest, we all know what works best for us. But I do think it's incredibly important to ask yourself what and why you are painting. Who is it that you're trying to please? We all have to answer this question for ourselves. And the answer will tell us just about everything we need to know about how to move forward.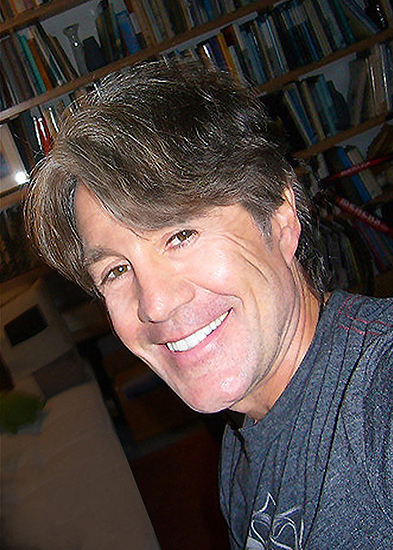 To see more of Thomas Schaller's work, go to:
All Artwork © Thomas Schaller