Voices of Experience

Tibor Nagy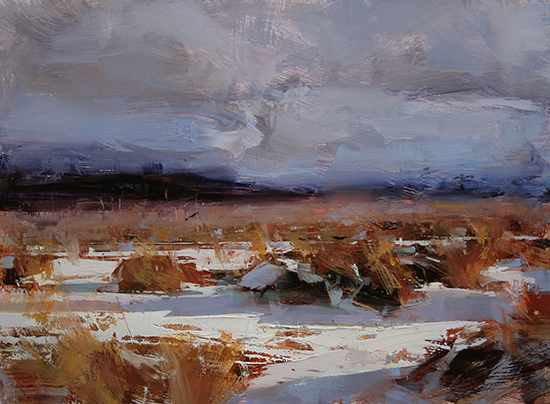 Golden Winter 12 x 16" Oil


"Having the courage to leave the safe yet often boring road

and 'stay alive' is what matters to me."
There is an authenticity in the paintings of Tibor Nagy. The self-taught Slovakian artist blends his pure emotional response to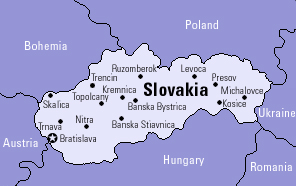 his subject with an exploration of innovative techniques to paint each unique creation. He is constantly searching for new ways of expression in his painting process.

We asked Tibor what kind of support he received for his art while growing up in what was then Czechoslovakia.

I grew up in an artistic family. Many of my family members were musicians and some of them had painting as a hobby. It could be said that this creative environment ignited a spark within me at a very young age and made me naturally incline toward some form of art. I would say that I received the biggest support from my parents thanks to their "let live" approach to raising their children. I would only be disciplined when I was already standing at the edge of an abyss, which of course happened from time to time. Support also came in the form of extracurricular activities while I was in elementary school. I was an active member of the local art community led by local artists.

Did you receive any formal education in fine arts?

I have no formal education in the arts. I am a self-taught artist shaped by the environment in which I grew up and also by the inner impulse to express my approach to life in the form of visual language. In my adolescence my relationship to art started to become more profound. During that time, I, of course, had some influences, artists I looked up to and gained inspiration from. One of them was the now deceased Slovak graphic artist and painter Albin Brunovsky. In my later years I started to dedicate some of my time to studying painting in order to learn the skills necessary to be able to paint more effectively.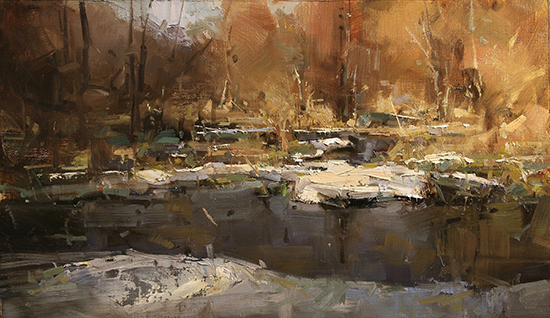 Lost in Spring 12 x 19" Oil

Slovakia is known for its beautiful mountains and forests. Would you tell us a little about the landscape there that you find most inspiring?

When it comes to the Slovak landscape, I consider myself extremely fortunate to live in a country that offers such tremendously rich opportunities for visual expression. On the one hand, it has a rich history with an abundance of historic architecture often times located directly in the landscape, and, on the other hand, it is always the same land being constantly shaped by four seasons. The result is a continuous metamorphosis of environment providing a limitless source of inspiration. I find this to be probably the biggest support in terms of my artistic growth.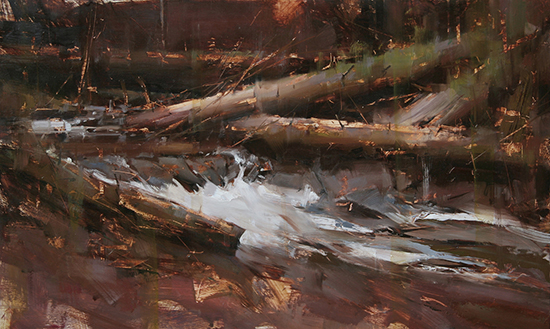 Spring Water 12 x 20" Oil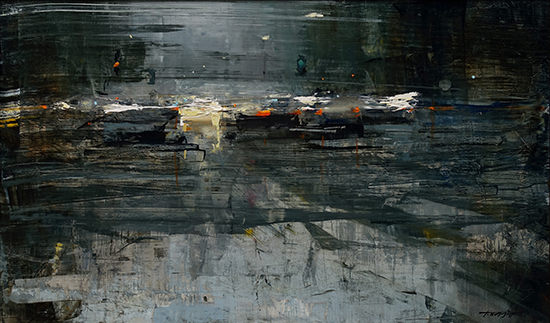 Lost Illusion 12 x 20" Oil
Have you had the opportunity to travel to and paint other countries?

I do not really belong to the category of artists who travel and capture various moments and feelings on canvas. Among one of my passions is also mountain climbing, and so I usually spend my leisure time climbing or hiking in the mountains and seeking adventure. My artistic activities are usually tied to the familiar environment of my home, to which I have the closest relationship.

Would you tell us about the materials you typically use and your painting process?

During my artistic growth I have come through a wide variety of different practices and painting materials. When I was a child, I naturally inclined toward using virtually anything I got my hands on or what I could find lying around the house. Drawing with pencil, pen, graphite, pastels or using watercolors was nothing unusual. Stumbling across an old case with oil paints and various liquids in our attic was a real moment of excitement. I found myself engulfed with so many possibilities and tools that naturally I would soon embark on a long journey of experimenting. I would pursue anything from oil painting to airbrush and various other techniques. I was simply trying to find the most natural and comfortable way of expressing my artistic ideas. At the end I settled on oil painting which I have been actively doing for the past 15 years. It was in this medium that I have found an incredible potential in terms of depth and the richness of colors. On the other hand, it is still a significant challenge for me because oil painting is just such a difficult technique to master.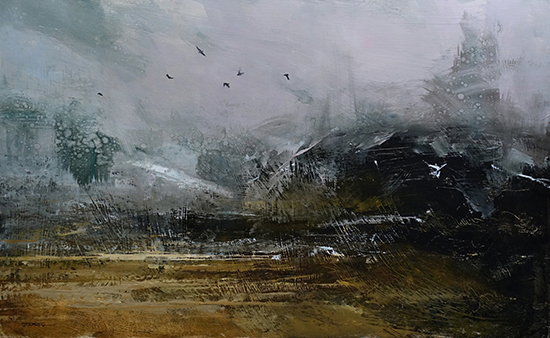 The Birds 20 x 32" Oil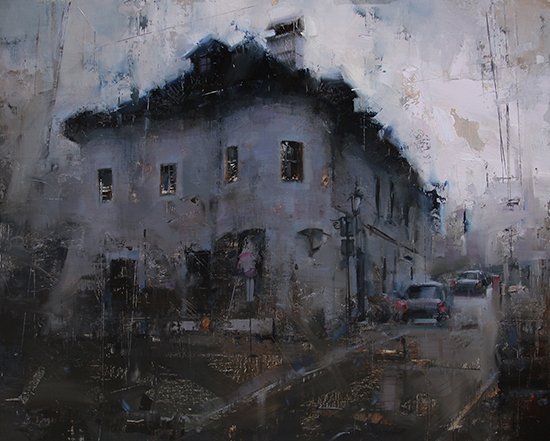 Blackness over the Street 16 x 20" Oil

As for my basic palette, it consists of the following pigment colors: French Ultramarine, Cobalt Blue, Cerulean Blue, Viridian, Transparent Oxide Red, Terra Rosa, Cadmium Red, Permanent Alizarin Crimson, Yellow Ochre Pale, Cadmium Yellow Deep, Cadmium Yellow Pale, and Titanium White. When it comes to specific brands, I generally prefer Winsor & Newton, Rembrandt, and Umton. I typically use linen as a painting surface but sometimes I also use surfaces that are less soft, such as various art panels and boards.
My approach to painting varies quite a bit. I do not have a specific method I use all the time. Instead, I tend to experiment a lot. The approach as such is formed directly during the painting process. It depends on from which perspective I wish to portray a specific motif. The same also goes for technique. Which tools and in what manner I use them is basically a matter of momentary decision. Lately, I have also been preparing some abstract layers first, which I use as a groundwork. Once they are dry, I begin to paint on them. I have found that this provides for interesting opportunities and brings new experience.
And artists who inspire you and your work?

There are many artists who influenced my own style, both contemporary and historical. I have always been particularly fascinated by works which I could "feel"—works where the emphasis was not put on realism but rather on expressiveness. As a self-taught artist, I especially appreciate the book Alla Prima II--Everything I Know about Painting--And More
by Richard Schmid. It greatly helped me to get the necessary know-how related to different concepts and methods and also to learn about things which would have otherwise taken a very long time for me to learn without any kind of guidance.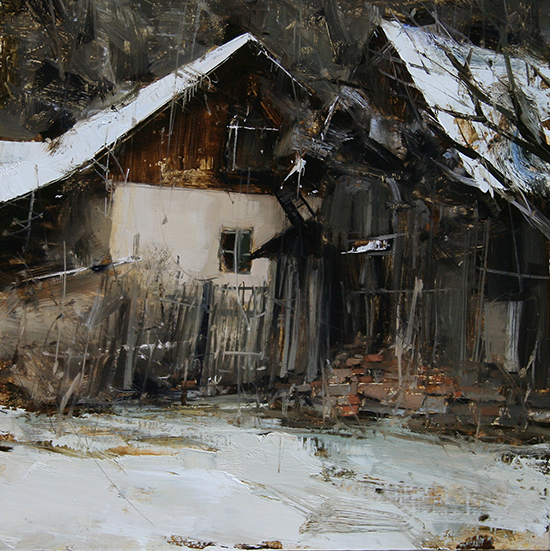 Winter Backyard 13 x 13" Oil
When you scout a painting location, what are you looking for? How do you retain your initial emotional response to the subject within your painting?

I usually focus on the overall feeling or impression where concrete shapes and objects only play a secondary role. This overall sensation can have the form of a specific dominant color and tone of a particular landscape. There is an emotional response resulting from this and it is basically an impulse for visual expression. To me, it is this very "here and now" moment that inspires me. That is why I never know in advance what I am eventually going to paint—it all comes to down to that momentary decision. This is also how I manage to stay open to new experiences as well as keep the freshness of my visual expression and painting style. Then it is only the matter of not losing the original context and the initial impression that came during the observation itself.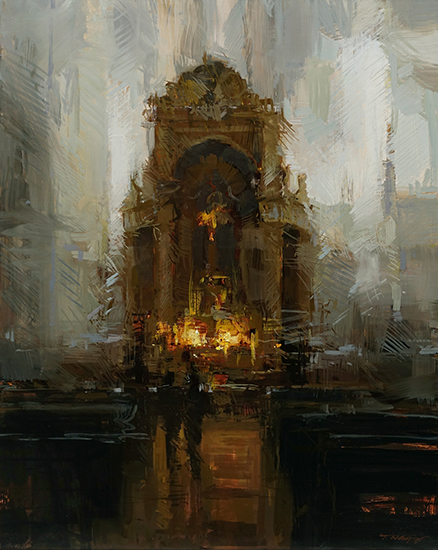 Invisible Message 20 x 16" Oil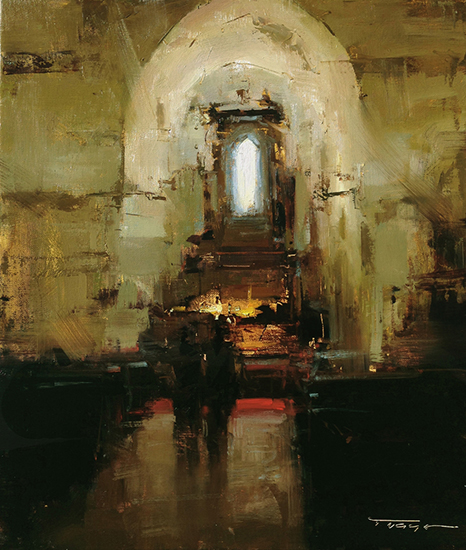 In the Church 14 x 12" Oil

Are you currently teaching any classes or workshops?

The truth is that I am still in my formative years and have many unrealized ideas and visions. The inspiration is coming from everywhere. This is why I dedicate the majority of my time to painting. This current stage just does not allow me to distance myself from the easel and set aside some time for teaching as well. With that being said, however, I do believe that there will come a time when I am ready to take up teaching and when that time comes, it will be my pleasure to share my knowledge and approaches to painting with other fellow artists.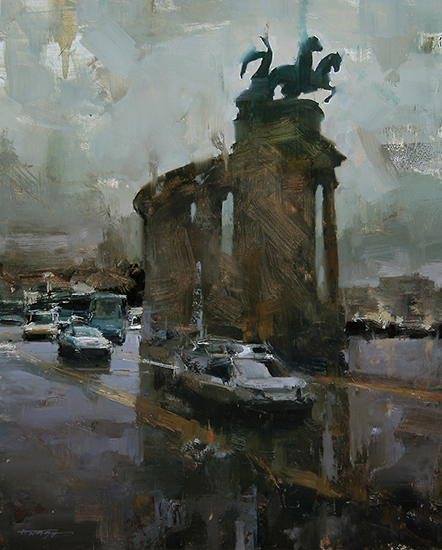 The Monument 20 x 16" Oil

We closed by asking Tibor for what words of encouragement he would like to pass along to other artists.

I am not sure if I am in the position to offer advice, seeing as I often need good advice myself. But still, I could perhaps offer a couple of pointers and share a little bit of my painting philosophy. The aspect of painting which I consider to be the most important is to have your own concept and vision. This puts you in a place where you can draw from your own uniqueness and authenticity. I believe this to be the key to creating a unique work. And art in my view is in originality and uniqueness. What this means in practice is that as early as at the beginning of our journey we observe what attracts us the most—which visual expression we find fulfilling and enjoyable. In other words, it is about trying to find the way that feels the most natural and comfortable. At the same time, it is important to learn as much as possible from other artists who inspire us but keeping in mind that the authenticity and uniqueness is what matters the most.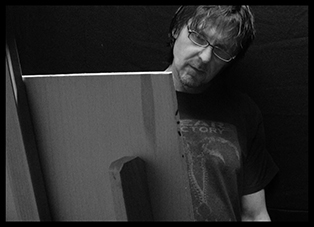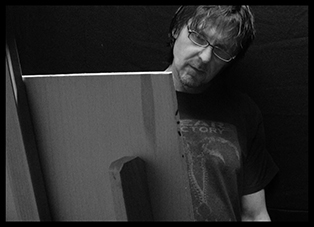 To see more of Tibor Nagy's work, go to:
All Artwork © Tibor Nagy