Timing is Everything

Perspectives No. 321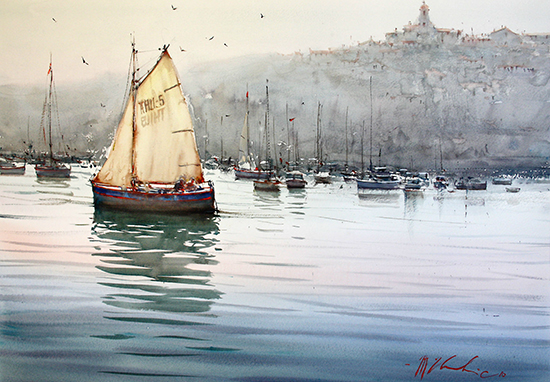 Watercolor © Joseph Zbukvic


Time, or at least my sense of it, seems to have changed in my lifetime. As a kid, I can remember not needing a watch. The sun was my time piece. Once I got a job, I also got a watch, but only to make sure I showed up on time. Clock-time was never my strong suit—art-time was. Since those days, it seems that life has sped up and everything is run by the clock.

But, humans have an innate and nature-based time awareness developed from marking time slowly by watching the sun and seasons over tens of thousands of years. That is the clock most useful to making art—art-time. Artistic exploration and creation takes whatever time it needs. This is the time-space where we can thrive and sometimes experience that wonderful feeling of being in the zone and losing all sense of clock-time whatsoever. Great things can emerge from this.

Watercolor is the same way. Working in watercolor is all about timing and patience. It has its own clock, based on the natural, but local rate of evaporation. The speed of execution of the painting must be tuned to that—or else! Everyone who has seriously pursued watercolors has had to develop a watercolor clock in their heads. Noted master watercolor painter Joe Zbukvic even goes so far as to create a kind of system for understanding the timing required in producing a successful watercolor painting. (See our interview with him here.)

Zbukvic deftly explains how paper wetnesses, from dry to damp to moist to wet, create effects in combination with the variable pigment/water saturations in the palette. He calls these palette consistencies tea, coffee, milk, cream and butter. He then shows how to combine variables like damp paper with coffee consistency pigment or dry paper with tea consistency pigment to create a myriad of effects. Visit Zbukvic's website here.

The only way to become facile with all the possibilities is to paint, paint, paint—practicing all the combinations to see all the interactions. One thing that will make your practice easier is to discover the paper that you prefer. Experiment with all of them, but once you discover your favorite, stick with it and get to know it thoroughly. Then, and only then, will you and the watercolor clock become one.
Save