Is Travel Abroad Still Worth It?

Perspectives No. 349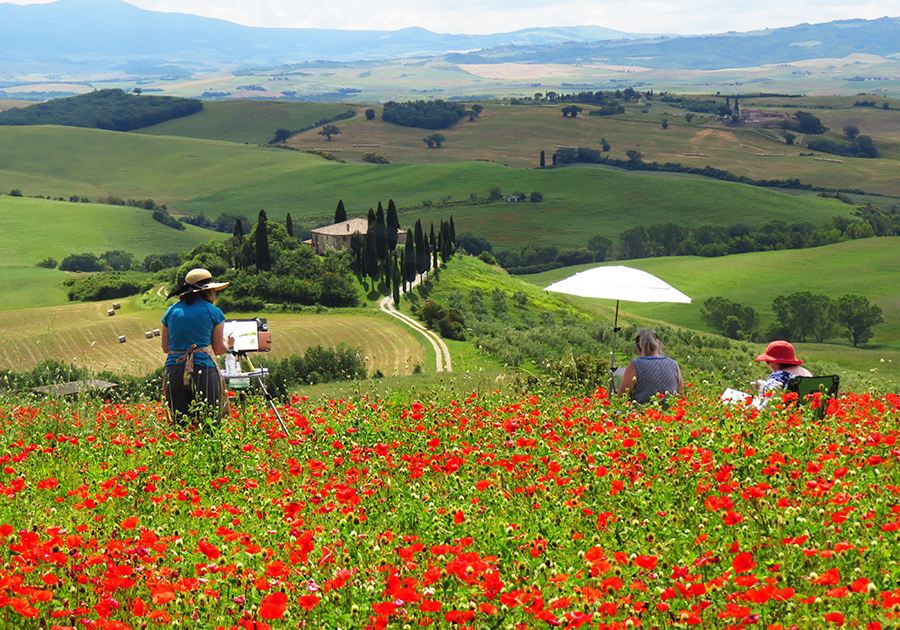 We have just returned from teaching our week-long Watercolor Painting Holiday/ Workshop in Tuscany, followed by a few days of relaxation and diversion in Venice. By any measure, we think that the trip was a great success for all. Tuscany literally rolled out the red carpet for us with bright fields of poppies filling the foreground of our painting sites each day. The weather was perfect, the landscape was an artist's dream to paint, and our hotel/spa was extremely comfortable. We drove the students to a different painting spot or interesting medieval village to explore every day and ended each happy day of painting at a different restaurant or agriturismo where we had special custom-designed menus prepared for our large group of 21. This, to us, is the way to experience the real Tuscany—a slow and easy daily introduction to the landscape and friendly people who live there.

Behind the scenes, Ann and I were having to deal with a series of unfortunate inconveniences which we had not anticipated. The Italian postal service (Perspectives No. 348 - Customs), which had inexplicably held up a small box of caps, bags and other goodies intended for our students, finally delivered that box the day before the workshop, but only after demanding an extra 57 Euros, in cash. Air France, had "lost" our luggage in the Paris connection, so we had no clothes to wear. Our phone service, Verizon, had mysteriously failed to enable outgoing calls on our international calling plan, which made calling Air France impossible for days. Ann's late night perseverance finally got the phones working and Air France eventually admitted that they had failed to deliver over 8000 bags the day we traveled! Off we went to find a department store an hour away to buy a few clean clothes so we could begin the workshop with some professional dignity. After six days, our bags, which had my easel and umbrella in them, did show up, much the worse for wear. Fortunately, I always carry on my painting kit, brushes, paint and paper, just in case of something like this. A sense of humor and immense faith that all will be well are very useful travel skills here.

Our flight connections to Italy took us through Toronto and Paris. The customs process through Toronto has become burdensome and challenging. One must be very patient and have no connecting flights looming. Late flights, cancelled flights, missed connections—all of these inconveniences are now just part of the travel experience we must be willing to deal with and even to expect.

Do we think that overseas travel is still worth it? We must give an emphatic, "Yes!" The experiences gained on our adventures far outweigh the inconveniences and serve to inspire us and inform our art for years to come. They reset our artistic vision and world view in so many positive ways that we are now planning another trip—this time to Scotland. We'll keep you posted.