Voices of Experience

Mark Shasha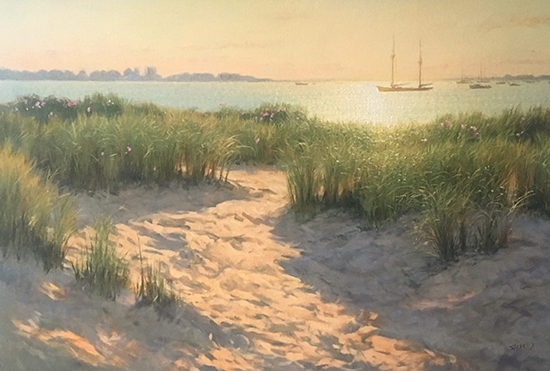 Coastal Shimmer 24 x 36" Oil

"Painting is a calling for me. It is a longing

for those moments when the poetry happens

when a sun beam caresses a snowbank,

peeks into a glade or spills diamonds across the sea."
Multi-talented artist Mark Shasha, expresses his creativity in manifold media—theater, voice, writing and teaching—all intertwined with his primary passion of oil painting. Shasha, deemed "a man of unbounded creativity" by the North Shore Magazine

, has written and illustrated award-winning children's books and frequently appears on stage as both an actor and singer. But oil painting is the vehicle that conveys his deepest connection with nature. Shasha has won multiple awards at the most prestigious plein air events and is a Signature Member of the American Society of Marine Artists and the Laguna Plein Air Painters Association. He is an elected member of the Salmagundi Club, the Guild of Boston Artists, the Copley Society, the Rockport Art Association & Museum and the North Shore Arts Association among many others. We asked him to tell us about his life, his inspirations and his art, starting with growing up in a supportive and empowering family.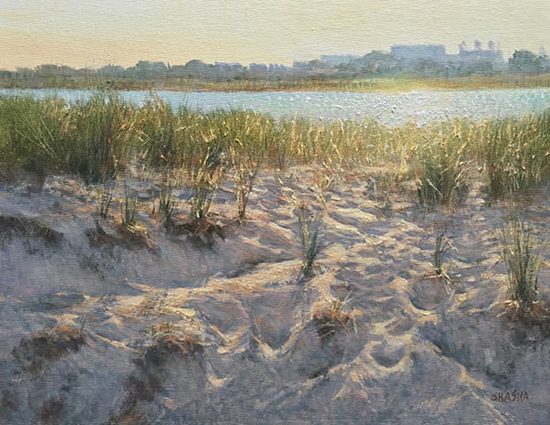 Heaven Can Wait 11 x 14" Oil

Almost all the adults in my family were very encouraging—my parents, grandmothers and aunts especially. I could rely on getting some art supplies on my birthday and at Christmas. My mother loved to see my creations. I could not possibly have had more support and I reciprocated by giving paintings to everyone.
 My earliest inspiration was the sea and its creatures. 
I also had a broad interest in all the arts as a boy—drawing, opera, music, poetry, acting, films and writing—and science, too. Both parents loved these things, also. My mother bought me a camera at an early age noticing I loved photography. And I made Super 8 films too, with a movie camera I bought myself.
 I was embarrassingly lucky to have such loving, supportive parents who saw in me a natural inclination toward the arts. They seized opportunities to nurture these interests in me.


In elementary school I developed a love of telling stories and illustrating them. And my influences were not necessarily "fine artists", but rather creative or poetic storytellers: Rod Serling, Roald Dahl, Walt Disney, Jacques Yves Cousteau, and later, Steven Spielberg. My love of telling stories led to the Rhode Island School of Design where I thought I would become a filmmaker. But I quickly learned film requires a lot of compromising with the visions of others. I was independent-headed and not very good at collaboration. So I decided to abandon filmmaking in the 80s and pursue illustration. Chris Van Allsburg was initially a strong influence on me. He was telling compelling stories in a cinematic way through children's books like Jumanji and The Polar Express. His dedication to draftsmanship impressed me but it took me a while to find my own voice.

Shasha's first children's book, Night of the Moonjellies (Simon & Schuster, 1992) won a Marion Vannett Ridgway Honor Award and was heralded by Smithsonian Magazine as "a classic." In recognition of his "outstanding contribution to the education of young people" Mark was given the Shining Star Award by The Children's Museum of Southeastern Connecticut.

My children's book career was brief in the 1990s but it was long lasting on my professional life. I still compose my paintings with serious attention to making an inviting composition and this comes from my illustration training.

Do you work to tell a story within your paintings?

I don't know if I'm as passionate about telling stories as I once was. It may come back but at the moment I am after more immediate expressions. I have always been drawn to any art form which evokes rather than depicts. In other words, I prefer to read someone's poem about a meaningful experience or hear their song rather than their factual account. I like to feel what they felt.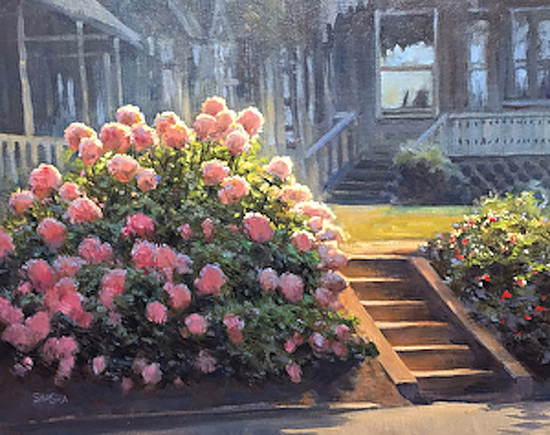 Robin's World 11 x 14" Oil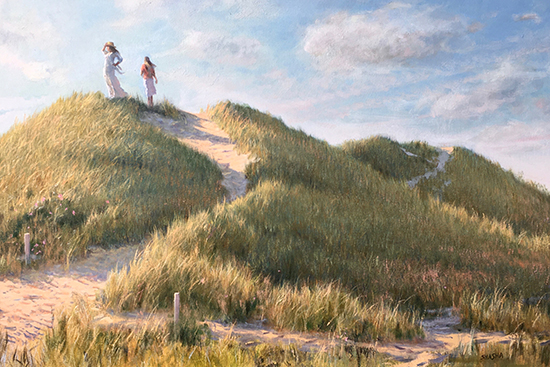 Lost Horizon 24 x 36" Oil
You have so many creative outlets (writing, acting, singing, painting)—does inspiration in one area inform and inspire another?

Inspirations always flow from one art form to another. I express myself in many ways and they interrelate. 
For example, I recently played Atticus Finch in "To Kill a Mockingbird." It was a thrilling experience to see the world through that character. But the surreal quality of the theatre is also full of poignant moments which feed my imagination. Degas and Lautrec come to mind as artists who captured the backstage mystique.

Another example—my first picture book, Night of the Moonjellies, is a true story of a day working at my grandmother's seaside hot dog stand when I was a boy in the 70s. The radio was full of songs which today not only evoke those personal experiences at the stand—aromas of ocean air, toasted hot dog rolls, chocolate shakes and fresh coffee. They also evoke worries of the era—civil rights protests and the Vietnam War. 
I want to live within the richness of all the art forms while giving and taking as best I can. Culture connects us to each other. The arts give us those connections.

When did you make the decision to pursue your painting as your primary medium?

In the late 1990s I decided it was time to paint full time, after my children finished elementary school. I had been a stay-at-home dad and found more time to paint as they got older. I've now been a full time painter for at least 20 years.

Tell us a little about your experiences at plein air events.

I love the plein air events for many reasons. First, it is like being back in art school where the "class" has been handed a very interesting assignment and we must gather all our powerful creative spirits to do our best work. It is always eye-opening to see what the other artists come up with. 
Second, each event is like a reunion of familiar faces and shared stories. Painting can be a solitary endeavor and it is often nice to paint with others, to discuss art and to simply relax with artists who understand the often daunting and adventurous life of being an artist.
Third, It is often exciting to paint in parts of the country I have rarely (if ever) visited. I love the freedom of exploring and searching for new things to catch my eye.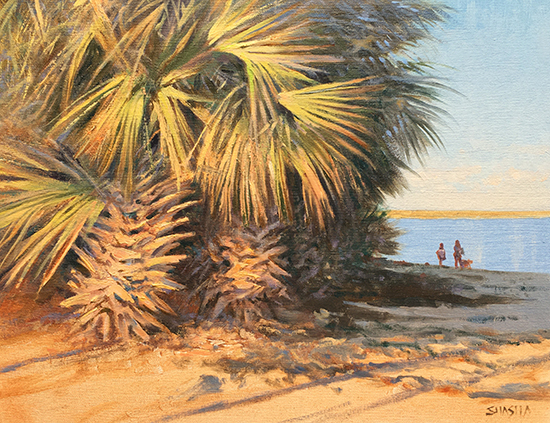 Last Light, St. Vincent's Island 14 x 18" Oil

Have you had the opportunity to travel to paint landscapes in other parts of the world?

Yes. I have painted in most regions of America, the Caribbean, some South America and some of Europe. Most places have plenty to inspire me. Martha's Vineyard has been a muse of mine for 30 years because of the variety of terrain. It also has old New England architecture and magnificent dunes. But these days the reflected light of Utah canyons has me transfixed and I'm very eager to go back and spend some serious time there.

Vagabond for Beauty 30 x 24" Oil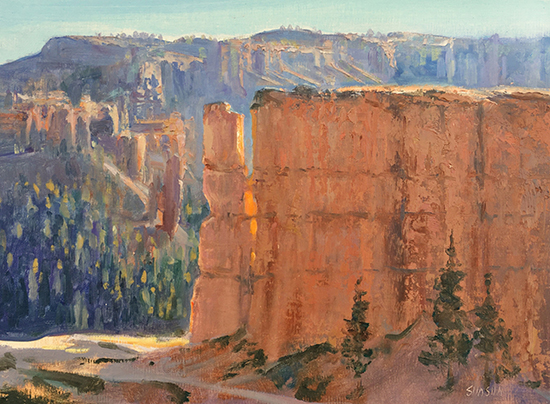 Where Time Stands Still 9 x 12" Oil
We asked Shasha to lead us through his process from scouting a location to finishing a painting.


In choosing a subject I trust my emotions. I scout for subjects which move me in some way. Mostly, I look for something which is speaking to me. It can be really thrilling to find an amazing sight and feel the panic of "Oh gosh, I need to capture this before the light changes." My best paintings always start that way. So my emotional connection is essential.


I almost always do a thumbnail sketch to determine the general values. I think it is an essential step. It only takes a few moments but it always makes the painting somewhat easier (though painting is never easy). 
I love good cinematography and sometimes I use photos to speed up my composition process. During my years as an illustrator I learned to make photos work for me as did Norman Rockwell, Maxfield Parrish and so many others. But the truth is, photos are full of lies—about colors, textures, values and atmosphere. So I use them sparingly and I never surrender to a photo.
About 60% of my work is done en plein air. For me, the winters in New England are best spent in my studio. That is when I work on my larger paintings.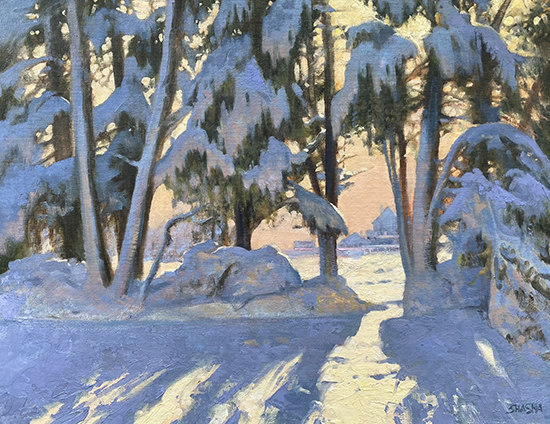 Snowbound 14 x 18" Oil

I always use professional grade surfaces, paints and brushes. The cheap stuff won't work and will frustrate your painting experience as well as the quality of your paintings. 
I use the standard warm and cool versions of colors, plus Cadmium Orange. 
I like to use real turpentine when I'm outside. But I use Gamsol or other odorless thinners in the studio for safety reasons. Always ventilate your space at least a little bit. 
I'm very sparing with colors which darken a lot when they dry—umbers and violets. I use them as if they were already almost black.

I prefer Michael Harding oil paints for most colors, Grumbacher Titanium Underpainting White for getting textures.
I recommend always using a barrier cream or gloves to protect yourself from the toxins in the oil paint. No need to panic but clean the paint off your hands soon after you are finished. Some colors such as Cobalt Blue and the Cadmiums shouldn't stay on your skin for more than a couple of hours. 
I work on canvas panels when I'm outside and stretched canvas in the studio.

We asked Mark if he would tell us specifically about the story behind one of his paintings—his inspiration and how he fulfilled it.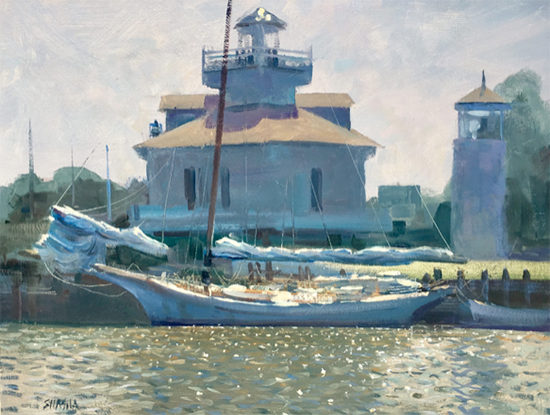 Bow, Belt and Beam 14 x 18" Oil

I love the plein air events because they challenge me not only to paint quickly but to come up with good ideas. In July 2018, I participated at Easton Plein Air, one of the largest plein air events in the country, competing with 50 great painters from around the world.

One hot day I was looking for inspiration and was finding nothing. Some painters find success catching interesting shapes at dumps and construction sites and though it didn't feel natural to me I decided to give the old shipyard a try.

Even there nothing inspired me, at first. It was getting late. I walked past workers fixing a shed, piles of old buoys casting shadows and then to the end of a pier and scanned the vista of the bay. Everything seemed flat and dull. I was about to give up and try to find something to paint in another town.

Then I turned around. In front of me was a beautiful skip-jack tied to a dock with the lighthouse and the bell tower all backlit with the sun on the water making a dramatic, energetic scene. I felt that jolt of excitement. In my mind's eye I could see the elements of a great painting.

But was there enough time? The sun was already low. The challenge was to hurry and grab the painting before the light changed. I pulled out a 14 x 18" canvas and I dove right in. 

My excitement was captured in the hasty brush work. I was quick but careful. I was in "the zone"—that rare feeling where I knew I was doing the best I could. 

When it was finished I titled it, "Bell, Bow and Beam." Not only did the painting sell at the end of the week, but it won The Artist's Choice Award which carries the praise of those whose judgment I respect the most, my fellow artists.

The whole experience was one of the happiest times I ever had as a painter. You never know when lightning will strike, but the trick is to learn enough about painting so that when those magic moments arrive you're ready for them.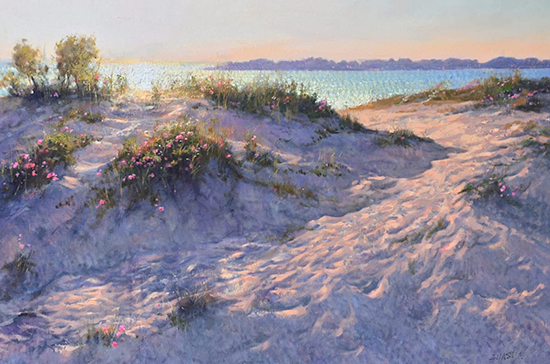 Synchronicity 24 x 36" Oil
Are you currently teaching workshops, or planning to when travel is a little easier?

Because of the Covid crisis I don't have a workshop scheduled for 2021. I am tentatively scheduled for some painting trips later though—west coast, desert southwest and Europe. Taking it one step at a time.

Any words of wisdom you might impart to beginning artists?

Have fun. But be aware of your true feelings about all this. If it hurts too much to go out and paint you might be happiest doing this as a hobby rather than a career. 
Being a full time painter is difficult. Not only is the work hard to master, but the rejections, the galleries and the business side of it can be painful.

On the other hand, only you know whether you can live with yourself for not following your dream of being an artist. If that's you, then I encourage you to give it a real shot. Learn to draw well, study the masters, take workshops, go directly to the artists who are painting the way you want to paint and listen carefully to what they say.
 Art is not a good way to make a living, but it can be a great way to make a life.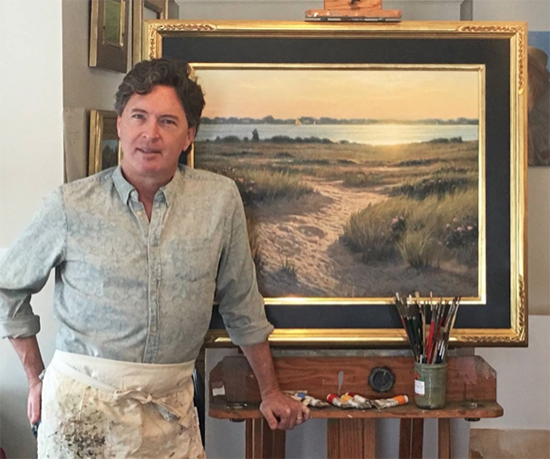 To see more of Mark Shasha's work, go to:
https://www.markshasha.com
All artwork copyright Mark Shasha