Voices of Experience

Carl Bretzke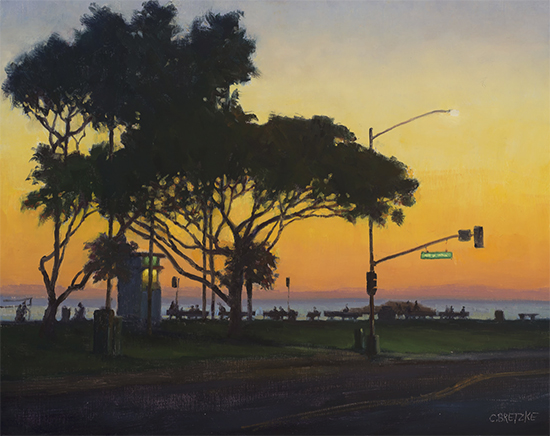 Main Beach Silhouette 16 x 20" Oil

If you've ever looked at and tried to understand a CT scan or MRI or any medical imaging, it becomes clear that the radiologist who deciphers these media must have focused and keen visual acuity. Carl Bretzke was trained as a Interventional Radiologist and worked in the field for many years, but his minor in college was Fine Art. He kept his artistic passion alive until he was able to retire early from his medical career and devote himself to his painting. His paintings reflect the sharp observation of a scientist and the perceptive sensibility of an artist. His work has been exhibited nationally and he has won multiple First Place, Best of Show and Artists' Choice Awards in plein air competitions. Bretzke wrote to us about the intertwining of his two careers into his full-time work as an artist.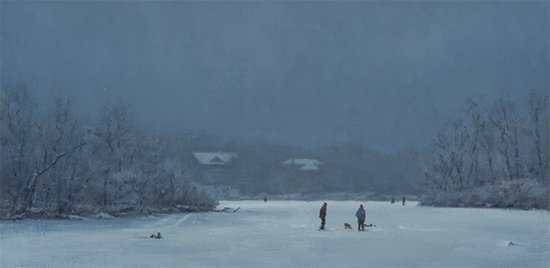 Isles Looking West 10 x 20" Oil

My interest in art started in childhood. I had an aunt who lived in Minneapolis. She and my mother would send their kids to each other's houses to get to know our cousins (likely also for a break from child rearing). My aunt was intensely interested in art and so those Minneapolis weekends were often spent at the Walker Art Museum and at the Minneapolis Institute of Art. I remember buying a poster of an Edward Hopper back then.

In high school, my art teacher (and audio/visual supervisor) recognized my art interest and made me the school photographer. He taught me how to compose an image on the square viewfinder of the school's large format cameras. After high school, I continued diving into art classes through college and, despite finishing pre-med, I had enough credits in art for an art minor degree from the University of Colorado.

I married an artist. She (Kristie Bretzke) always reminds me that I only had a minor art degree and hers was a major. As my medical career progressed, I had almost completely stopped making art. It seems appropriate that my medical career was in one of the more visual sub-specialties of medicine, Interventional Radiology. I performed invasive and minimally invasive surgical procedures under image guidance.

Then, 20 years ago I met Joe Paquet and started taking painting classes for the subsequent 12 years. Nearly all of my time off was spent painting or attending classes and workshops not only from Joe Paquet but also from many other notable artists throughout the country as well as in France and Italy. Here is a list of some of the other instructors who have been of great influence to me with links to their work: Ben Fenske, Marc Dalessio, Mark Boedges, Peter Brown ("Pete the Street"), Kristie Bretzke, Scott Lloyd Anderson, Richard Abraham, Bob Upton, Daniela Astone.

I started doing plein air painting competitions in 2010 and continue to do roughly 6 or 7 each year. After 35 years in medical practice, I chose to retire a few years early (in 2016) and paint full time. I believe that if anything, my prior career has taught me stamina and the importance of continual study and practice which has helped me in my painting career.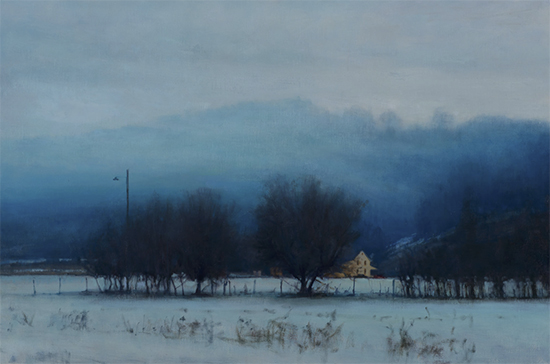 Morning Fog in the Valley 24 x 36" Oil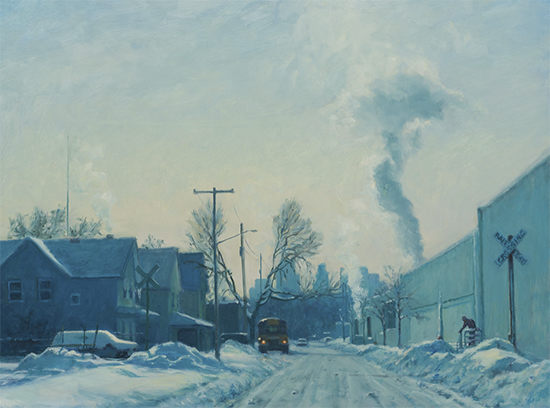 Cold Morning by the Tracks 18 x 24" Oil

The Minnesota landscape has its own unique character. Would you describe to us some of the themes in that landscape that provide you with inspiration?

Minnesota has a fairly diverse landscape but plenty of flat plane areas, stands of trees and beautiful lakes. Although you will find those things in my paintings, I also paint several city elements since I live in Minneapolis.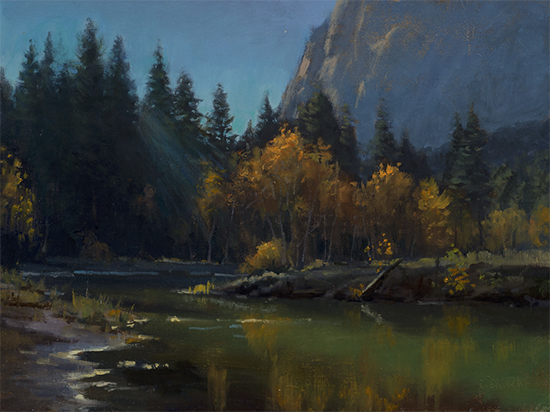 Morning Light at River's Bend 12 x 16" Oil

I am also fortunate to have had the opportunity to paint in an unbelievable number of beautiful places throughout the USA and Europe. Plein air events and workshops are typically in those places. On my website you will find paintings from Tuscany (Italy), France, England, US East Coast, US West Coast, Hawaii, Florida, Colorado, Great Lakes and more.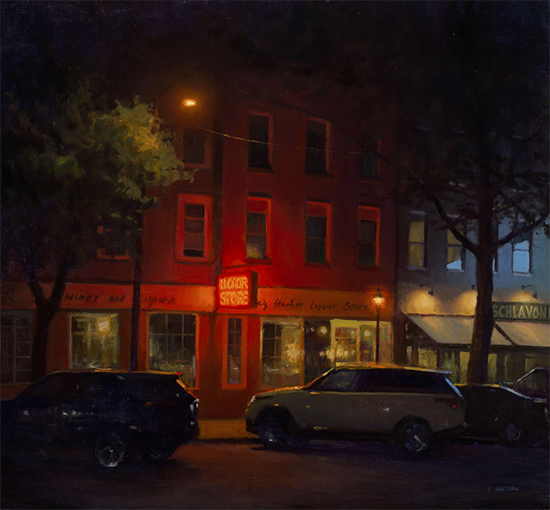 Main Street Liquors 28 x 30" Oil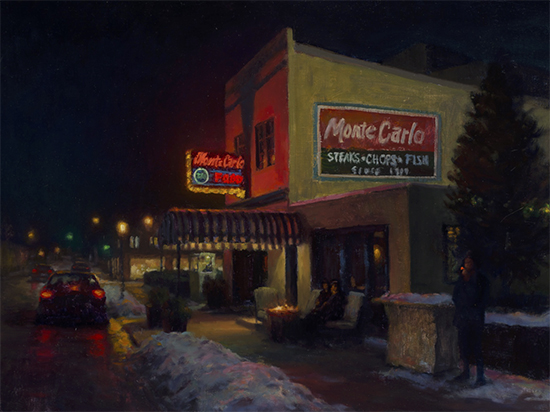 Monte Carlo Firepit 18 x 24" Oil

Nocturnes are also a strong theme in your work. We would be interested in learning more about your preparation for doing a nighttime painting. What equipment and palette colors do you maintain for working at night? Will you share your process?

A good easel light is critical to painting nocturnes and even sunsets. A friend of mine produces several great portable easel lights (artescape.us). Another option is an inexpensive portable piano light by Vekkia. (Also, see The Artist's Road Store for our Night Light Cap.)

My color palette was partially adopted from Joe Paquet which includes Titanium White, Cadmium Yellow Light, Yellow, Orange, Red, Alizarin Crimson, Manganese Blue Extra, Cobalt Blue, French Ultramarine, Ivory Black and Blue Violet.
I've added a few shortcut colors and helpful nocturne colors—Transparent Red or Brown Oxide, Pthalo Green, King's Blue and Yellow or Gold Ochre.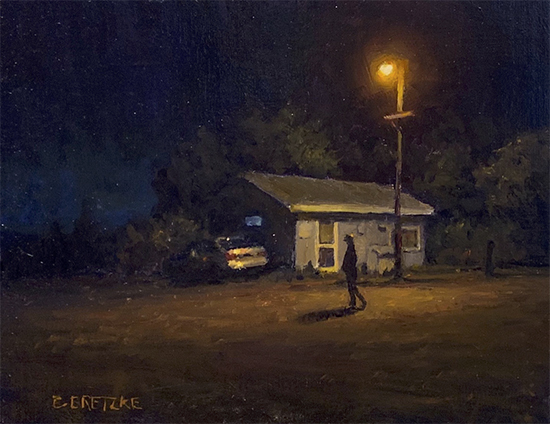 Warm Light - Cold Night 11 x 14" Oil

Frequently, I will do a quick one minute sketch to work out a composition. Most often I will do some kind of underpainting to work out shapes and values and then apply my final colors. No photos in plein air events but often in the studio. It's not uncommon that I will complete a plein air piece in more than one session.

I teach a stepwise process for painting sunsets and nocturnes. Here is a summary slide for painting sunsets plein air and some sequence images.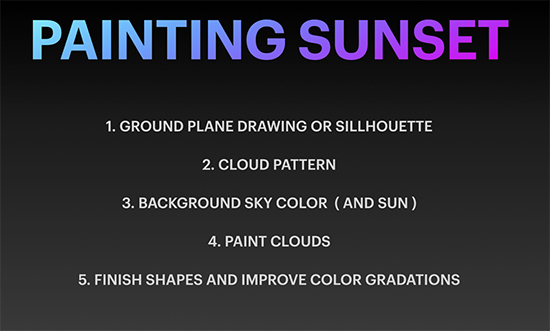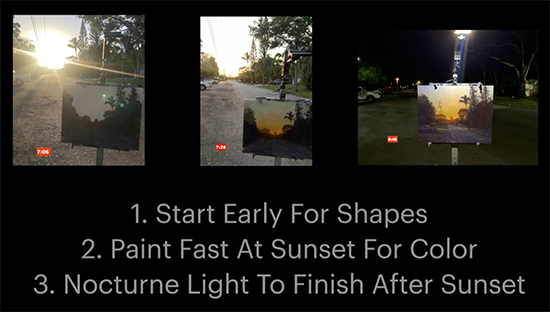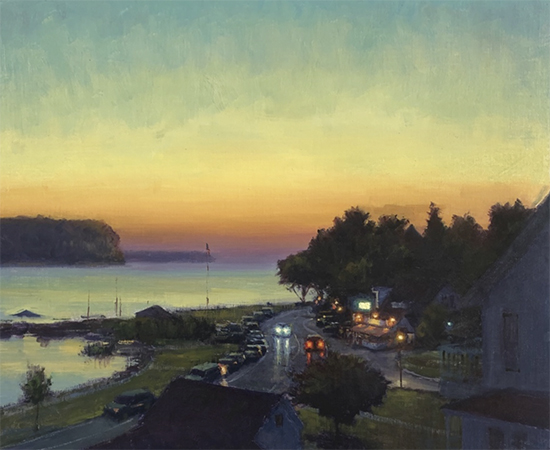 Dusk over Ephraim 16 x 20" Oil

Are you currently teaching?

I am trying to progress in my art career and at the same time keep things manageable and fun so I've tried to carefully balance any teaching with my own painting. I will do short mini-workshops during plein air events and I have participated as faculty during the Plein Air Convention but currently I'm not offering classes or longer workshops.

Any words of wisdom you might give to beginning artists?

Desire is more important than any innate ability. If you want to progress in your art, work hard at it and get information wherever it is available. There was a saying in my radiology training—you will only see what you know. It works for painting too. Seeing correctly is as important as how to put paint down so try to understand the objects and light effects you are trying to paint.

And, just for fun, if you could sit down and have a long conversation over dinner with an artist from the past, who would you choose, and why?

I guess it would be John Singer Sargent—he had that perfect combination of skill and artistic vision.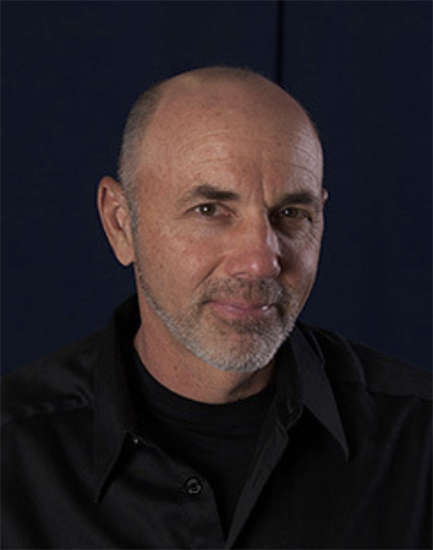 To see more of Carl Bretzke's work,

go to https://www.carlbretzke.com

All work copyright Carl Bretzke