Voices of Experience

Doreen St. John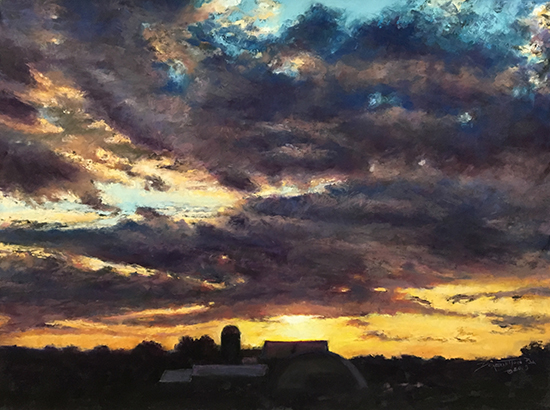 Bright Hope for Tomorrow 18 x 24" Pastel

Doreen St. John has managed to nurture her artistic talent throughout a lifetime filled with the responsibilities of being a single mother of two and a full-time educator. It was only in 2010 that she was able to retire from her full-time work in order to concentrate solely on her painting. In that short time she has developed her skills in multiple mediums and received recognition for her work from the American Impressionist Society, the Oil Painters of America and the Pastel Society of America, all of which have awarded her Signature Membership. St. John has been invited to participate in juried exhibitions both nationally and internationally and has received numerous awards for her work. She has been featured in major art publications and has been a faculty member for the Plein Air Conventions of 2017 and 2018.

St. John wrote to us about her journey as a teacher and artist and tells us about her materials and processes in working in both pastel and oil. She began by writing to us about her earliest artistic memories.


"I believe I was born an artist. At a very early age, I loved drawing, painting, and creating—not just artwork, but crafts, needlework, anything I could find. My Mom used to say all she needed to do to keep me happy was to give me a pencil and some paper. My Grandmother paid to have my sisters and me take art lessons in the summer with a local artist. One vivid memory is when my art teacher, Miss Taylor, featured one of my paintings in the annual art show she held for her students. I was very young, not yet in school. I remember her telling my parents and grandparents that I had a lot of talent and that they should encourage me.

I have always felt more myself when I'm creating than at any other time. I had asthma, crossed eyes, and some other problems as a child, and those early experiences affected my self-image. It was difficult for me to show my feelings, but when I was creating, I could truly be myself. I didn't get glasses until the 4th grade, and suddenly I could see things in great detail—something I hadn't been able to see before that time. A whole world opened up to me. I could see the beautiful bark on trees!

My parents discouraged me from pursuing a career in art. They grew up during the Great Depression, and I'm sure that influenced them. They told me I was 'too smart' to be an artist and I should go into a field like teaching. Those comments by my parents really stuck with me. I decided to follow a career as a teacher of students with disabilities, something which I felt called to do. That decision led to a very fulfilling 30-year career in education, not only in teaching but also administration. Throughout it all, I always told myself I would pursue my art once my children were grown and I was retired from my education career.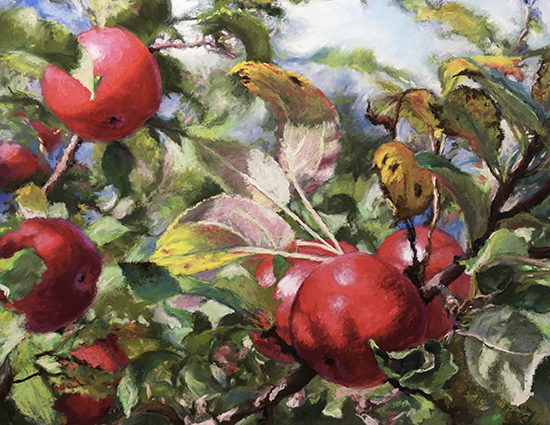 A is for Apple 16 x 20" Pastel

Did you receive a formal education in fine arts?
I don't have a formal education in the arts. It's all been self-directed. I took every art class our high school offered, and also had several general art classes in college in conjunction with my education degrees. I read every art book I could get my hands on and viewed great art in museums. I was continually creating. In addition to taking private lessons, I've taken many workshops over the years with nationally and internationally renowned artists. I have a large collection of art books and continue to study. Being a 'lifelong learner' and growing as an artist and as a person is very important to me.

Who are some of the teachers you have studied with and who have been a strong influence on you?

After the birth of my first child, I took a watercolor class at the Canton Museum of Art with Bette G. Elliott, a wonderful professionally trained artist and art teacher. After only a few sessions I was hooked! Bette was a master teacher. She encouraged each of her students to follow their own 'inner artist'. I continued studying with her for about 5 years and painted exclusively in watercolor for a total of about 30 years. Bette taught me so much about composition, color, values, etc. When she saw I was flourishing, she encouraged me to show and sell my work. I am forever grateful to her for her mentoring.

I've taken many workshops over the years from so many artists, both in person and online—too many to list I'm so grateful to those artists who shared so selflessly! In watercolor/mixed media: Edgar Whitney (Complete Guide to Watercolor Painting), Frank Webb, Marilyn Hughey Phillis, Carole Barnes, Maxine Masterfield, Doug Walton, Stan Miller, and many others. In oil: Marc Hanson, David Jon Kassan, Casey Childs, Joshua Been, Kelli Folsom, and others. I longed to take more workshops but, as a single parent working full time, I had limited funds and time.

Working in more than one medium, how do you choose which to use when addressing a subject?

I believe some subjects lend themselves better toward a particular medium, but it's often simply intuitive and something I can't put into words. I will sometimes paint a subject first in pastel, and later in oil, making changes and taking a different perspective. I miss the wonderful transparent, diaphanous edges I used to get in watercolor, but have found I can achieve similar effects in pastel and oil. I love to challenge myself and explore the boundaries of a medium, or, perhaps my own personal boundaries. It's always engaging.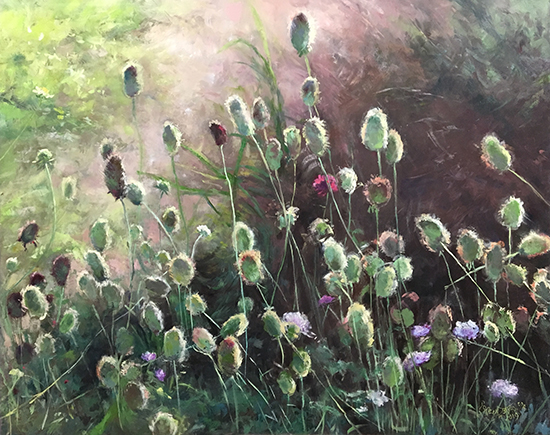 Reaching for the Light 24 x 30" Oil

Are you working primarily en plein air or in the studio right now?

After a knee injury in 2018, it's been more difficult for me to paint on location, in addition to other health issues, the pandemic, etc. I hope to get back to plein air more in the future. I love the connection with nature and the immediacy of seeing the light on the landscape. In lieu of working in plein air, I decided to focus on still life paintings during the pandemic, another way to work from life yet in a more controlled environment. It's been a lot of fun!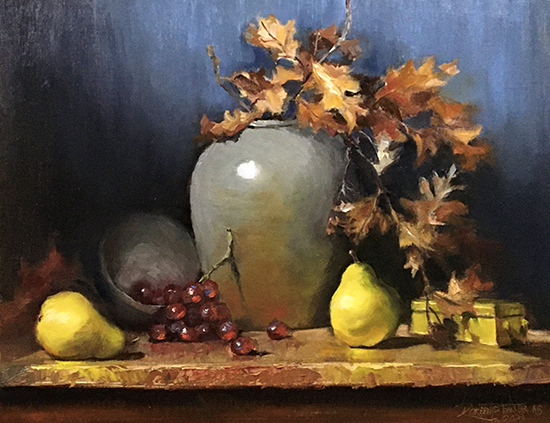 Autumn is Beckoning 16 x 20" Oil
I believe inspiration is a fluid thing—I can be inspired by something as simple as light on an onion. There is inspiration all around—I just need to show up and be open. Sometimes my inspiration is sparked by an idea, such as 'I want to focus on my composition', and I will look for a strong composition. Sometimes it's an object or a scene, the way the light falls on a meadow. My process is to do a simple sketch/value study in pencil or charcoal (sometimes in paint) and then to attempt to transfer that same energy onto a larger surface. If I'm doing a simple still life I don't usually do a preliminary sketch on a separate paper. Instead, I sketch directly on the canvas using a thinned, transparent neutral color such as Transparent Red Oxide combined with a small amount of Ultramarine Blue. I often will wipe out the whitest areas with a rag and, keeping the mixture thin, add the darkest big shapes. As the painting progresses, I add gradually thicker layers of oil paint, with the final areas—where I want emphasis and/or opacity—having the thickest paint. I've included Foggy Morning, a 'work in progress' so you can see the steps.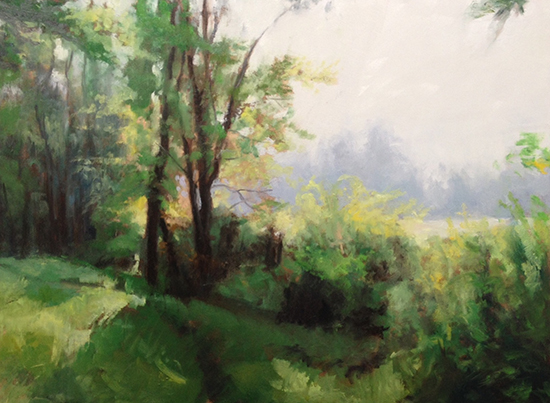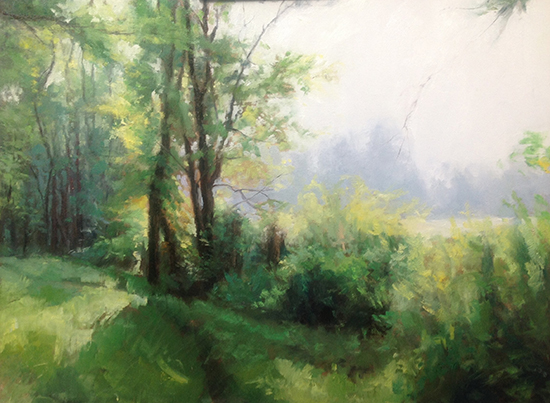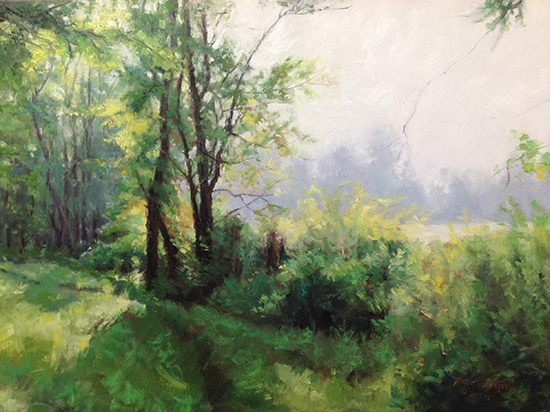 Foggy Morning 16 x 20" Oil

Please tell us about the materials you typically use.

Like most artists, I have a cool and warm of each of the primary colors in my oil palette, and I add additional colors as dictated by my subject. I have a more limited palette when painting 'en plein air' than in the studio.

My basic oil painting palette consists of Cadmium Lemon, Cadmium Yellow Light, Transparent Oxide Red, Cadmium Red Light, Alizarin Crimson, Ultramarine Blue, Cobalt Blue, Viridian and Titanium White. This is what I would take for plein air work.

In the studio, and sometimes outdoors, I will add some additional colors, depending on the subject, such as Yellow Ochre, Indian Yellow, Quinacridone Rose, Cool Gray, Sap Green, and others.

I like to experiment and, because of my background in watercolor, I think I have a good sense of color mixing. For a beginner, however, I recommend sticking to the limited palette at first, no matter what the media.

I use all types of surfaces for oil painting, but when doing plein air work I like the convenience of a panel. In the studio I've used primed aluminum (DiBond), stretched linen, linen panels, birch panels, gessoed panels, and oil paper. Experimentation with different surfaces keeps me 'on my toes' and often leads to some exciting discoveries.

In my pastel work, I use a wide variety of surfaces, from sanded paper to panels. I really enjoy the convenience of a panel when painting on location. Some of the surfaces I like working on are: Ampersand pastel panels, Uart 400 in both paper and boards, and Clairefontaine Pastel Mat paper.

I like a variety of pastels. I have Sennelier, Terry Ludwig, Unison, Great American, Pan Pastels (mostly for figure/portrait), Mount Vision, Richeson, Rembrandt.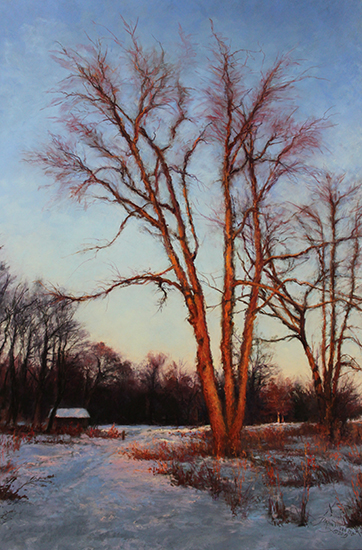 Golden Hour 36 x 24" Pastel
Would you tell us about your pastel process? Do you create an initial wash to block in your composition? Do you finish with fixative?

I've tried using an alcohol wash and I enjoy that, but I also like starting with a blank piece of paper and building my strokes, starting with feather light strokes in the beginning. Sometimes I start with light hatch marks to cover the big shapes. The repetitive mark making is very enjoyable. I actually consider myself a rookie when it comes to pastel painting, because I didn't start working in pastel until about 5 years ago, and not full time. I generally work directly with the pastels on the surface without using a wash, but I have tried that method and will probably do more of that in the future. I love the immediacy of doing a light abstract drawing with a harder pastel prior to laying in thicker layers with softer pastels.
Although I don't like to use 'absolute' statements when talking about art, I have never used fixative. I want the light to bounce around between the layers of pastel and fixative can cause some of that light to be lost.

Below is a three-step demonstration of one of Doreen St. John's pastel paintings, Reflection, included in the juried American Impressionist National exhibition in 2016.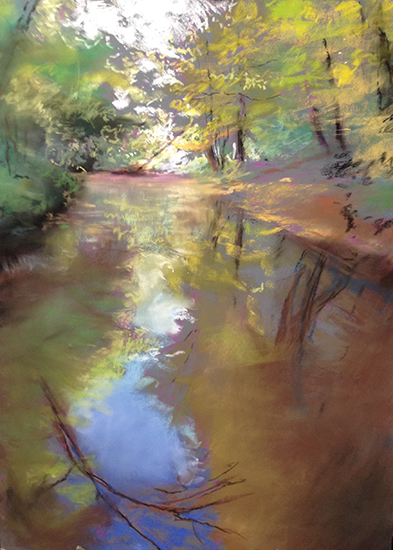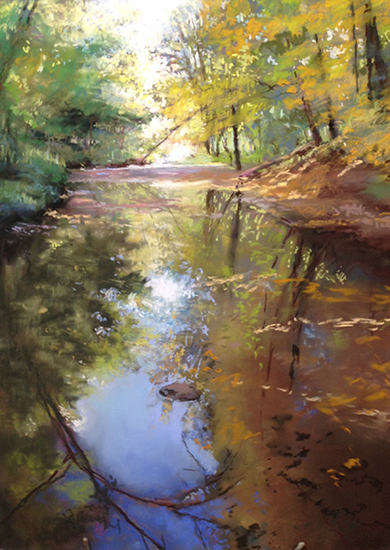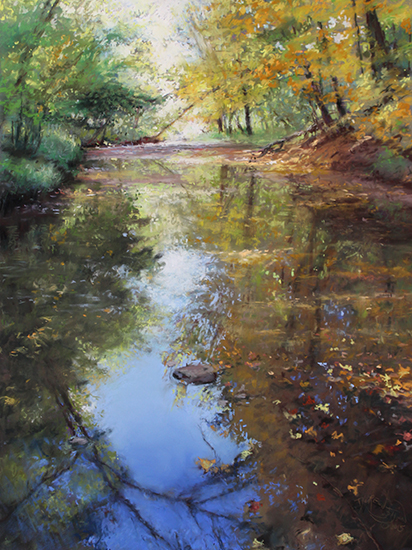 Reflection 24 x 18" Pastel
Pre-pandemic, did you have the opportunity to travel to paint in other landscapes around the country and/or the world? Where have you painted that was particularly inspirational to you?

I've been so fortunate to travel to many different locations, both in the United States and also to Canada, Germany, and England. If I don't happen to have my paints I will often sketch or take many photo references to use for a studio work. One of the most inspirational places, in addition to right in my own state/community, is the Pacific Northwest. I have visited there many times because I have family there.

Any words of wisdom you might give to beginning artists?

For me, one of the most important lessons I've learned, in life and in my art journey, is that putting in the hard work far outweighs innate ability, or 'talent'. The late, great Edgar Whitney said something that inspired me: "Talent is only 5% inspiration and 95% perspiration" (after the quote attributed to Thomas Edison, "Genius is 1% inspiration and 99 % perspiration."). He shared many stories about how his early teachers never thought he would amount to anything, but he used that to fuel his passion and worked even harder. He decided he would draw the figure from life every day and became a well-respected artist. He was 92 years old when I took a workshop with him. I've heard that same quote from others, also expressed as putting in the 'easel miles'. I didn't achieve Signature status in the American Impressionist Society, Oil Painters of America, and the Pastel Society of America until I was retired and in my 60s. I hope this will give hope and will inspire budding artists of all ages!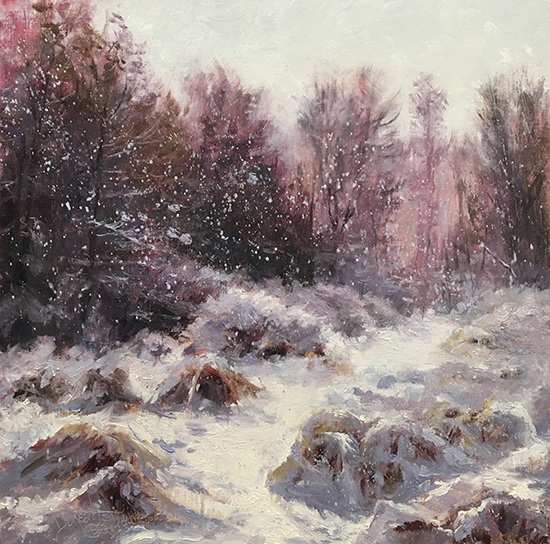 Snow Day! 12 x 12" Oil

Just for fun, if you could sit down and have a long conversation over dinner with an artist from the past, who would you choose, and why?

I've always been inspired by the work of Issac Levitan and would love to sit down to talk about life and art. His work resonates with me, and it's incredible that he created so many masterful works, given that he had a very difficult life and died at age 39. I would like to talk about art, nature, and about trying to express the beauty we feel. I love this quote attributed to him, "Is there anything more tragic than sensing the eternal beauty of the reality, glimpsing the innermost mystery, seeing God in everything and being unable to express these sublime emotions, aware of your powerlessness?"

To see more of Doreen St. John's work, go to:
https://www.doreenstjohn.com
All artwork copyright Doreen St. John