Voices of Experience

An Interview with Christopher Leeper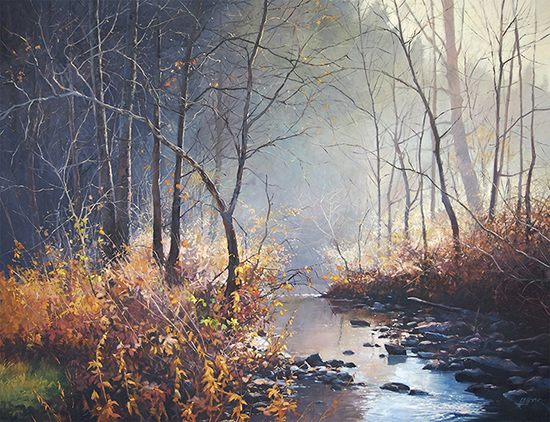 A New Day 36 x 48" Oil

"The wonder and blessing of it is,

that after 40 years or so,

I am still excited, inspired and curious.

That is a gift."
Christopher Leeper has the extraordinary talent of being able to work in multiple mediums, each with great command. He has received acclaim, winning awards in all—his watercolor, acrylic and oil painting work. Whatever medium it takes, his goal is to share the moment of excitement and inspiration he has experienced with others. Leeper participates in national plein air events and maintains a full teaching schedule. He adds to his list of achievements the illustration of four children's books. Leeper wrote to us from his studio in Canfield, Ohio.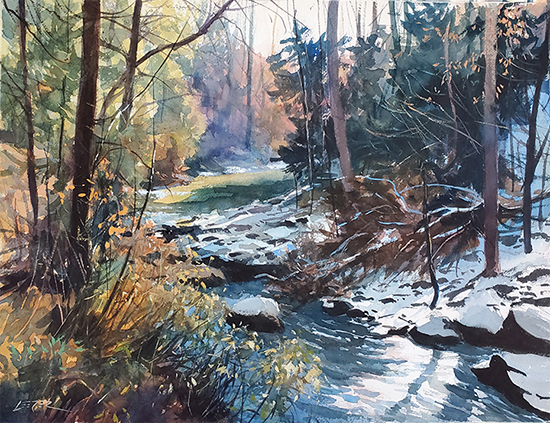 Shadow Side 15 x 22" Watercolor

I always knew that art would be my calling. I was obsessively drawing since I was five or six. I had lots of encouragement. My mom was a classically trained pianist and an amateur artist. She was my first instructor. My father worked as a heavy machinery mechanic and operator in the strip mines in Western Pennsylvania. They both were always very supportive.

You have a B.F.A. in Graphic Design. Did you work in that field after your graduation from Youngstown State?

Yes. My first job after college was as a layout artist for an ad agency. I loved this job. I was given a mega-set of markers and I rendered photos for placement in layouts. I worked there for about a year, then was hired by a health care system as a designer. I worked there for nine years before quitting and painting full-time. It was also a great job. I worked at a research hospital and besides graphic design, my duties included medical illustration, medical photography, and video production.

What pushed you to make the decision to focus on painting full-time?

I was painting and doing illustration every second that I wasn't at the hospital. I had several lucrative illustration accounts in the wallpaper industry. I illustrated what they called "men's wear." These were masculine-themed wallpaper borders. Subjects included hunting, fishing, sports and wildlife. I was making more money from it than my regular job. I had been talking about leaving the hospital for a couple of years when my father suddenly died of a heart attack. It shook my world and made me feel like I needed to get on with things. My wife also encouraged the move. (She is a graphic designer at Youngstown State University.) In 2000, we moved into a larger house that had a huge RV garage. I converted the garage into my studio.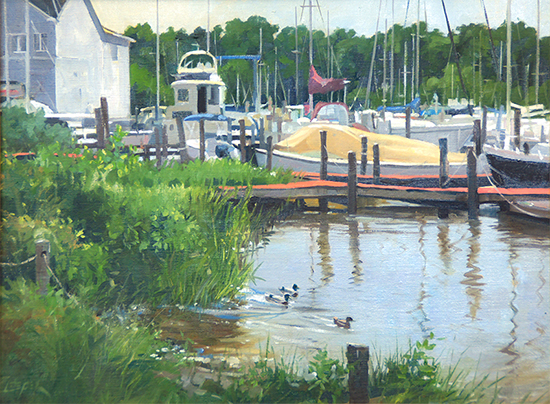 Afternoon Delight 18 x 24" Oil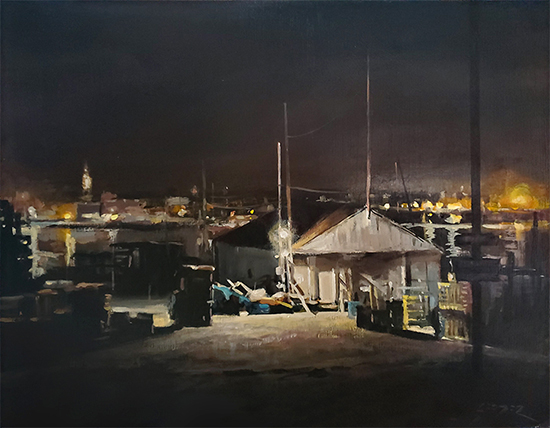 Night Wharf 12 x 16" Acrylic

Was it difficult to make the transition from a traditional job to your new freelance life?

A nine-to-five job and meeting deadlines made my transition to working for myself very easy. I have always treated my time and art seriously. I established a rigid schedule for working in the studio. I think I was so scared of failing and having to go back to my old life that I was working sixty hours a week. I worked like that for about five years. Thankfully, I have relaxed a bit since then, but I think it really got me going in the right direction.

Have you studied with or taken workshops from other artists? Is there someone who was a mentor to you in your painting?

Not really. I kind of regret not having a mentor. It just never happened for me. I count the 19th century masters as my influences, artists like John Singer Sargent, Anders Zorn, and Winslow Homer. I have studied and been inspired by the great illustrators like Dean Cornwell and N. C. Wyeth. I am also inspired by the many great contemporary artists that are working today.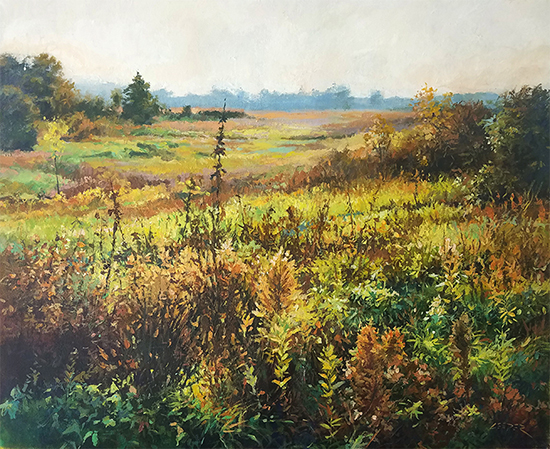 Autumn Tapestry 20 x 24" Acrylic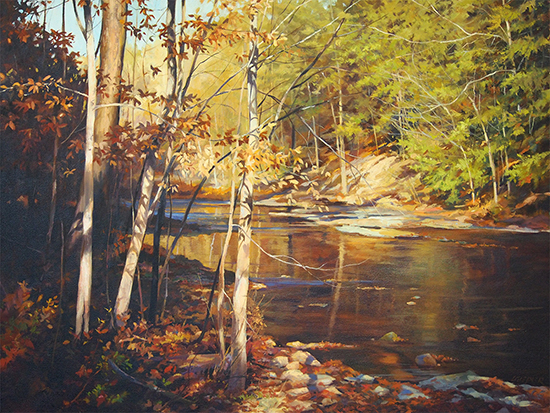 Autumn Passage 30 x 40" Oil

Do you work more in one medium over another—watercolor, oil, acrylic?

I use all three. I began painting in watercolor—probably an influence from my mother. I joke that it is my native tongue. Acrylics and oils came much later. Some subjects seem to speak to me in a certain medium. I teach classes in my studio in all three mediums, so I am using them all on a weekly basis. I sometimes go thru phases of working with one more than others.

Do you work primarily from the studio or on location? Would you tell us a little about your processes?

Primarily the studio. I compete in four or five plein air competitions throughout the year and occasionally paint plein air from home, maybe four or five times a month when the weather cooperates.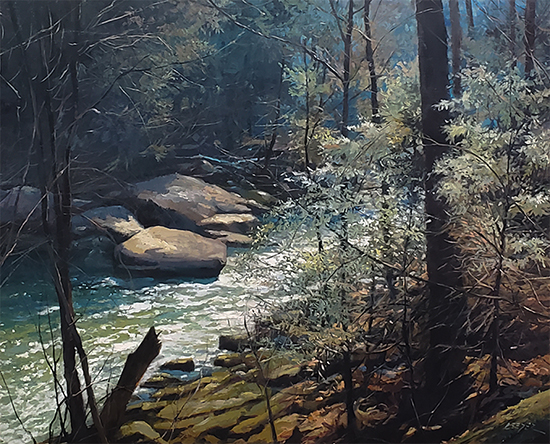 River of Light 20 x 24" Oil

I generally use photos as reference. Sometimes the photo is followed closely and sometimes it is just a starting point. I will create some small painted studies experimenting with different ideas. It depends on the subject and painting idea.

When I am out photographing for subject matter, I look for dynamic shapes and values. I spend a lot of time squinting. However, the beauty of digital photography is that you can take as many pictures as your storage allows. Thus, I shoot lots of images.

I am mostly a direct painter and alla prima techniques dominate my use with all the mediums. However, I occasionally like to immerse myself in a painting that involves much more layering and process. Due to current events (pandemic requirements), I am not teaching and my kids are home with no need to be taxied about. I have huge amounts of time. Time like I haven't had in fifteen years. This has allowed me to really invest into these types of paintings. There is something meditative and comforting about it.

Do you like to participate in plein air painting events?

I like going to new areas and working like crazy for a week. I have made some great friends from doing the events. In the last two years, I have only applied to the bigger events. These draw the best artists and have the best sales and awards. Being around these great artists is very inspiring and pushes me to make better paintings. For me they are exhausting but certainly something I look forward to. I'm not sure I could do more than five or six a year.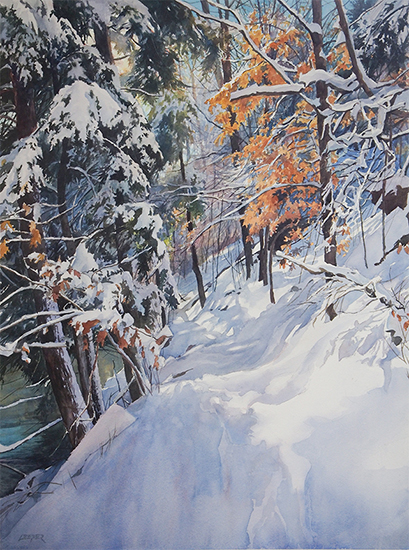 A Winter's Reward 30 x 22" Watercolor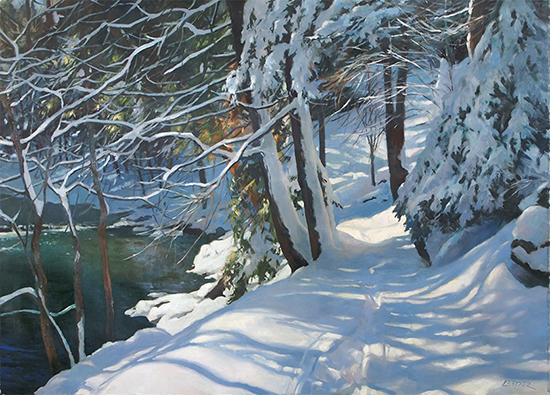 A Winter's Walk 20 x 30" Oil

We'd like to hear about your choices of materials in all three mediums.

I use many different brands of oil paint, including Vasari, Michael Harding. Gamblin and Williamsburg. I prefer Claussens oil-primed portrait linen. Large paintings are stretched, and smaller ones are mounted on aluminum or ultraboard. Often, I will paint on a piece of linen taped to a board. If the painting is a keeper, I will then mount it. If not, I don't waste a board.

I use Liquitex Heavy Body acrylics. I prefer painting acrylics on gessoed Masonite and Centurion acrylic-primed linen.

I use mostly Daniel Smith watercolors. I prefer Arches 300 lb. cold-pressed, Strathmore Gemini 300 lb. cold-pressed and Waterford 200 lb. cold-pressed paper.

My basic color range is very similar in all mediums with a few exceptions in each. My basic palette is made up of warm and cool versions of all the primary colors with a couple of earth tones and a green. My basic oil palette is Cadmium Lemon, Cadmium Yellow Medium, Cadmium Red, Ruby Red (Vasari), Ultramarine Blue, Cobalt Blue, Pthalo Blue, Asphaltum, Transparent Red Earth and Pthalo Green. I love experimenting with color so I often add new colors to my oil and acrylic palettes. My watercolor palette is fixed. Colors are added rarely.

Under normal circumstances, what is your teaching schedule?

I teach classes in my studio five days a week. I schedule a morning session and an afternoon session. I teach small groups as well as private and semi-private (two students). I taught as a member of the adjunct faculty (one or two classes per semester) at Youngstown State University for twenty-two years. That ended a couple of years ago. I teach about twenty workshops a year.

Do you have a strong arts community where you live now?

Canfield, Ohio, where I reside now, is south of Youngstown and about halfway between Cleveland and Pittsburgh. It has a good number of small arts organizations and Youngstown is home to Youngstown State University (my alma mater) and The Butler Institute of American Art. These are influences on the local arts scene.

What most important piece of advice to you give your own students?

Draw! There is no better teacher than a habit of drawing.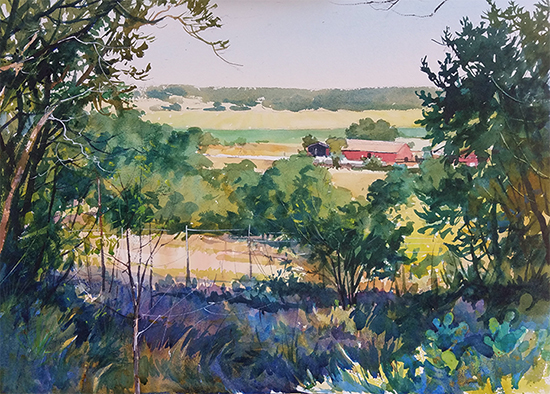 Ranch View 18 x 24" Watercolor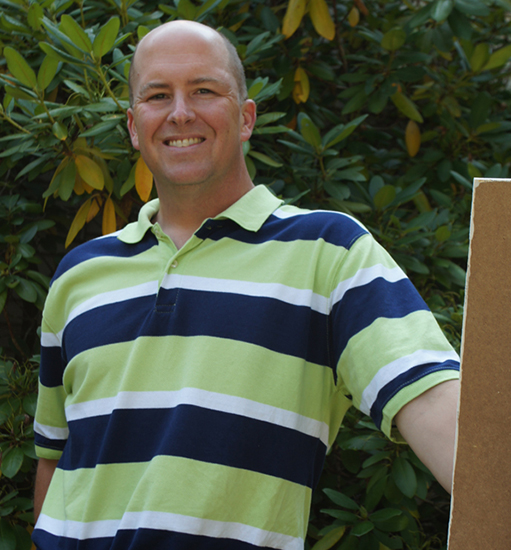 To see more of Christopher Leeper's work,
go to: https://www.christopherleeper.com

All artwork copyright Christopher Leeper