Voices of Experience
Jane Hunt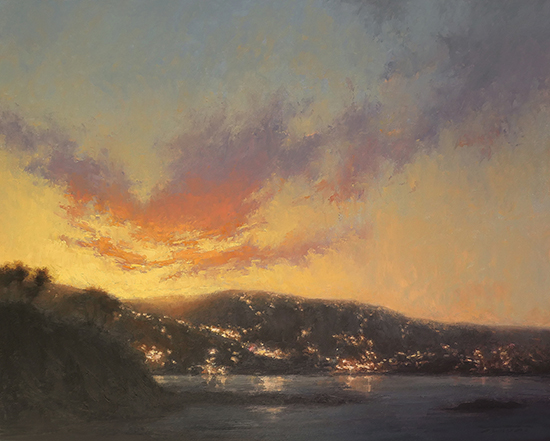 New Beginnings 18 x 24" Oil
"Moving cross-Atlantic three times in my early years,

I spent much of my life with an underlying sense of homesickness.

This yearning propelled me to create a sense of 'home'

within my landscapes.

My greatest hope is that my work gives its viewers

this same sense of comfort and connectedness;

a gentle place to rest."
The challenges that artist Jane Hunt has faced throughout her life have informed her work and pushed her to create within her paintings "a gentle place to rest." Painting, for her, is therapeutic—focused time to work in the flow of creativity—to create a place of peace and to help her through the anxieties of relocating from England to the United States several times while growing up and of now raising a medically fragile child. Hunt's work has been featured in multiple national publications, winning over two hundred awards in exhibition. We asked her to tell us a little more about the transitions of her life from England to Colorado and from illustration to landscape painting.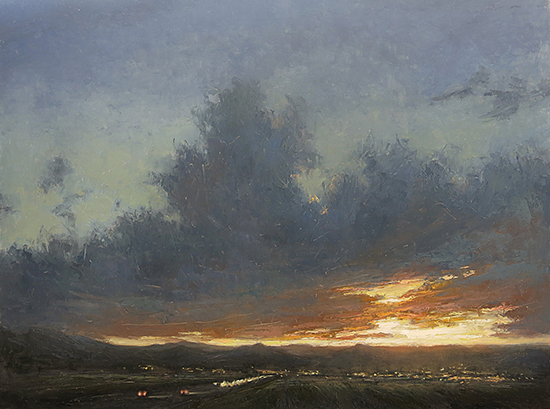 Headed Home 18 x 24" Oil
Growing up in the UK, were you exposed to the Tate and other cultural centers? Did you have favorite artists/paintings that absorbed you as a child?
Yes, I was fortunate to grow up just a few miles from the Tate Museum in London, and my favorites were always the Turner and Constable paintings. I was also very lucky to spend a lot of time in the impressionist museums in Paris (Marmottan, L'Orangerie, etc.) and was always particularly drawn to Monet's work.
Where did you live in the United States when your family moved here? Were you able to find that kind of cultural stimulation where you lived after coming here?
We first moved to right outside New York, and then right outside Detroit. It was easier to find in New York than Detroit, but I think that there's cultural stimulation to be found almost anywhere.
My family was completely encouraging of my art making. My parents were big art lovers and so were delighted that I enjoyed spending time in the museums with them. Like most artists, I've been drawing as far back as I can remember, and I was constantly in trouble at school for "doodling and staring out of the window". Despite growing up with so much fine art around me, I still believed I had to have a more 'reliable' art career at first. When I attended the Cleveland Institute of Art, I studied first, medical illustration, and then switched to illustration after a horrifying first day at the morgue.
Have you found that your work as an illustrator influences your work now as a landscape painter?
Yes, I think an illustration background really hones drawing skills, which are essential for good painting. On the flip side, it took me years to overcome some of my 'tight' illustration habits, and learn to loosen up more.
Have you taken workshops from other artists that have inspired your work?
I've taken so many great workshops! My time spent many years ago in the online Dennis Sheehan Academy was pretty influential. Even though I teach and paint in a much more 'structured' way than he does, it really solidified my love of tonalism.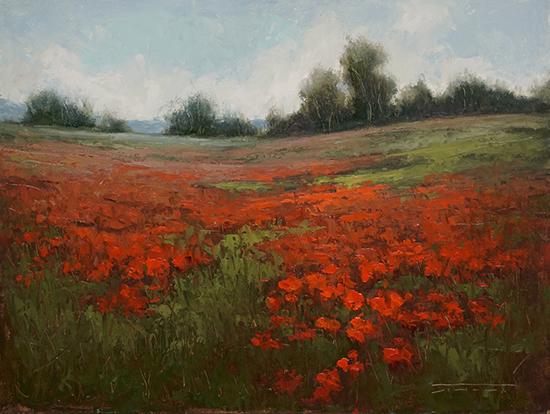 May Poppies 11 x 14" Oil
Do you continue to travel internationally?
I still travel internationally, at least every couple of years. It's important to me as most of my family still lives in England. I'll be teaching and painting again in the south of France next summer with buddy, and amazing painter, Michele Usibelli, through workshopsinfrance.com. It's pretty exciting because we planned our workshop to be right between poppy and lavender season. I'm really hoping that we may get both!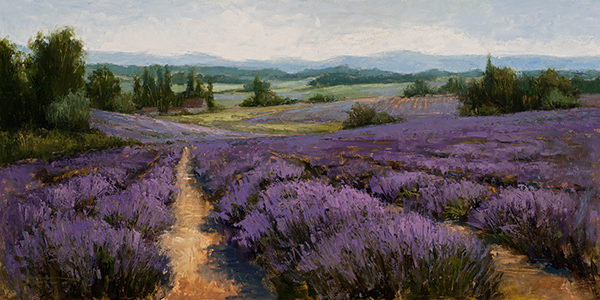 Lavender Fields 12 x 24" Oil
Are there particular landscapes that you find most inspirational?
I'm typically drawn to bucolic scenes. I really need to have an emotional response to a scene in order to paint it well. Sometimes that's because of a nostalgic quality to the actual subject, or it could be a light effect or color harmony. I'm generally drawn to things that make me feel peaceful.
I do use painting as a type of therapy. Raising a medically fragile child caused a tremendous and prolonged period of stress and anxiety. During that time I started using painting as an escape. Even though I was often anxious, by the time my painting had a peaceful feel, I often did as well. I think creating is an incredibly healing tool.
I find painting to be very meditative. I've noticed that my most successful paintings are almost always painted in a state of flow, which is really a cousin of mindfulness. Whether someone understands this flow state from a psychological or spiritual perspective, the result is the same. There is growing evidence that art created from this state (flow, or being in 'the zone') is better received by the viewer.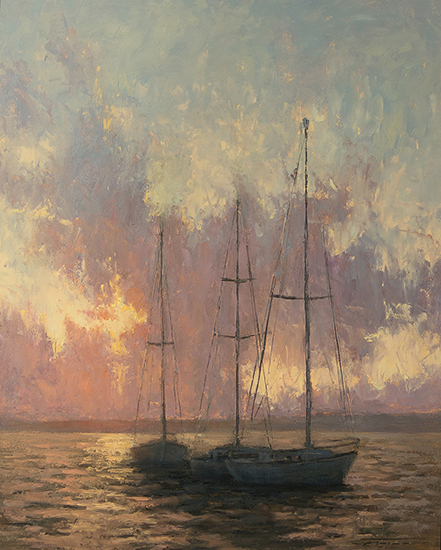 Boats at Dusk 20 x 16" Oil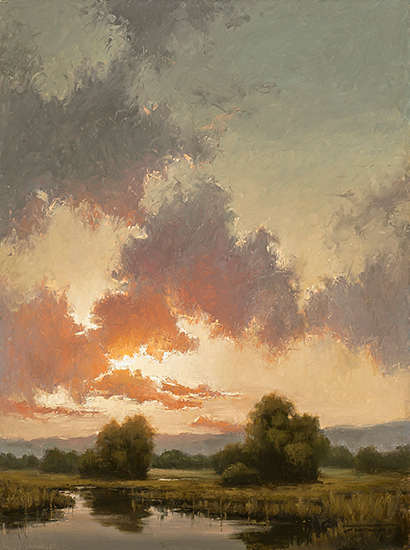 Looking West 24 x 18" Oil
Would you tell us a bit about your technical processes and your materials?
I'm a stickler for creating a four-value study before beginning a painting. Within that study I have figured out concept, orientation, focal point, composition, and values. In a nutshell, 80% of the work is done upfront and keeps me on track. This massively increases my chances of getting into a flow state while painting, and thus increases the chance of it being a successful painting. It also allows me to completely loosen up when I'm in the actual painting stage. As far as reference, for studio pieces, I tend to use a combination of plein air studies and my reference photos.

(Jane provided us with this link to a 40-second Instagram video as an example of her painting process.)
I worked for over twenty years in acrylics before switching over to oils. I actually now use water-miscible oils (Winsor & Newton Artisan line) which are a great product, especially for those who want to work solvent free for health or environmental reasons. There seems to be a misconception about them that they're not 'real' oils which isn't true at all. Increasingly, prominent professional artists are turning to them for various reasons.

I have my complete extended materials list on my website. I almost exclusively use Amperand Gessobord panels. I love them for so many reasons. The tooth is perfect for washing in really thinly (almost like watercolor) in the beginning and it can handle my very aggressive knife strokes in the later stages. As far as paints, I very deliberately use a warm and cool of each primary—this limited palette really helps with color harmony and is enormously beneficial to my students. I use Winsor & Newton Artisan oil paints, which are water-miscible oils. There's a bit of a learning curve, but they work perfectly for how I paint, particularly in the studio. And, contrary to some artist myths floating around, water mixables are 'real' oil paints and are used by many prominent artists. Both W&N and Ampersand are very ethical companies with a strong commitment to sustainability—that's very important to me.
Are you currently teaching workshops?
Yes, I teach in-person workshops, and will soon be re-releasing my very popular 'Essentials Course'. In this self-paced course, I aim to nutshell the most important things I learned in art school, and in 35 years of painting. I also offer free, mini-tutorials and tips on my Instagram page @janehuntart. (Check Jane's website for more workshop details.)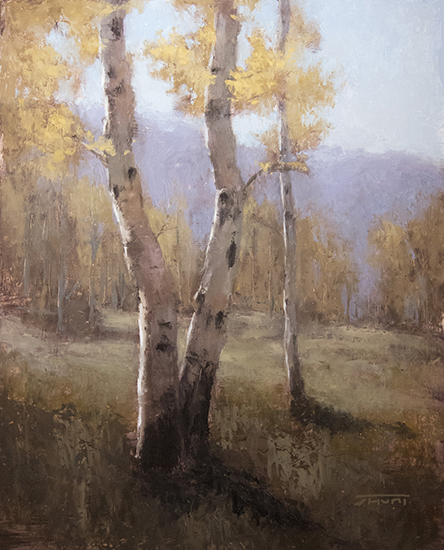 Autumn Aspens 30 x 24" Oil



Winter Ranch study 11 x 14" Oil

Any words of wisdom you might give to beginning artists?
It may sound trite, but it would be 'feel the fear, and do it (paint, approach a gallery, etc.) anyway.' There is so much fear in the creative realm—whether it's performance anxiety, lack of confidence in your work, procrastination, or any other form it takes. The fear will naturally dissipate if you keep moving forward despite its presence.
And, just for fun, if you could sit down and have a long conversation over dinner with an artist from the past, who would you choose, and why?
J.M.W. Turner for sure. His work has always spoken to me very deeply. It's ethereal, and he was not afraid to explore the relationship between emotion, painting, and the divine. I would love to delve into that conversation with him.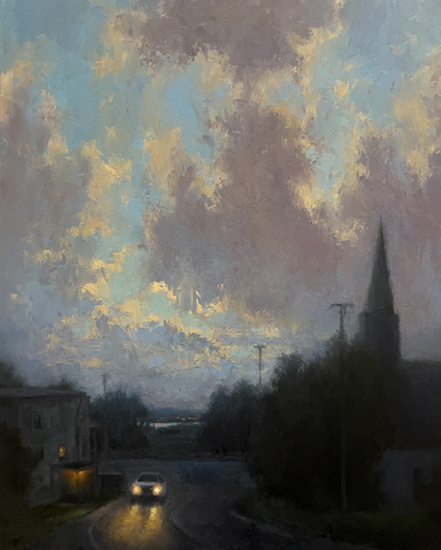 Sanctuary 20 x 16" Oil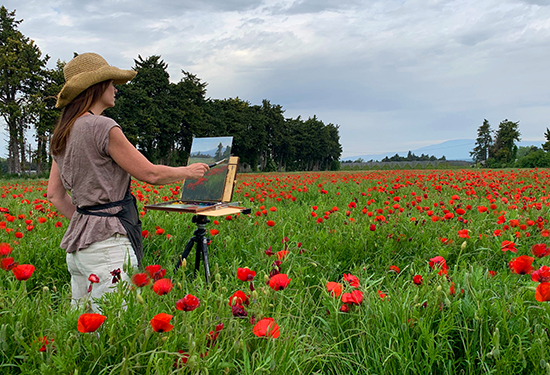 To see more of Jane Hunt's paintings,
go to: Jane Hunt Fine Art
All artwork copyright Jane Hunt