Voices of Experience

Kathleen Dunphy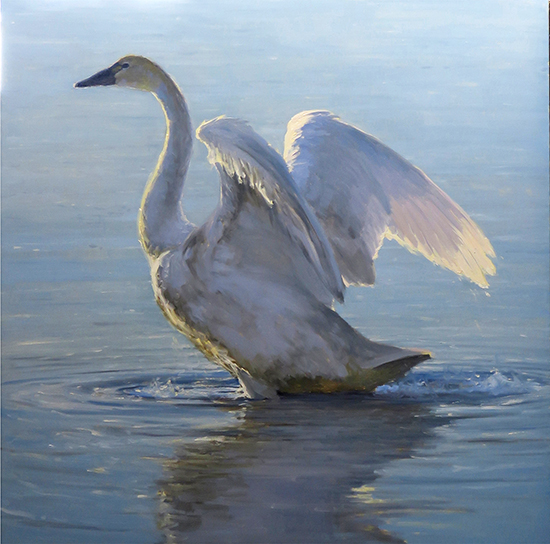 Wing and a Prayer 40 x 40" Oil
Inspiration is all around Kathleen Dunphy and she immerses herself in it—from her farm complete with goats, chickens and dogs to the wider landscape surrounding her northern California home. Her large range of painting subjects include the marine environment of coastal California, the Sierra foothills and animals—both domestic and wild. Dunphy has earned signature status with the Society of Animal Artists, the California Art Club, Oil Painters of America, the American Impressionist Society, Laguna Plein Air Painters, the American Society of Marine Artists, and Artists for Conservation. She is a member of the Plein Air Painters of America. She has received numerous national awards and is represented in galleries across the country.

Dunphy works primarily in oils, but has recently expanded into gouache. She shares her experience and knowledge with students, and agreed to share with us as well as our featured "Voices of Experience" interviewee, starting by telling us about her life before becoming a full-time painter.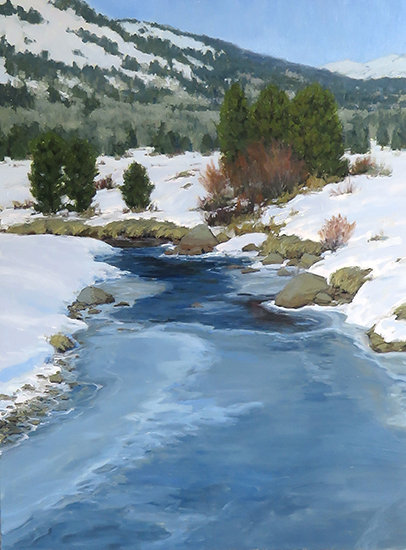 Open Water 40 x 30" Oil

Although there are no other artists in my family, I was always encouraged to make art as a child. My mother was very artistic and saw that I had every conceivable type of art supply to experiment with when I was growing up. I always just loved the feeling of a pencil or chalk or brush in my hand and was fascinated by the marks I could make. My mother took art appreciation classes and as a result, I had access to books about the old masters that I loved thumbing through.

I had a great teacher for figure drawing when I first went to college, Dr. Allan Marsh at Montgomery College in Maryland. He was very encouraging and had a classical, academic approach to art that really started me off on the right path.

After college but before becoming a full time painter, you worked as a floral designer. Has that work influenced your current fine art work?

I owned two floral design/special event planning businesses, one in Davis, CA, and one in Ramstein, Germany, while my husband was in the Air Force. In California, I did all the flowers for the University of California Davis and in Germany, I provided decorations for the Air Force at the base in Ramstein. I had those businesses for a total of about ten years. That work doesn't really inform my work now, but it did provide a way for me to be creative and use color and design during the years when I wasn't painting.

Being in the military, we moved frequently. When we moved from Germany to Alaska in late 1995, I realized that I didn't want to start another floral design business. With encouragement from my husband, I went back to drawing (which I hadn't done since college). I started out with drawings of dogs that I would then hang in local vet clinics, which led to commissions. At that point, there was no turning back for me and I knew I had to find a way to make this my profession so I could focus on art all day every day.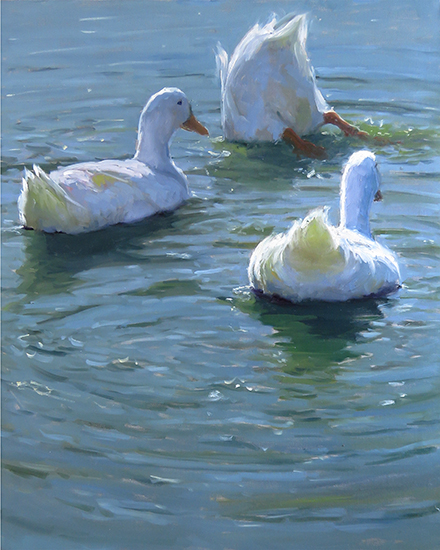 Bottoms Up 30 x 24" Oil

In 2000, you were awarded a scholarship at the Academy of Art University in San Francisco. Did you have a teacher who was a strong influence on you during your studies there?

Attending the Academy of Art was the best thing I ever did for my career, hands down. Every instructor there was an exceptional artist and all of my fellow students were such an inspiration, too. Craig Nelson and Brian Blood had the most influence on me.

I have also been so fortunate to attend workshops by some of the great painters of our time, including T. Allen Lawson and Scott Christensen.

Your subjects are wide-ranging. Do you prefer one over another?

The artists throughout history that I've admired most were adept at painting anything. I never want to be confined to one genre and enjoy the challenges of varied subjects. My overarching goal as an artist is to be able to paint anything, any time and anywhere that I want. I have a long way to go, but the cross-training of switching subject matter keeps me on my toes and engaged with my work.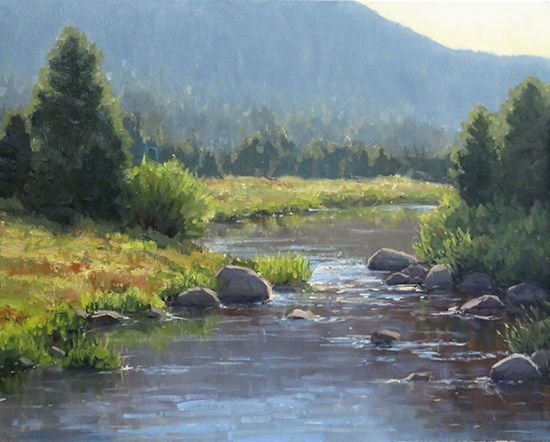 Casting Flies 24 x 30" Oil

Have you worked in mediums other than oil?

I stumbled on gouache when a good friend sent me a complete set of gouache paints/brushes and a hand-made pochade box. It's been fun after so many years of painting solely in oil to try something different. I find gouache to be a very forgiving medium—if something doesn't work, you can just immediately paint over it since gouache dries so quickly. Unlike oil, it doesn't get muddy when you apply several layers. The quick drying time makes transporting it much easier than oils, and the clean up is a breeze! I tend to be a messy painter, and with gouache, I don't have to worry about ruining my clothes when I paint since it cleans up with water. I use it as a sketching medium and also for small, completed paintings.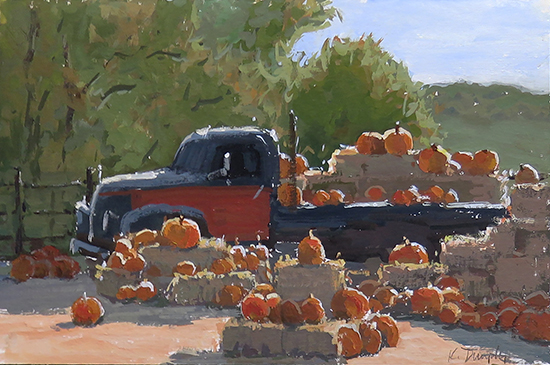 October Harvest 6 x 9" Gouache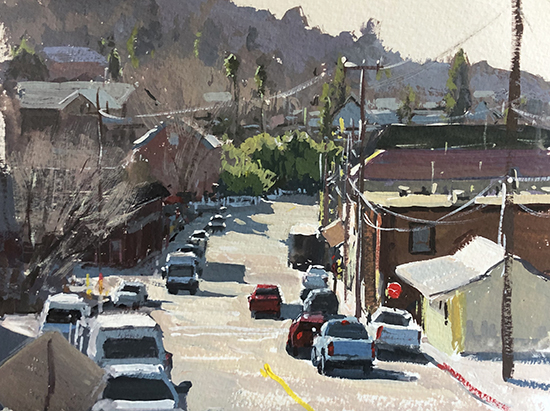 Sonora Side Street 6 x 8" Gouache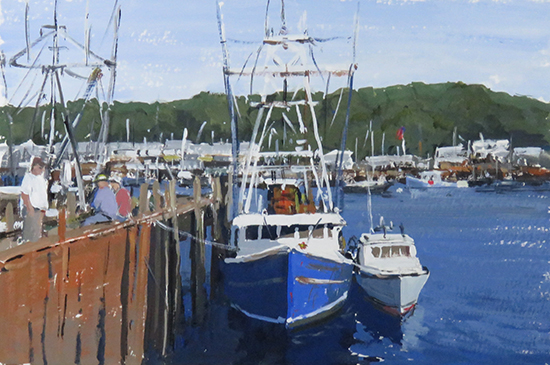 Gloucester Harbor 6 x 9" Gouache
Would you tell us about your process from inspiration to final painting?

I'm always drawn to dramatic light, and that's what drives me to paint. I love the solitude of nature, just me and my dog and all that natural beauty around me. The one place you probably won't find me painting is in the middle of a city! I also love the transient effects of light and trying to capture that exact moment in time on canvas.

All of my studio paintings have their genesis outside. I never do a studio painting just from photographs if I've never painted the subject en plein air. The studies don't necessarily have to be that exact location—for example, I can use plein air paintings of autumn aspens from Wyoming to inform a studio painting of a scene from the Sierra in California. The color notes from the location work are invaluable to getting a painting to look realistic. Photos often have exaggerated color (especially when using the new iPhone cameras) and dark areas often go black. The time spent in the field is absolutely critical to good painting.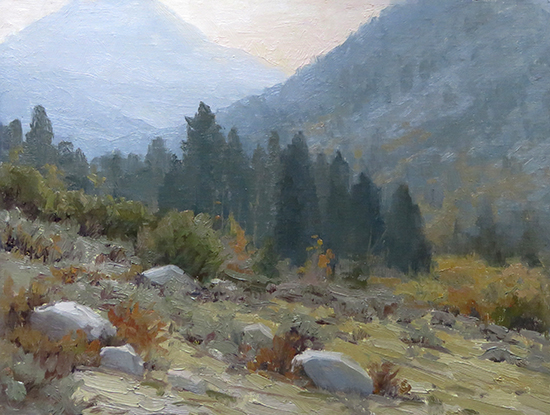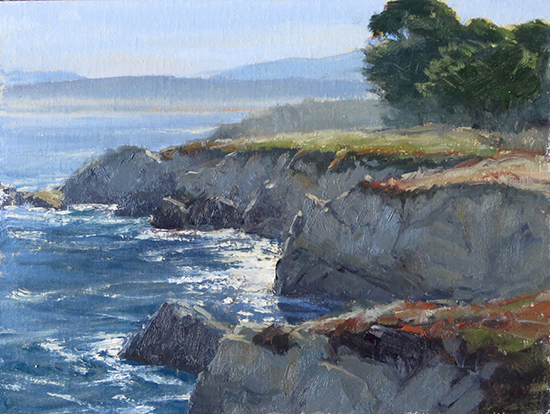 Looking East to the Sierra 12 x 16" A Perfect Morning in Pacific Grove 12 x 16"
Plein Air Paintings

I always create thumbnails before I begin to determine my design and the focus of my painting. They are an absolutely integral first step in my process that helps me settle down and decide on one clear thought to convey per painting. Nature can be overwhelming, and the thumbnails help me to focus, both when I'm plein air painting and also in the studio. I use photos for reference, but I try to not rely on them too much and instead use my plein air studies and sketches for most of the information I need for larger paintings.

What palette colors and support materials do you typically use?

I use a limited palette of 6 colors: Titanium White, Cadmium Yellow Light, Permanent Red Medium, Ultramarine Blue Deep, Cold Gray and Naples Yellow Deep. All are Rembrandt. (I mention the brand because pigments vary widely between brands.) I use Gamsol to thin my paint and clean my brushes—no mediums. I use Rosemary Brushes and Robert Simmons bristle flats and rounds. I paint on Wind River Arts AC14 panels in the field, and various stretched canvases in the studio.

(We asked Dunphy if she would like to include a work in progress telling us about her process. She included this step by step demonstration called The Matriarch.)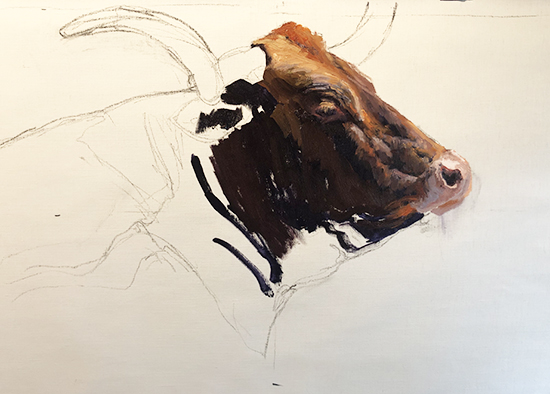 For animal paintings, I always start with field sketches of the animals to familiarize myself with their anatomy and behavior. In the studio, I use photos for the pose and composition of the painting, and I always do a thumbnail sketch to perfect the design. I then start with a charcoal drawing on the canvas, because charcoal is so easy to erase if I make a drawing error.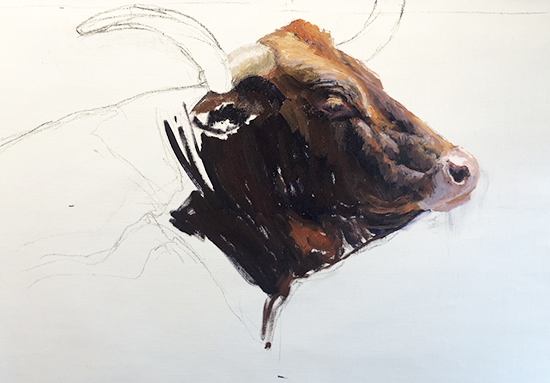 I then start painting directly over the charcoal, beginning with one of the darkest areas first and building out from there.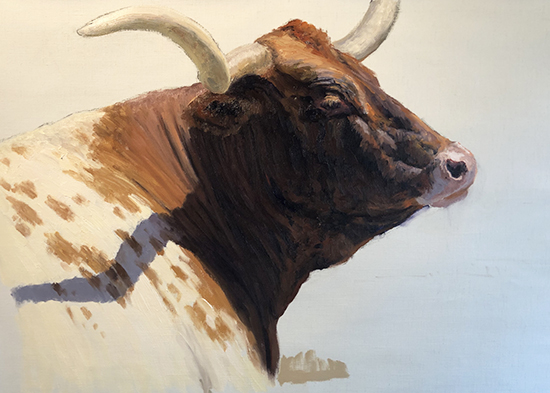 For this painting, I left the background for last, but I don't use the same approach for every painting. Sometimes I will start with the background and then paint the animal(s); sometimes I'll block in everything loosely and then tighten up; sometimes I go piece by piece and build out the painting from the first brushstroke, trying to paint very deliberately and not changing much as I go. I think it's important to avoid being formulaic with your painting process and to be open to new approaches.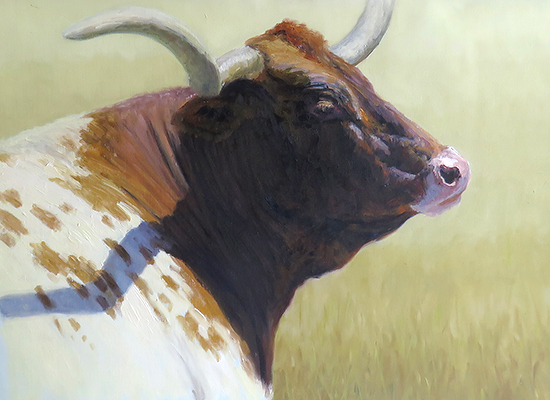 The Matriarch 18 x 21" Oil
(Learn more about Dunphy's processes in her video, Capturing the Light.)

I am so fortunate to live in a beautiful area with access to wilderness close by and lots of painting inspiration. But I do love to travel and get new doses of different inspiration. I have traveled to many spots on both coasts and to the Rockies several times to paint. I have avoided overseas travel for painting just because I feel like there are so many places in the States and Canada that I still haven't gotten to yet.

One of my absolute favorite things to do is to go on a painting trip with friends. I miss that so much! I did manage one trip since the pandemic. I met a few friends on the east side of the Sierra to paint fall colors. I think all of us realized just how important that contact was, regardless of what we painted or how well the paintings turned out. That camaraderie is so important and really lacking with pandemic restrictions. Pre-pandemic, I traveled probably about six to eight times per year for painting trips. I hope to get back to that soon!

I have taught for about ten years and thoroughly enjoy it. I have sorely missed it during the pandemic! I have classes scheduled for this fall with fingers crossed that they can take place.

What single piece of advice would you give a beginning artist?

Only one piece of advice? How about two: never give up, and paint a LOT. Also remember that no one starts out great—painting is a lifelong pursuit with a lot of hard work involved. But it's the best way to spend your time that I know of!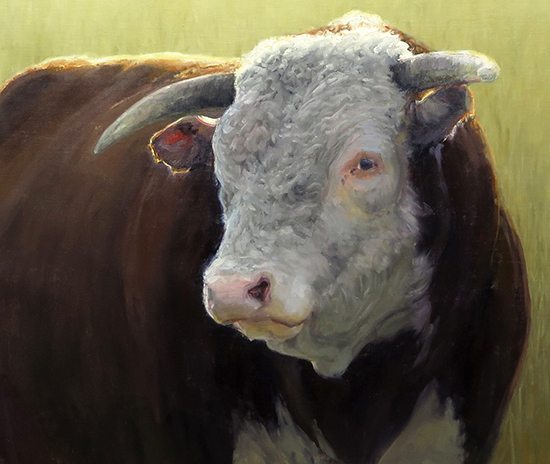 Bull's Eye 24 x 30" Oil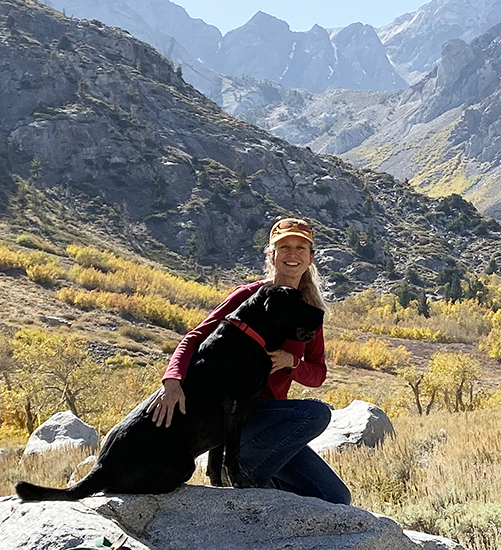 To see more of Kathleen Dunphy's work and her workshop schedule
go to: https://kathleendunphy.com
All artwork copyright Kathleen Dunphy