Voices of Experience

Nancy Boren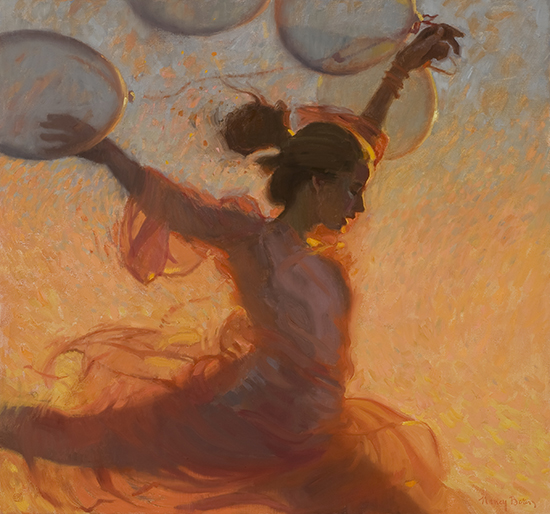 Cimarron Solstice 30 x 32" Oil

Some of Nancy Boren's earliest memories are of watching her father, artist James Boren, paint. James Boren (1921-1990) was a western artist, and the first Art Director of the National Cowboy Hall of Fame. He was the recipient of 21 gold and silver medals from exhibitions of the Cowboy Artists of America. His art has been exhibited and collected across the United States, in Beijing and in Paris. At age 12, Nancy Boren painted her first painting, sitting next to her father as he painted the Grand Canyon. Today, she, too, has received multiple awards and honors from the American Impressionist Society, the Oil Painters of America, American Women Artists, the National Oil and Acrylic Painters and more. She has achieved Signature Member status of the American Impressionist Society and the Oil Painters of America and Master Signature status of the American Women Artists. She wrote to us about growing up in such an artistic family.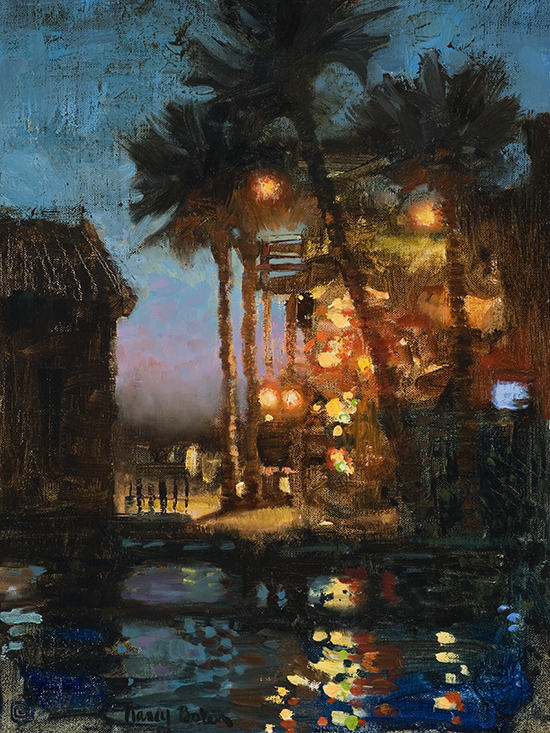 Glittery Night in Charleston 16 x 12" Oil

My dad was such a kind, wonderful father. He always had his studio at our house, so we all saw him working and, as long as we didn't create too much of a disturbance, we were welcome to come and go. One event that became a family legend was the time a potential collector, "The General," came to the house to look at paintings. As luck would have it, one of my brothers, probably oblivious to what was going on downstairs, decided that it was a perfect moment to satisfy his curiosity about the contents of the fire extinguisher upstairs in the studio. He brilliantly decided to just squirt a little bit out of it, you know, just to see what was inside. Of course, once you pushed the button, it did not turn off. Yikes! He sprayed the whole studio before he knew it and then threw it (still spraying) into the adjoining storeroom. It did not quit and so he really panicked and grabbed it back up, ran across the studio and threw it out the window where it created a little snow scene on the lawn.

Suddenly, he remembered The General downstairs talking to my dad about art, with the imminent studio tour looming. My brother went downstairs and as he kept trying to get my father's attention, my dad kept shushing him, saying that whatever it was could wait. "No, Dad, it really can't wait." My father's patience was sorely tried that day! My mom recalls that The General thought it was kind of funny and ended up buying a painting.

Dad helped us with school projects also. One time I had to make a home different from my own. After seeing Navaho hogans out west that's what I wanted, so we made one out of twigs and mud on a piece of plywood with sand glued on it and then parked a little pickup out front. We also made an hourglass (that I still have) out of two Tabasco bottles and a wooden yardstick. It had to run for 5 minutes so he kept putting more glue in the neck of one of the bottles to slow the sand down and it worked.

Making things, all kinds of things was what I was good at and what brought joy. Besides painting and original printmaking, at various times I have enjoyed crocheting, knitting, making little things out of wood, carving one-of-a-kind small frames, making mosaics, quilting, and lately, bookbinding.

Are there other teachers or mentors who have had a strong influence on you and your work during your education at Abilene Christian University or from workshops you have taken?

I had two professors that I especially learned a lot from in college. One taught sculpture and the other specialized in painting and drawing. They each were practicing artists, so it was inspiring to see work in their studios bound for galleries and the world outside the university. They emphasized good design, originality, and, in drawing, movement and edges. Artists whose workshops I have taken include Milt Kobayashi, Dan Gerhartz, Carolyn Anderson, Mark Daily, Lowell Ellsworth Smith, and Ned Jacob.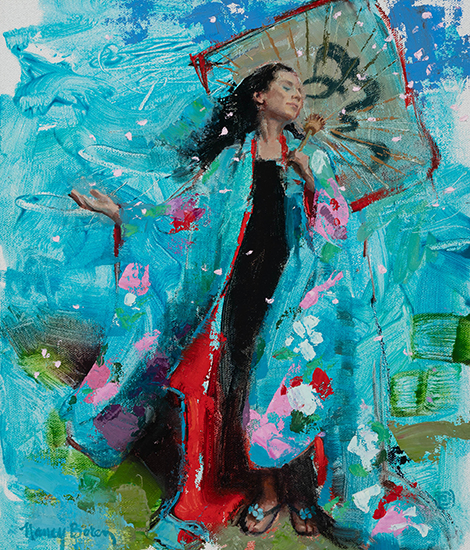 Petals 14 x 12" Oil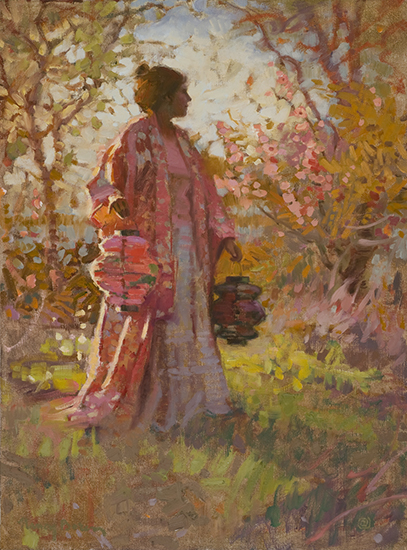 Spring Pink 24 x 18" Oil

Tell us a bit about your inspiration and then your process to capture that inspiration.

I paint different subjects and color schemes, so it is hard to say, but it has to be something that grabs me, as it should be for all the other painters out there. That is what makes painting so amazing — one artist is captivated by a subject that another artist wouldn't even look at. Be true to yourself, even if it is quirky. I will say I am drawn to large shapes, strong colors and dynamite silhouettes.

I often start the same way no matter what color scheme, size or location. I draw with thinned oil paint (something transparent like Transparent Oxide Brown, or a thin mix of Ultramarine Blue/Burnt Sienna) to get the space divided and figure out where the big shapes will go. Sometimes I use a toned board (different colors). Sometimes I don't. Certain ideas call for certain beginnings, I think. Then I use thinned paint to get the approximate dark values in before I move on to the thicker paint. Sometimes I go straight to the center of interest because that is what I am excited about painting, and other times, I kind of work around it at first. I am not a painter that completely finishes one area and then moves on—that approach does not work for me. I need to see the values, colors, and saturations against each other and then make adjustments. I also use a bit of a squeegee blade (not in a handle, but loose) to move the paint around and create interesting texture.

I do use photos and sketches and plein air sketches. My paintings of girls jumping really couldn't have been done without photos. Honestly, I usually don't do many thumbnails or value studies, even though they are excellent ways to solidify your thoughts or options. I just think about it all before I start, but I have been doing this for a long time.
I work primarily in the studio, but I attend figure painting sessions with a live model when I can and an occasional plein air trip.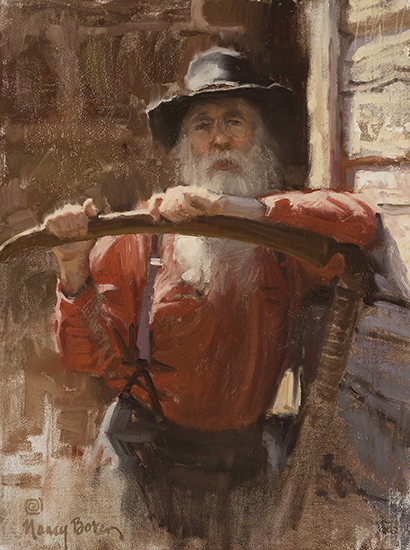 Old Timer 16 x 12" Oil

What pigment colors do you typically always have in your palette?

Titanium White, Cadmium Yellow Light or Medium (I also have been using Utrecht Cad-Free Yellow), Cadmium Yellow Dark, Orange, Yellow Ochre, Cadmium Red Light, Permanent Alizarin, once in a while Cadmium Red Deep, Burnt Sienna, Transparent Oxide Brown, maybe Quinacridone Magenta, Cobalt or Ultramarine Blue, and Ivory Black. Sometimes Olive Green and Indian Yellow are perfect for transparent areas and for my turquoise paintings I use Gamblin Manganese Blue Hue and some Gamblin solvent-free gel. And just because these may all be out on the palette it doesn't mean they get used in each painting. Sometimes I do a very limited palette painting which is like a breath of fresh air after working with a lot of colors.

I use many different brands—I do like Michael Graham also and the idea of using Walnut Oil. But, there is NO MAGIC FORMULA! Fabulous paintings have been done using all kinds of combinations of colors or very little color. The important thing is to just do a lot of paintings and try different things until you find something that really expresses your ideas. Alla Prima by Richard Schmid is a great place to learn about color and temperature.

Years ago, I usually painted on gessoed Masonite but now I use oil-primed linen glued with Miracle Muck to Masonite or Gatorfoam for smaller pieces and stretched for larger ones. Gesso is so absorbent, especially outdoors in hot weather, that it is hard to get enough paint on the board to be able to push it around. On unsuccessful pieces that are on board, I scrape down the high points (don't sand cadmium paint — the dust is bad to breathe) and roll on (with a small foam roller) two layers of Gamblin oil ground to get a clean white starting point. The roller makes a nice pebbly surface to work on.

What kind of western themes do you enjoy exploring? How do these themes relate to the western world your father painted? Or do they?

Cowgirls (which my father never painted) and windmills seem to be the subjects that interest me the most. Windmills up close because of the graphic quality of their shapes and cowgirls because they are competent and knowledgeable in ways that I never will be and, of course, their clothes are fabulous! My father was interested in horses and riders in the landscape, ranching scenes and dilapidated log buildings that told a story. The smell of sagebrush always makes me think of sitting in the car on the side of the highway as a child while Dad tromped around a field taking pictures of a barn. The American west is a big place in every way, so you could say we both loved the diversity of it, the people, and the sunshine, but then followed our own specialized interests.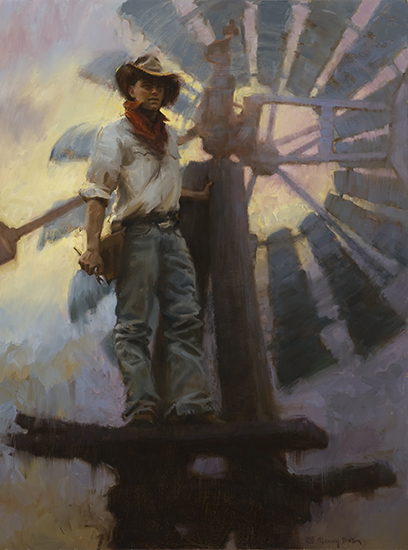 Aloft in the Western Sky 40 x 30" Oil

What other parts of the world have inspired you and your work?

I love to travel! The coast of Maine is one of my favorite places in the world. I have been fortunate enough to paint three times there: Ogunquit, Monhegan Island, Cape Elizabeth, and the Acadia National Park area. Besides the inspiring mix of rocky shores, trees, ocean and islands, there are many art museums rich in treasures. The tour of Winslow Homer's studio at Prout's Neck on a sparkling sunny day is a memory I'll always cherish.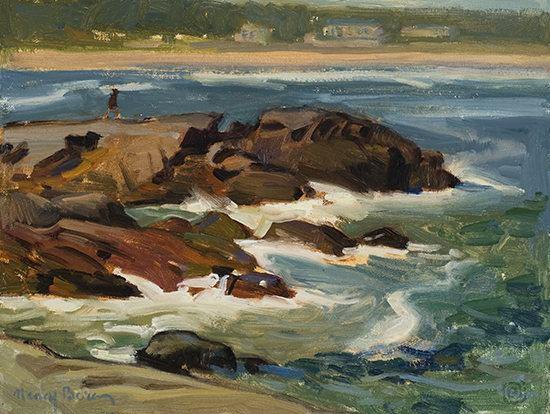 Ogunquit, Maine 9 x 12 Oil en plein air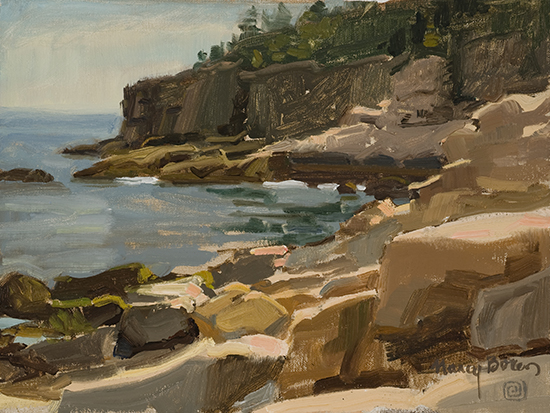 Cliffs at Otter Point, Maine 9 x 12" Oil en plein air

Seeking out the studios and haunts of past artists is one of my delights. Maine and Santa Fe/Taos, NM are wonderful for that. I have stood outside Sargent's studio on Tite Street in London where so many famous people came to sit for him and, in front of the Bridge of Sighs that he painted in Venice. I've looked at Waterloo Bridge and Houses of Parliament possibly from the exact spots Monet painted. What strikes me about seeing the real subjects depicted in famous paintings is that the artists took a subject and then got creative. They figured out a way to make the viewer feel the location, the sun or the fog—those great paintings of specific places are never just a literal, nit-picking representation.
The Evolution of Fast Track to Mustang Ridge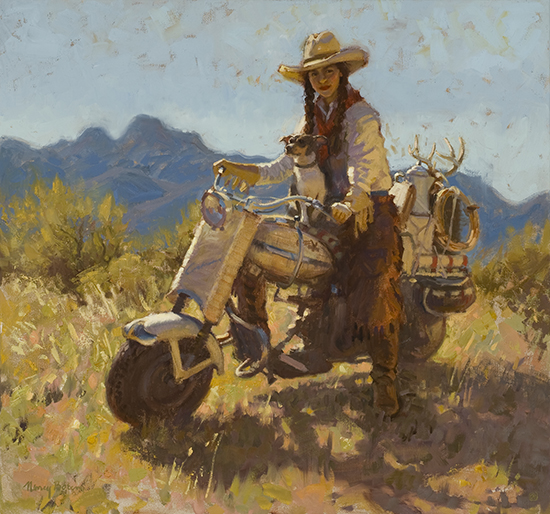 Fast Track to Mustang Ridge 30 x 32" Oil
Some of my paintings are simple ideas and some have a lot of moving parts (although not nearly as complex as some artists do). I'll tell what went into the making of Fast Track to Mustang Ridge.

First of all, that was a name I made up because I liked the sound of it. I only realized later it was also a town in Texas and a Tanya Tucker song.

I had been on a plein air painting trip to Tucson previously and painted at the state park where these backlit mountains were. The shapes and color of them was very appealing and I hoped to use them in a larger piece at a future point.

There is a classic car museum in my hometown and when I visited there I was struck by the Cushman motor scooter. It had an interesting look and a long history including being parachuted from planes in WWII. So why couldn't it have been a cowgirl's way to get up to a ranch? If she can ride a horse, she can ride a Cushman. So I had an idea, I just needed to get all the pieces together at one time for a photo shoot.

The folks at the car museum were agreeable that we could push the scooter out into the sun in the parking lot. A young woman who had posed for me before lived there so I got her scheduled (and of course looked at the weather forecast). The man who worked at the museum was married to a friend of mine and they had a really cute Jack Russell they agreed to bring along. I assembled a group of items that the cowgirl might have been taking up to the ranch: lariat, coffee pot, Navaho blankets, paper-wrapped parcels, deer antlers. The scooter came with the cool leather saddlebags so I can't take credit for those. Except for her jeans, I supplied all the cowgirl's clothes, boots, hat, etc.

I picked a similar time of day that it had been in Tucson and I lined her up so the angle of the sun was as close as I could get it to go with the photos I had of the mountains. Now I had some great photos (from all angles) with lots of information.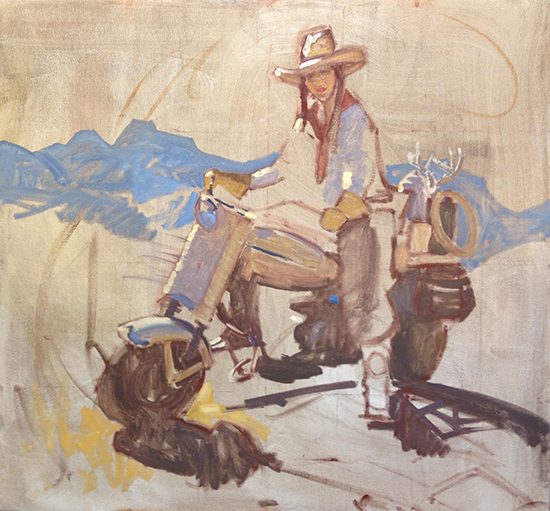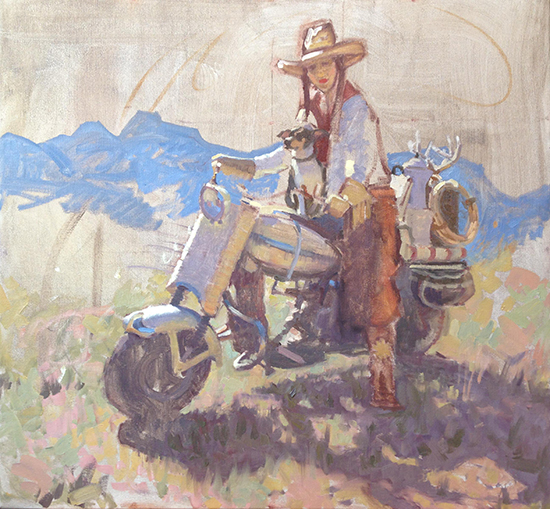 I put a thin warm brownish tone on the canvas. When you start this way, the whites really pop as you put them in. I then drew with a brush to arrange the big shapes and get the proportions of the scooter and cowgirl correct. I really wanted the shadows to read as unified big dark areas. Next, I got some color on the foreground and kept working on bits and pieces of the dog and the young woman. The shadow had originally been on a parking lot so I had to keep in mind it needed to look like it was cast on a grassy slope instead.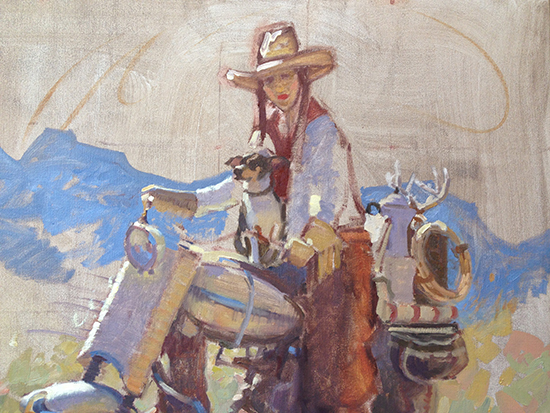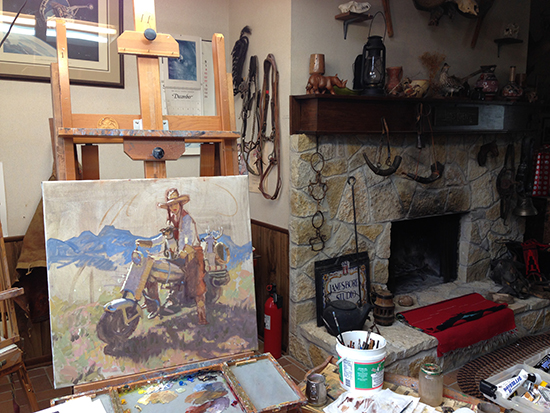 I was anxious to not lose momentum, so when we went for the weekend to my mother's place, I took the painting along and worked on it in my dad's studio—then back home where I got it finished up. It was in Cowgirl Up! in Wickenberg, AZ where it won Best 2D on Canvas in 2017! All the effort was worth it. I hope it doesn't ruin the fun to see how mundane all the behind-the-scenes work is, but it really doesn't matter how you get it done if it is successful in the end.

Are you currently teaching workshops, or planning to in the future?

I have taught a few figure painting workshops but the only one that is planned right now will be at the Booth Museum in Georgia in 2023. I feel like I have so much to figure out with painting still, that I need to spend most of my time on my own work.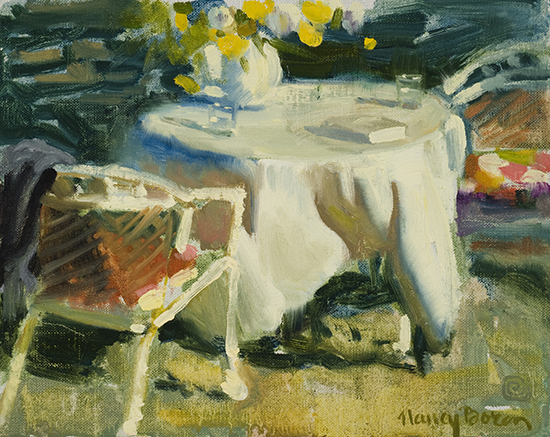 Sunny Delight 8 x 10" Oil en plein air

Any words of wisdom to impart to beginning artists?

Start today. Don't over think it. Get Alla Prima by Richard Schmid and dip into it from time to time as you can digest the information. Do the color charts. Try new things, but not forever. Get comfortable with certain colors and see how many ways you can use them. Don't always do "studies." Plan finished paintings even if they are tiny. I attempt good design with every drawing and plein air piece that I do. Take a workshop from an artist you admire once a year if you can afford it. Get a critique from a good artist. Paint a lot of paintings! It may take quite a while to learn who you are as a painter.

Just for fun, if you could sit down and have a long conversation over dinner with an artist from the past, who would you choose, and why?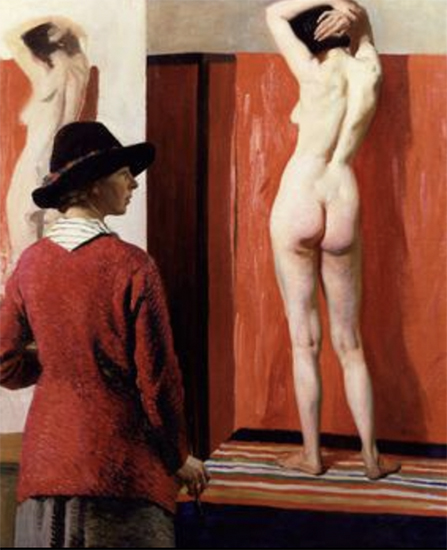 What a difficult decision to make, but I would choose Dame Laura Knight (1877-1970). She was the first woman to have a retrospective show at the Royal Academy in London in 1965. She was an official war artist in WWII and also painted portraits, ballet and theater performers, gypsies and the circus. That was all in addition to doing some gorgeous coastal paintings of Yorkshire and Cornwall and, oh yes, etchings and posters. Her self-portrait hangs in the National Portrait Gallery in London. (Left: Self Portrait with Nude, 1913, Dame Laura Knight)

To see more of Nancy Boren's work,

go to: https://www.nancyboren.com

All artwork copyright Nancy Boren