Weathering the Weather

Perspectives No. 325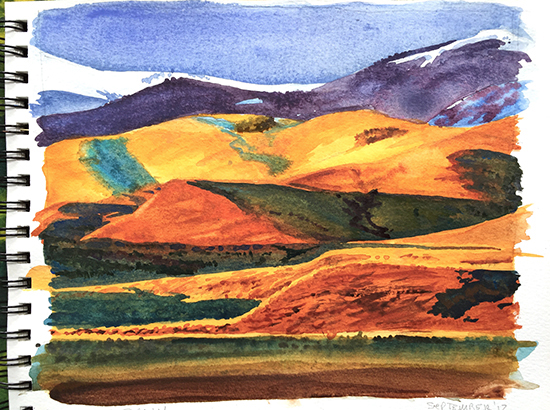 Dawn in Dubois 7.5 x 9" Watercolor

Plein air painting is fraught with many challenges—weather usually being the biggest. When we travel long distances to paint, all we can do is try to anticipate a variety of temperatures and climate conditions and pack accordingly. My experiences over the last six years teaching at the annual Susan K. Black Foundation workshop in Dubois, Wyoming led me to assume that I could confidently paint outdoors in watercolor under good light for at least a few hours each day, no matter the temperature. The reality this year, however, was quite different.

As we wound our way along the Wind River near the end of our 980-mile car trip to Dubois, the rain began to turn to light snow. Not a good sign, but weather in "the Warm Valley" is extremely changeable in the fall. As the week of workshops got underway, the snow gave way to sun, rain, snow and rain again, interspersed occasionally with a few hours of sun and high winds. Not good for our plans or my plein air watercolor gear. I began to realize that this situation might never improve and so turned to Plan B. Every plein air painter should have a Plan B! My plan was to turn a creative eye to the camera and work at getting the best possible reference pictures from which to paint indoors.

Taking pictures, though, is only half the solution. Even the best digital photos are a poor representation of the world as our eyes can see it. I've found that photos need to be enhanced—literally re-painted in Photoshop—to bring them back to the scene as I saw it. I learned how to do this from my photographer friends. They know all the shortcuts and best tools. It doesn't take long, if one knows how.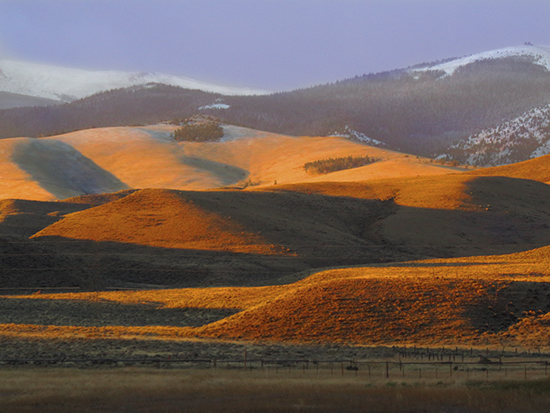 Dubois Sunrise Photograph Original and Repainted

In a nutshell, here is my process: After I take a promising picture, I plug the card into my computer and open it in Adobe Bridge (editing and selection window). I double-click on my favorites opening them in Photoshop CS. Once open, I make sure I am working in Adobe RGB, not sRGB. I duplicate the background layer, and begin to adjust colors, values, sharpness, etc., in layers, repainting them. I also clone stamp out things like phone poles and cars. For more detailed information, see our series of articles, Photoshop for Artists, Parts I, II and III.

I continue my adjustments until the image is as I remembered it. Then, I make sure that my image is 8-bit and size it for my iPad, usually 8 inches wide by no more than 150 dpi. I save it to the desktop and mail it to myself. It appears in my mail on the iPad. Saving it there puts it in my photos file. From there I can full screen view it while I paint. (The luminance of a screen is so much better than a print.)

This is a good example of how technology can be used hand-in-hand with creative vision to make it possible to work with the worst Mother Nature can throw at us.