A Cure for the Common Cold,

revisited

Perspectives No. 366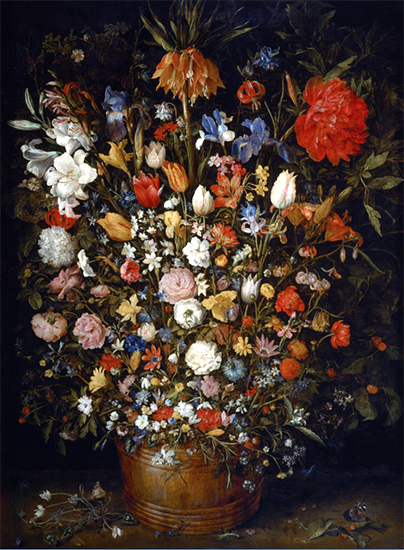 Flowers in a Wooden Vessel 1606 Jan Brueghel the Elder
". . . when winter approaches, covering everything in ice, I take pleasure in the view – and in my imagination even in the scent – of flowers, if not real ones then the artificial kind found in the painting." - Archbishop of Milan, Federigo Borromeo (1564–1631) founder of the Biblioteca Ambrosiana library and art gallery in Milan, Italy

Winter seems particularly fickle in our part of the country this year, with frigid temperatures and overcast days pivoting into mild, sunny ones and then back again. This, and the attendant colds we have each contracted, has "helped" us turn our attentions inside to the studio and still life painting.

In a more positive spin, we try to see winter as the time when we can feel free from the guilt we normally associate with painting indoors on a beautiful, warm day. Cozy and wind-free, we can afford to study inspirational books, test new pigments and immerse ourselves comfortably in our subject. The winter light in our north-facing windows is steady and cool all day long, and with a bit of artificial illumination, can be used to create dramatically-lit still life subjects.

The long history of still life painting, also known by its French title, "nature morte" (dead nature) begins in ancient Egypt. Burial sites have revealed paintings of food and everyday objects. Ancient Greeks and Romans also incorporated everyday inanimate objects in frescoes and mosaics. The floral still life became particularly established during the Northern Renaissance of the Netherlands, Belgium, England, France and Germany.

Flowers in a Wooden Vessel (1606) by Flemish artist Jan Brueghel the Elder became one of the most famous floral still life paintings in European art. The artist was known for combining flowers and plants that bloom at different times of year, making them bloom all at once in his paintings. Some believe that he may have benefited from the new revival of botany and its attendant supply of graphic reproductions of plants.

We are lucky that we can procure flowers from all over the world even during the months of winter to add to our compositions. We can visit the market in search of interesting fruit or vegetables which add color and the presence of a warmer season to our gray days. Objects with emotional significance inspire us and allow us to invest the paintings with strong personal feelings.


 Each still life painting can be not only a satisfying learning experience, but a way to keep brushes moving in preparation for the spring plein air season once again. Let us know what you have been painting this winter. If you are a member, we'll put it on the members' gallery page for you.

Not a member yet? Click here to get on The Artist's Road today.