Dangerous Art
Perspectives No. 91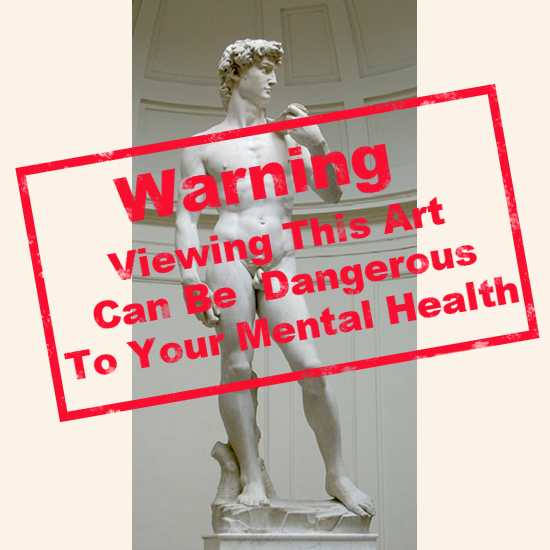 "The sight of anything extremely beautiful, in nature or in art, brings back the memory of what one loves, with the speed of lightning."

- Stendhal

A peculiar syndrome related to the viewing of art has been documented as far back as 1817 and was officially given the name Stendhal Syndrome in 1979. Although the condition does not yet appear in the American Psychiatric Association's Diagnostic and Statistical Manual of Mental Disorders, it has been taken seriously enough to be studied by a research team in Italy who systematically measured reactions of viewers to the artworks inside the Palazzo Medici Riccardi in Florence.

The disorder was named after French author Henri-Marie Beyle (1783-1842), also known as 'Stendhal'. After visiting Florence in 1817, Stendhal wrote about his intense reaction to the artwork he had viewed: "As I emerged from the porch of Santa Croce, I was seized with a fierce palpitation of the heart; the wellspring of life was dried up within me, and I walked in constant fear of falling to the ground."

Italian psychiatrist Dr. Graziella Magherini, who later named the syndrome, documented 106 cases of art viewers admitted to the hospital in Florence between 1977 and 1986 suffering from severe emotional reactions. Their symptoms included rapid heart rate, dizziness, fainting, confusion, nausea, and in extreme cases - hallucinations. The trigger for the condition is the viewing of artworks that are perceived to be of great beauty.

Stendhal wrote: "Absorbed in the contemplation of sublime beauty . . . I reached the point where one encounters celestial sensations . . Everything spoke so vividly to my soul. Ah, if I could only forget. I had palpitations of the heart."

The disorder is also known as Florence Syndrome. Doctors have long debated whether it really exists, but the staff of Florence's Santa Maria Nuova hospital report that they have grown accustomed to treating patients suffering the symptoms of Stendahl Syndrome after admiring the statue of David and the artworks of the Uffizi Gallery along with the other cultural treasures of Florence. Whether these are people of great sensitivity or just exhausted travelers is not known. What is known is that great art seems to provoke great emotional responses.

Be careful out there.
blog comments powered by Disqus
Save