Voices of Experience

Dena Peterson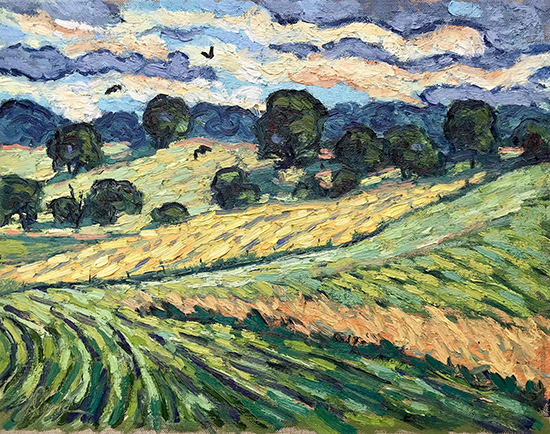 Fields Like Home 11 x 14" Oil

"I want to paint with passion to evoke emotion."

Dena Peterson spent an intensive six months painting eight to ten hours a day in Gdansk, Poland. Chosen as one of only 125 artists out of 5,000 applicants, Peterson worked on the first fully painted feature film, Loving Vincent. The experience was a once-in-a-lifetime opportunity for Peterson, who feels a strong connection to the expressive works of Van Gogh. She writes, "As artists, many of us can relate to Van Gogh's struggles, which is why his life strikes such an emotional chord with us." The film has won multiple international awards in addition to its nomination for an Academy Award.
Peterson's own credentials include signature membership in the American Impressionist Society and the Women Artists of the West and Associate Membership in the Oil Painters of America and Plein Air Artists Colorado. She teaches and has produced an instructional DVD on using the inspiration of Van Gogh in painting. Peterson wrote to us about the development of her art from a childhood fascination of famous paintings to her current mentors, her time working on Loving Vincent and her personal inspirations.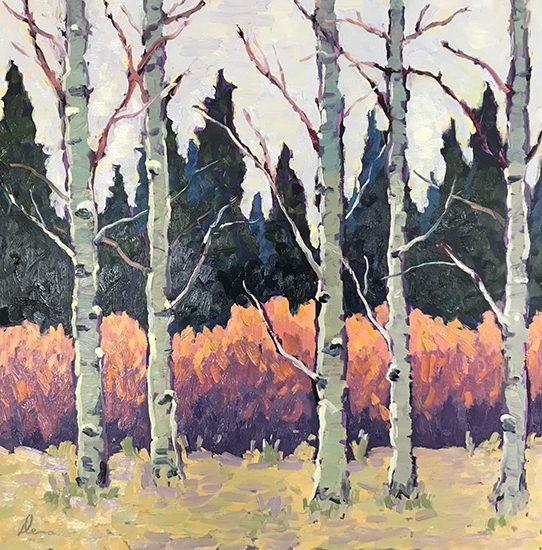 Blue River Aspen 16 x 16" Oil
I have always had a passion for painting, drawing and art in general from a very young age. My first-grade teacher was very impressed with my painting from memory of snow on tree branches. My parents had that painting on a kitchen bulletin board even after I graduated from high school! I think we still have it. I remember receiving a game called "Masterpiece" as a child, too. I don't remember how it was played, but it had cards featuring famous artworks. I used to study them all the time. Instead of having teen heartthrobs on my walls, I had posters of famous paintings (with the exception of a Steve Martin poster!)

I excelled in art and academics in high school; however, I was not encouraged to pursue art in college. Unfortunately, back then at my small-town Illinois high school, students who were good at academics, were not encouraged in art. I pursued a Master's Degree in Counseling Psychology, but continued to study and learn about painting. I worked in the counseling field for a few years before starting a family.

I rediscovered my passion for art and took as many workshops with some of the best instructors as time and money allowed. One of my first workshop instructors was Howard Carr, a wonderful painter and kind teacher. Later, I also studied with Jay Moore and Matt Smith. One of my best experiences, however, was painting with Kevin MacPherson in Lake Louise, Canada. I had read his first book many times and his style of teaching and philosophy of painting really resonated with me—still do to this day. A year-long mentorship with Kevin Weckbach really helped me to understand the various approaches to painting. Kevin was one of Quang Ho's best students. I have to say that this year of intense study really helped to move my work to the next level. I feel it's important to continue to learn and to challenge oneself as an artist. I currently study online with Denver artist Mark Daniel Nelson. Mark is a talented artist and very generous teacher. He's really helping me to continue to think differently about painting—to push myself beyond the traditional ideas of painting. I'm just not happy with the "status quo" in painting. Like Van Gogh, I am motivated to see in new ways.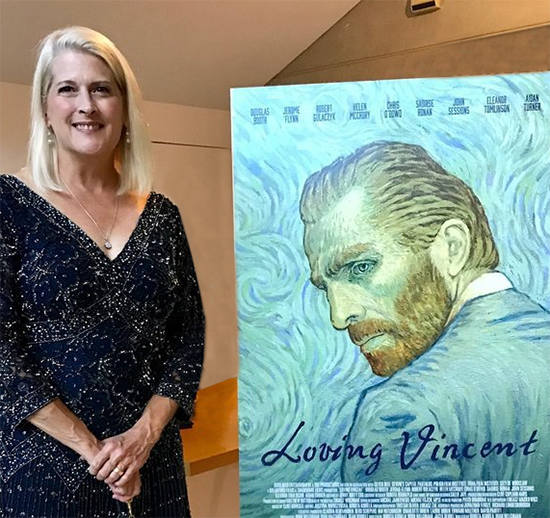 How did you learn about the Loving Vincent movie? What was the application process like? Has your study of Van Gogh's work influenced your own painting process and style?

I first heard about Loving Vincent when I saw a trailer of some of the animation on Facebook. I was immediately intrigued, as the animation looked like moving oil paintings, hand-painted, not computer animated. My daughter visited their website and told me they were still looking for artists to help finish the movie. She encouraged me to be a part of it. I visited the website and sent an email expressing my interest with a link to my own website. I soon forgot about it, as I had assumed they were likely finished with it by the time I applied. About a month later, I received an email from the studio saying that they felt my work would be a good fit and when could I come to Gdansk, Poland to take a test to see if I could do the work? I was stunned! Also, I did not realize I would have to travel to Poland. I talked it over with my husband and we both agreed that I could not pass up this opportunity. I booked a flight and an Air BnB and soon found my way to BreakThru Film Studios.

The test was 3 days. We were given a quick training on how to paint and animate, and an opportunity to animate about 7 frames, which equates to about a ½ second of footage! The supervisors and the director would assess our work and after the three days, we were either moved on to the 3-week training period, or we were sent home. I made it through and spent the next nearly 6 months working 8-10 hours per day in a small cubicle in the studio warehouse, along with about 80 other artists. It was incredibly intense work. The animation took a great level of concentration, paying attention to every subtle movement. We also had to be careful not to move anything that wasn't supposed to move, or not to move something too much. The director, Dorota Kobiela, herself a painter, was personally overseeing nearly every frame for approval. Over 5,000 artists from all over the world applied to work on the film. About 125 were accepted. To be one of them was one of the highest honors I've ever received. I am so very proud of my work on this film.

Studying Van Gogh's work so closely has really helped me to appreciate him even more as an artist. While I was there, I also listened to an audiobook of letters to Theo by Irving Stone (Dear Theo: The Autobiography of Vincent Van Gogh)
—twice—as I would walk to and from the studio each day. I wanted to get into his head. Van Gogh just saw the world differently, and this is what I appreciate most from him. He is now considered the father of modern art and I can see why. I have always loved seeing brushwork in my own paintings; but, seeing his brushstrokes close-up really impressed upon me that I could and would like to push my work even further. I love his use of color and the passion in his paintings. It reminded me even more that painting is not about copying a scene, but about expressing an emotion. I believe that the new resurgence of plein-air painting is great; however, I am concerned that we have returned too much to copying reality and we have lost the ability to be expressive or to take educated license with color and shape. Van Gogh knew how to paint, but he wanted to do so much more than "copy". He had his own unique vision. This is my goal for my work, too. I feel myself moving beyond impressionistic realism to more of an expressionistic style.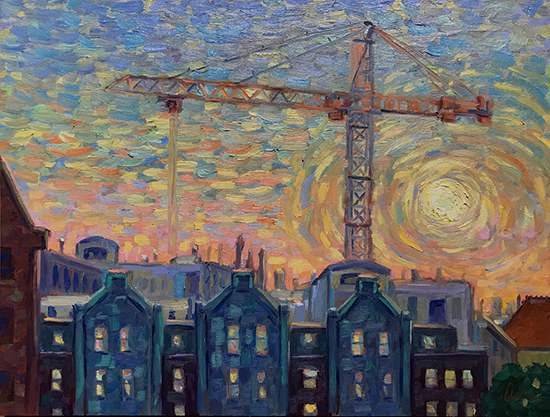 Moonrise over Gdansk 11 x 14" Oil

If I could have dinner with one artist in history, and I hate to be predictable, I would have to choose Van Gogh. I would sure love to know what kind of work he would be doing today! I'd also like to know what he thought of the film.

Have you always worked primarily in oil? Can you tell us about your color palette and your painting process?

I have tried many mediums, including watercolor and pastel, even sculpture; however, oil remains my favorite. I love the texture and enjoy a more impasto brushwork.

My personal palette is fairly limited. I believe that too many colors are just over-kill. I use Titanium White, Cadmium Yellow Medium or Pale, Cadmium Red Light, Alizarin Permanent, sometimes a Burnt Seinna or Transparent Oxide Red, Pthalo Green and Ultramarine Blue. I love pure color whenever possible, so I don't often use earth colors on my palette. I like my paint fairly thick, so I only use a gel medium occasionally.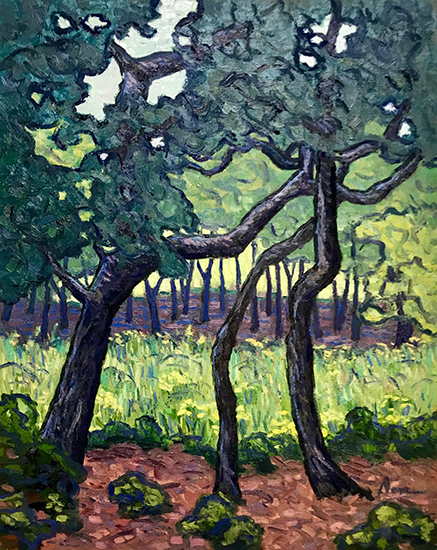 Little Yellow Flower Season 20 x 16" Oil

I have painted hundreds of studies on location. Sometimes I consider them finished pieces. Other times I use them as studies for larger studio versions. I don't feel it's essential to only paint from life anymore, as I have studied from life often. I enjoy going back to my studio and allowing myself the time to rethink my designs and compositions from my outdoor studies. I always try to retain the feeling from the location and not overwork what I paint in the studio.

I typically do thumbnails, playing with a variety of design ideas, and then do a value sketch. I like to have a very clear plan before I start painting; then, I can paint quickly and intuitively, without feeling I have to be perfectly true to the original scene. I do use photo references, too, but I would never use a photo that I did not take myself. I want to remember the passion I felt at the scene. I also believe that it is very important to simplify. Too many novice artists feel they must include everything they see, which ultimately weakens the work. Focus on the reason you were inspired to paint it in the first place; decide what is important to you, and leave the rest out! The best paintings make one simple, but strong statement.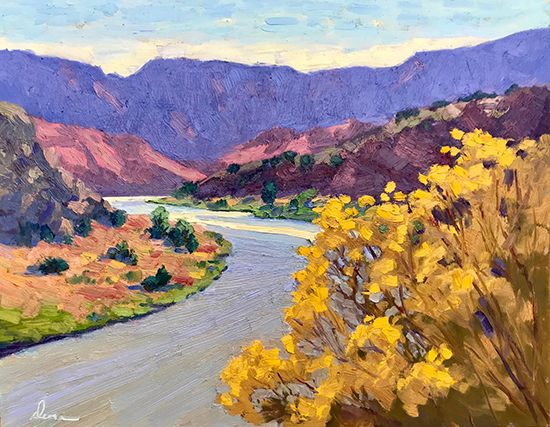 Chamisa on the Chama 11 x 14" Oil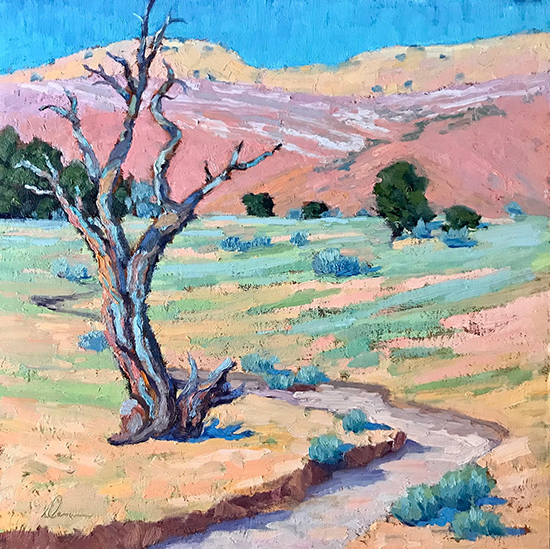 Twisted Cedar 16 x 16" Oil

What landscapes and subjects have been of the greatest inspiration to you?

Landscapes that inspire me are really anything that have a great feeling of light and shadow or interesting groupings of shapes and colors. I am partial to the landscapes of New Mexico. I love the shapes, the light and strong colors. I have been traveling back to the Midwest, Iowa specifically, to visit my parents. I have really noticed the beauty of the rolling green hills and prairie there. I grew up in central Illinois, so I think that type of landscape is just a part of me, but, I do find beauty nearly anywhere I travel, as well as in my own backyard. I once did a show called "Two Blocks". It was based on the a quote by Robert Motherwell: "If you can't find your inspiration by walking around the block one time, go around two times, but never three". So, I did paintings of subjects I found within a two-block radius from my apartment. Those were some of my favorite pieces. Van Gogh knew this, too—he painted the "ordinary" and made it amazing.

Iowa Fields 6 x 8" Oil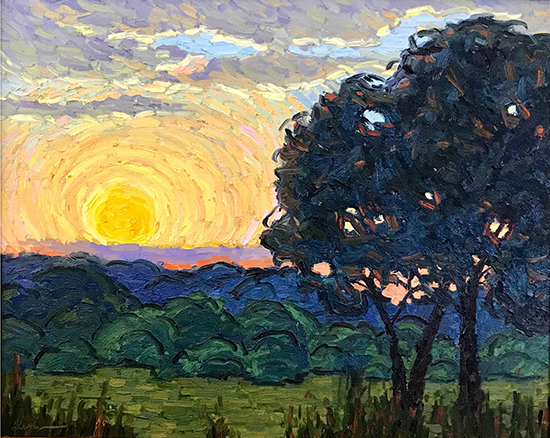 Iowa Sunset 16 x 20" Oil

My encouragement for a beginning artist would be to not be in a hurry to show or "market" your work. Spend time deciding what kind of work inspires you. Visit museums and see work in person. Then, learn all that you can about how to make good work. Practice by making many paintings, but don't worry about making them to get into a show or to sell. Just learn and paint and find your voice. If you love what you paint, it will eventually find a market.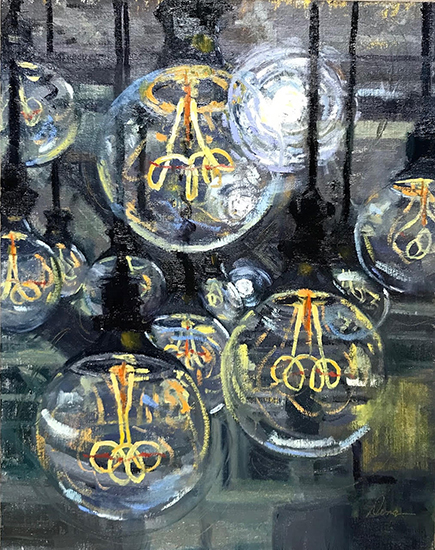 Light Display 20 x 16" Oil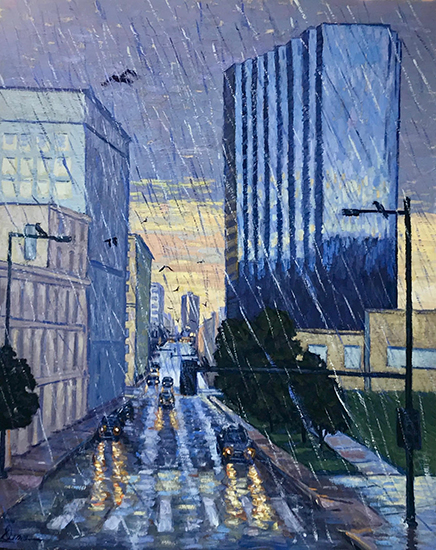 Denver in the Rain 36 x 24" Oil

To see more of Dena Peterson's work, go to:
All Artwork © Dena Peterson