Voices of Experience

Dennis Perrin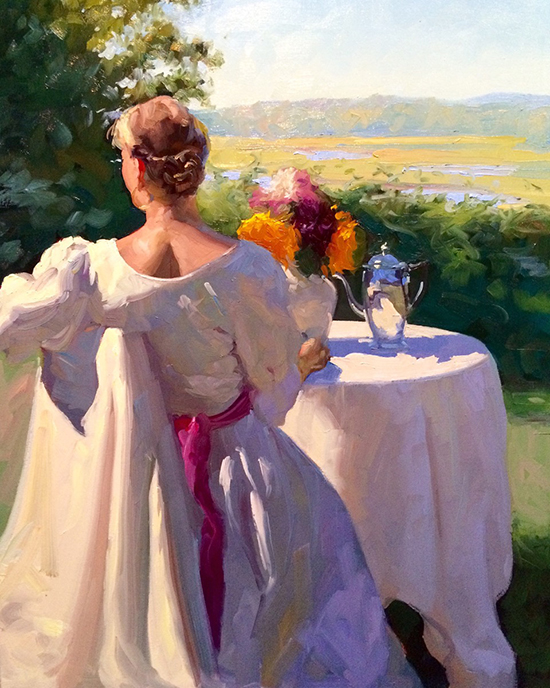 Late Summer Sun 30 x 24" Oil


"More than anything,

my intention is to communicate to my viewer

my love of beauty. And I invite them to co-create with me

by using a lot of suggestion rather than explicit rendering."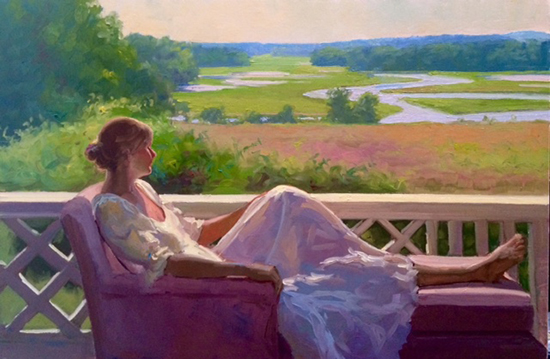 Contemplating Infinity 24 x 36" Oil


Dennis Perrin focused his creativity on music and writing in his early life, becoming interested in visual art at the age of 30. In the decades since, he has embraced painting fully. His impressionist works are done fully from life and express his love of beauty in the landscape, in the figure and in flowers. Perrin takes advantage of the short outdoor season his home state of Maine offers, painting the beauty of his property and gardens. He shared with us his inspiration and background. We began by asking him if he is self-taught as an artist.

That is always an interesting question. In some ways, all artists and anyone who has acquired a skill, is self taught. Even under the guidance of a teacher, every student of any discipline takes instruction to the extent they are willing to 'teach' themselves what has been passed to them. That said, after I became enamored of all things Art, I sought out a teacher at the New Orleans Academy of Art named M. Dell Weller. He was a student of several prominent New York based artists at the Art Students' League in the 1950s, and several of my artist friends recommended him to me. I took classes from him at the Academy for several years and then became, for lack of a better term, a protegé. I absorbed much from his wisdom and experience, but I also immersed myself in the culture of artists from the late 19th and early 20th centuries. At first I was smitten with the French Impressionists, and spent a lot of time outdoors attempting to capture the light effects they sought to put on canvas. But I soon gravitated to the American painters of the era, especially after I began painting the figure. I fell in love with John Singer Sargent, Edmund Tarbell, Frank Benson, and many of the Ten American Painters. I also greatly admired the still life paintings of Henri Fantin Latour, which led to my falling head over heels in love with flowers and flower painting. I copied many paintings by all of these artists, and did everything I could to mine their paintings for clues as to how they painted. I read numerous accounts by them about their painting methods, and traveled to museums to see their paintings in person. My wife and I and our family of 3 young children moved to New England to be in the environment where they lived and painted, and to have access to the museums where many of their paintings are on display. Though he wasn't my favorite painter, Robert Henri's The Art Spirit
, a collection of his lectures and writings, was highly influential in the evolution of my personal style and the development of my painting method.

Do you consider the artist's life to be simply a career, a journey, a spiritual quest?

As you might have guessed, I consider the artist's life to be much more than just a career choice. Being an artist is an all-consuming endeavor that eventually envelopes every facet of one's life. But that could be said about nearly any 'career' choice that one makes. A career could be simply the means to an income, status, recognition, or it can be the personal creative extension of one's innermost being. I am probably more like the latter, though at times the former is part of it. Perhaps we're making more of this than should be. I love being an artist, but I know it doesn't entirely encompass who I am. It's simply an extension of the larger me.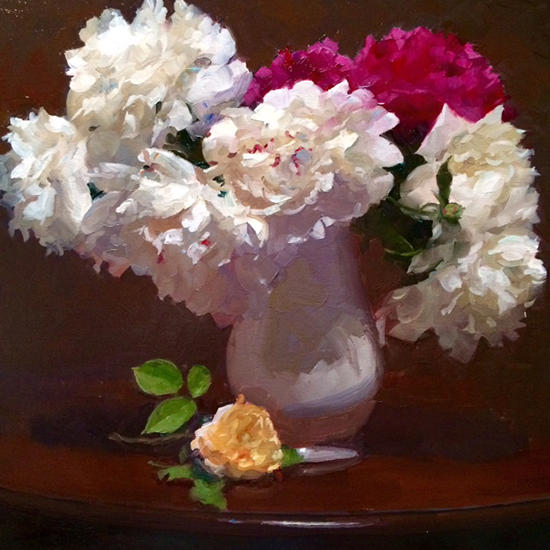 Paeonia Proliferation 24 x 24" Oil


Is gardening a part of your artistry? Do you grow the beautiful peonies and other flowers in your still life paintings?

I do grow many of the flowers I paint, but the growing season here in Maine is brief, so I have to go elsewhere to find subjects to paint at times when my own flowers aren't available. But there's nothing like painting flowers growing in your own garden, much like no tomato tastes quite as delicious as one that grows in your backyard.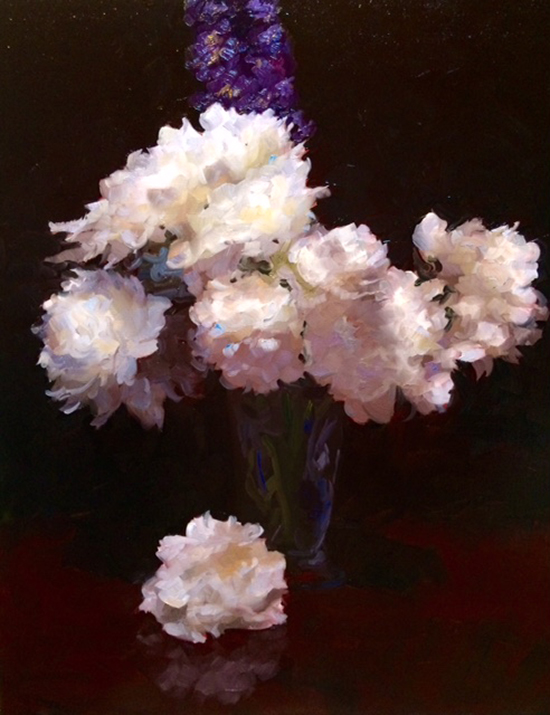 White Peonies and Delphinium 30 x 24" Oil


Do you find travel to be an important part of keeping passion and challenge in your work? Or, do you find that exploring a familiar subject in depth provides the greater challenge?

Most definitely I'm in that last category! I'm as domesticated as they come, painting literally in my own backyard and personal environs. I've attempted to travel to paint, but my most successful work (by my own estimation) is from the subjects that are right under my nose. And I'm local and seasonal, kind of like the way my wife and I eat. I paint, like I eat, what's around me and in season. Because I live and paint mostly in Maine, my outdoor painting 'season,' just like the growing season, is relatively short. Basically, I paint outdoors during the summer months, June, July, August, some of September, some of May, and indoors the rest of the time. I will occasionally paint indoors during those months if I find a particular subject I want to bring into the studio. But mostly I paint outdoors and finish paintings outdoors. I don't do much of any tweaking in the studio. I like to get what the outdoors gives me as much as possible.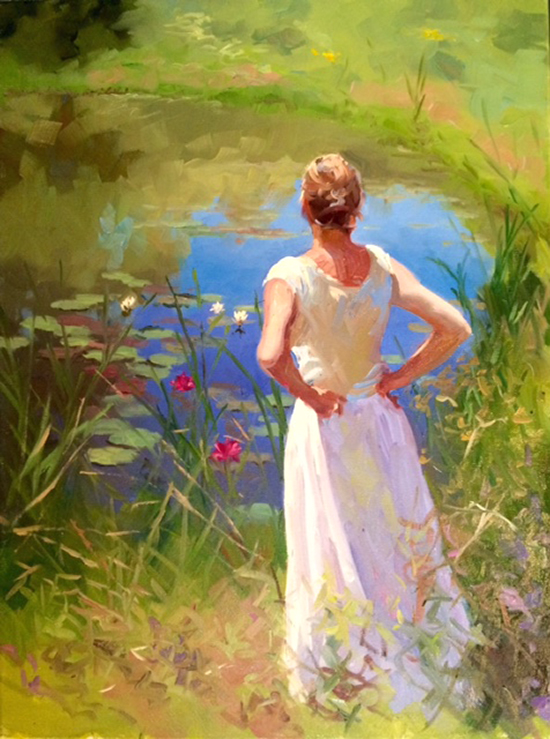 Gazing at Nymphaeas 24 x 18" Oil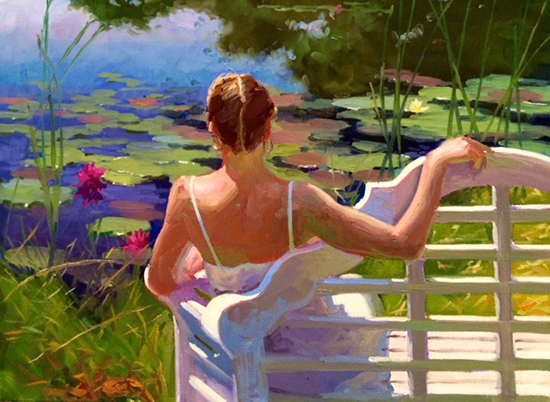 Aimee with Lutyens 18 x 24" Oil


Have you worked in other mediums besides oil? If so, why have you chosen oil to be your primary medium?

I started out in pastels and loved working with them. When I took up oils, I split my time between the two. But we had a puppy who was not yet house trained pee all over my pastels, which I had left out on the floor where I was working, and they were ruined. I had spent a lot of time and money building up my pastel array, and I didn't have the stomach for starting over. So I've painted in oils exclusively since then.

Would you share what colors you typically keep in your palette?

I use what most would call a limited palette: Titanium White, Cadmium Yellow Light, Cadmium Red Medium, Cadmium Red Dark, Alizarin Crimson, Cerulean Blue, Cobalt Blue, and Viridian. I occasionally throw Permanent Rose, Ultramarine Blue, and Ivory Black into the mix, if I see the need. I might add that, since 2000, I've exclusively used Winsor Newton Artisan Water Miscible paint. I switched for health reasons, but I really love the tinting strength and the feel of the paint.

What do you feel makes your work or style unique?

Probably, like most painters, it comes from intention first and foremost. What is the reason I paint? Number one is probably because I love the challenge of capturing light and light effects from life. So I always work from life. I don't use video, photos, sketches, or even studies. It's just a standard I set for myself a long time ago and I've stuck with it.
Secondly, I love the feel and sensuality of paint. And although I'm not heavily impastoed with my paint, I include the paint and the stroke of the brush as an important part of the final product. It's not just the image that I'm after, it's also the process. I want some of that process to show through in the painting. And, finally, even though I'm in love with color and the sometimes maddening attempts to bring color into the painting process and make it sing, I'm primarily a value-based artist. I feel that good, realistic painting is built on values and their proper relationships. Color, and its variants like temperature, are just icing.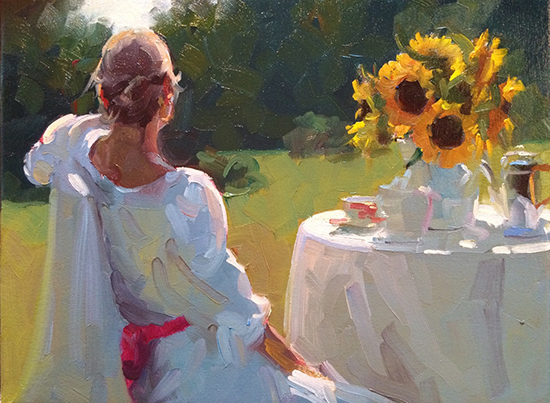 Brilliant September Sun 12 x 16" Oil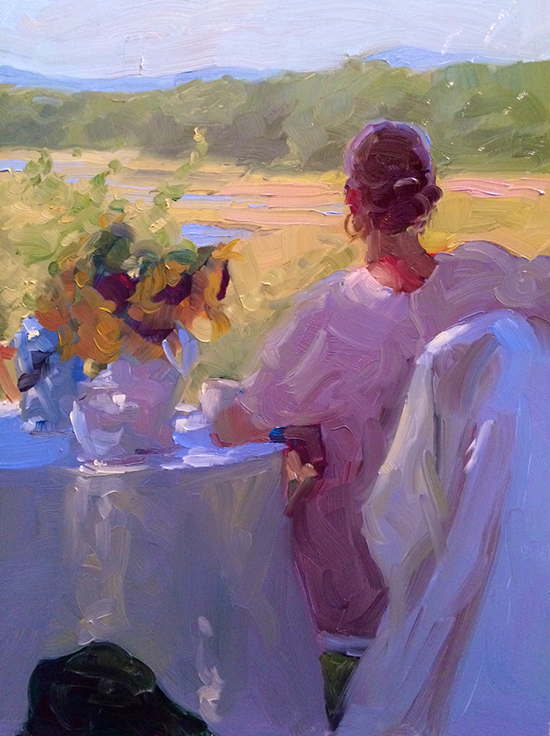 Shelter from the Sun 16 x 12" Oil


Can you tell us a bit about the workshop you offer at your home and studio in Maine? It looks as if it is more than a painting workshop with creative meals available prepared by your wife—a unique workshop opportunity in a beautiful location!

Our concept of the Artist's Retreat, much like other retreats in the religious and secular communities, is a way of providing an environment for a participant to both further their craft through skill acquisition and technique sharing, AND refresh and reset their artistic spirit through community building, relaxation, and immersion in the creative experience. The artists who come want to take their painting to another level. But they also want to be with like- minded folks who know that painting is an extension of living and being, and participating in a community that includes lifestyle elements like nourishing food and mindful practices can have benefits far beyond simply acquiring clever technique.

What would you like to communicate to your audience through your paintings?

More than anything, my intention is to communicate to my viewer my love of beauty. And I invite them to co-create with me by using a lot of suggestion rather than explicit rendering. A close inspection of my work shows a loose, seemingly random application of the paint. Of course, it's not at all random. Nearly every stroke is intentional and designed to elicit the completion of the image on the part of the viewer. Like all painters in my style, my work is best viewed from a moderate distance.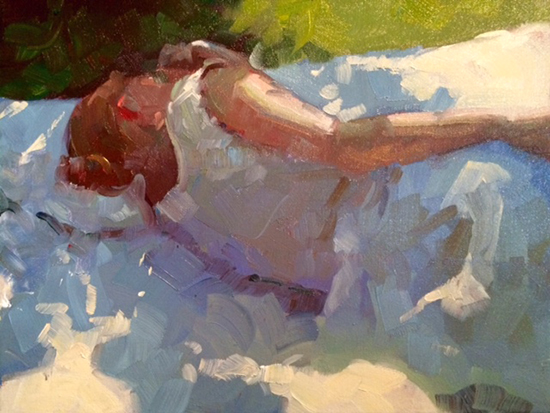 Tribute to Joaquin 12 x 16" Oil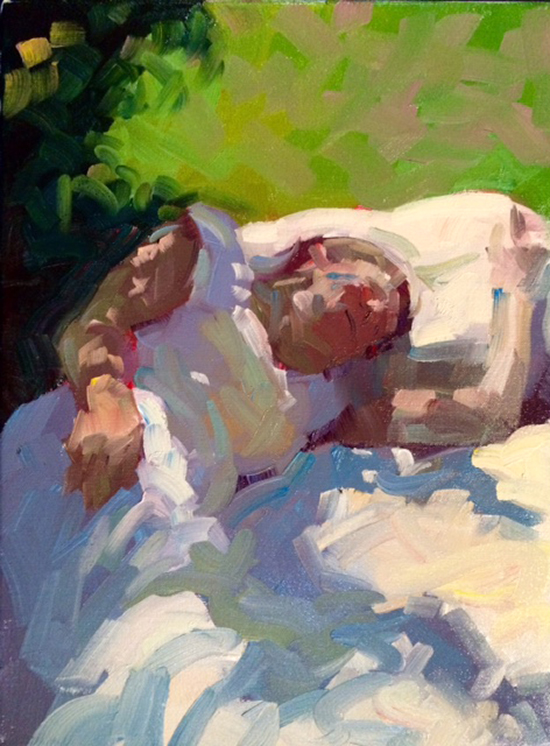 Under the Rose of Sharon 16 x 12" Oil

Your figurative work predominately features your wife. Has she always been your primary model?

She's been my model for over 30 years, and though I've occasionally painted other models, she is the one who defines the figurative work I do. Without her look, her talent for striking and holding a pose, and her inextricable involvement in the details of my work, I would likely not be the painter I am today.
What do you think is the single most important lesson or tip you have learned about painting in your career?

As I am now in my fourth decade of painting professionally, I can honestly say that the most important lesson I have learned is that it has to be fun. I don't do anything that's not fun for me, even challenging activities like painting and learning to play classical piano. It's got to be fun or it's not worth doing. One of the wisest things I ever heard was there can be no happy ending from an unhappy journey. Struggle and strife are not our lot in life unless we believe that to be true. Happiness is what we seek in everything we reach for no matter what the situation. I start every painting with the absolute knowing that this is going to be fun, and—what do you know?– it always is!

What words of encouragement or piece of advice would you give a beginning artist?

Simply this—fall in love with the process of painting. Don't over analyze, and most of all, don't focus on your mistakes. Focus on what you want, what you love, and everything else will take care of itself. Oh, and always ask yourself why? Why do I paint? If you can answer that with every painting, you will be the happiest painter who ever lived.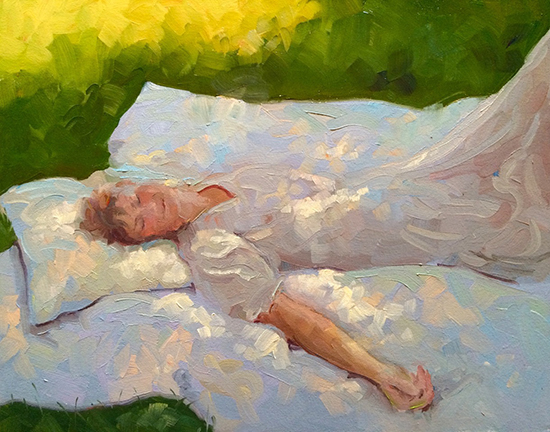 Under the Oak 16 x 20" Oil

To see more of Perrin's work, go to his website:
http://dennisperrinfineart.com

All artwork © Dennis Perrin