Foresight

Perspectives No. 336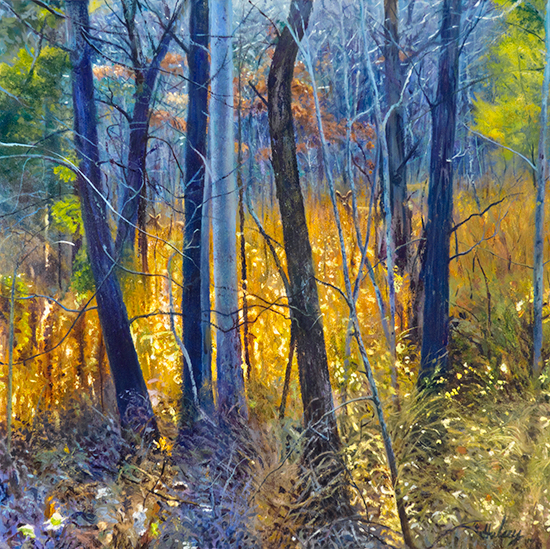 Transcendence Oil John Hulsey
"All that is sweet, delightful, and amiable in this world, in the serenity of the air, the fineness of seasons, the joy of light, the melody of sounds, the beauty of colors, the fragrancy of smells, the splendor of precious stones, is nothing else but Heaven breaking through the veil of this world, manifesting itself in such a degree and darting forth in such variety so much of its own nature." - William Law

Although the British theologian never intended it, he has artfully summed-up the plein air painter's "raison d'etre" better than anyone else. Painting might be what we call our activity, but what we are really searching for is that manifestation of heaven on earth—Beauty. It is everywhere, all around us, all the time, but it can be difficult to see through the fog of reason and the thousands of things that occupy our conscious minds in order to really appreciate what is laid before us. It takes time and it takes practice to see clearly when we are outdoors. Over many years of such practice we have gradually improved our ability to calmly open up to the world and see the little miracles in the everyday landscape around us with which we are so familiar. At those times our world appears newly-minted and filled with beauty. We wonder then, how we could have missed the glowing russet leaves of Little Bluestem grasses as they wave cheerily in the winter sun. We begin to see the delicate calligraphy of those blue-violet tree shadows painted across a snowy meadow and think, "I've got to capture that, and not only the thing itself but the feeling that goes with it." It is at those common moments that we are connected to the larger, deeper world, and only because we excused ourselves from the traffic of life and headed out the door to see what might await us.

The just-finished painting above, Transcendence, is the closest I've come to the physical expression of those words I originally wrote seven years ago for Perspectives No.15 - The Art of Beauty. In all that time, we have been working towards that goal in our painting—to see through and beyond the fog of our normal thoughts and concerns to fully perceive the deeper beauty of the world before us. We make this effort because we understand that if we can tell the story of one small part of the world clearly, truthfully, passionately, then it just might have the power to represent the whole. Don't let winter force you indoors. Step out and see what wonders you can find.