Voices of Experience


Sarah Yeoman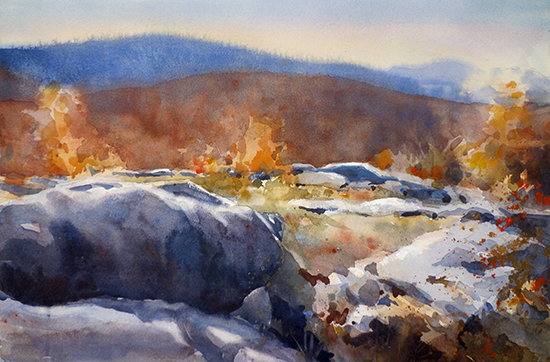 The View from the Mountain 14 x 21" Watercolor

"Thomas Moore captured my idea of what painting is:

a search for spirit and an attempt

to create a place for it to dwell."
Sarah Yeoman's watercolors are intimate poems revealing glimpses into her life. She respects the unpredictability of this difficult medium and yet guides it with great skill to create her light-infused paintings. Yeoman's work has been recognized nationally and included in exhibitions of the American Watercolor Society, the International Watercolour Biennial and the International Watercolor Society among many others. Yeoman teaches classes in her Yorklyn, Delaware studio as well as in week-long workshops in Tuscany.

Growing up under difficult circumstances and with no other artists in her family, Yeoman used her imagination and creativity to thrive. She told us, in her own words, about when she knew she was an artist:

I was compelled to create from a young age—whether it was music, paint, theater, sculpture, or walking in the woods. I was known as an artist in high school. In the art room, I found paint, color, shape—essentially a language that I could communicate with. Later I went to college and studied art, in particular metal sculpture and jewelry-making. I found painting after college. After one watercolor class, I felt that I really understood the paint and I never looked back.

Is the artist's life one of a spiritual journey?

Thomas Moore captured my idea of what painting is: a search for spirit and an attempt to create a place for it to dwell. To me this is what I am looking for. It is rare, but every once in a while I glimpse it. How do we dialogue with the other side? I do it through paint. Painting is also therapy for me. To be able to disappear into my creative brain has saved my life. I cannot imagine life without it.
Yeoman credits using her creative expression through painting to help her manage the grief after the death of her husband, horticulturalist and artist, Paul Skibinski. Together they lived at Ashland Hollow, a private garden for which Skibinski was the head gardener. The garden provided great inspiration to her work.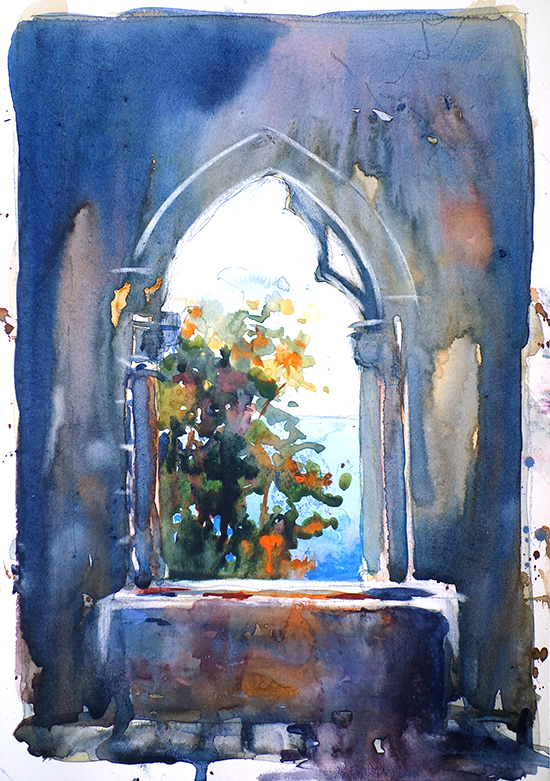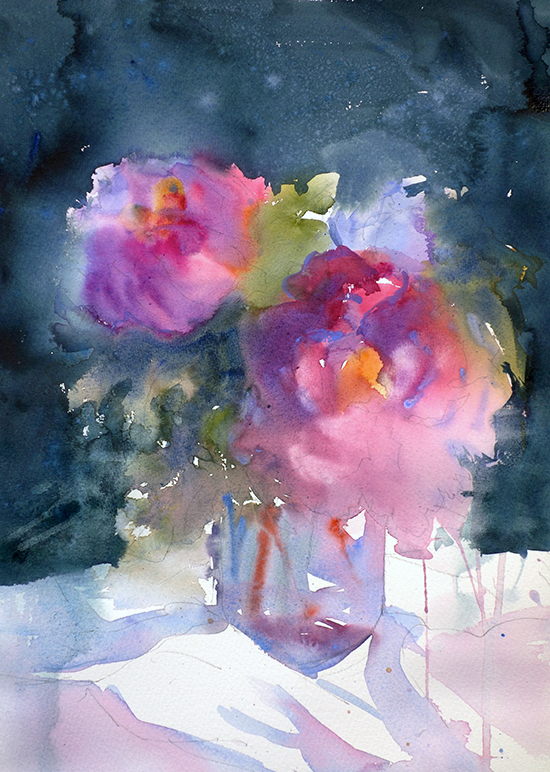 Castle Window 9 x 12" Watercolor Peonies and the Moon 14 x 21" Watercolor

How important is travel in keeping passion and challenge in your work?

Up until this year, I spent my time in my studio in Delaware or "off the grid" at the summer camp in the Adirondacks built by my great uncle. Recently I've had the opportunity to travel and teach in Italy as well. I love my studio, and my time spent painting, climbing and kayaking in the Adirondacks. I also love traveling.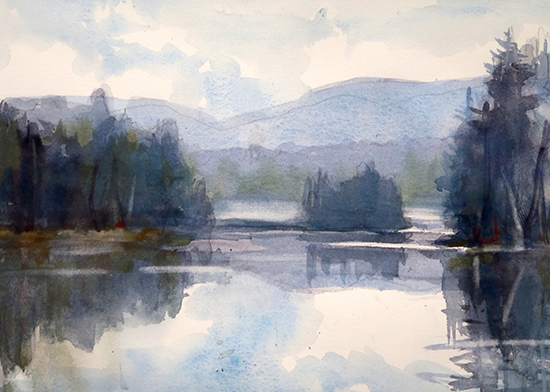 Abanakee Atmosphere 11 x 14" Watercolor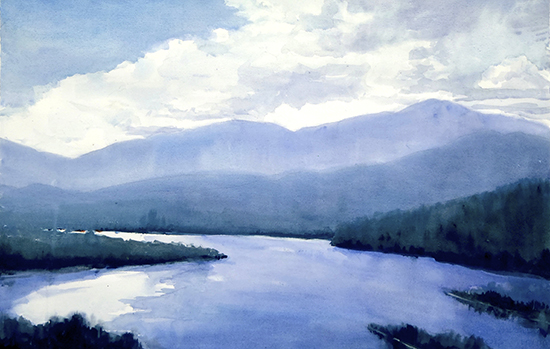 Aloft over Indian 22 x 30" Watercolor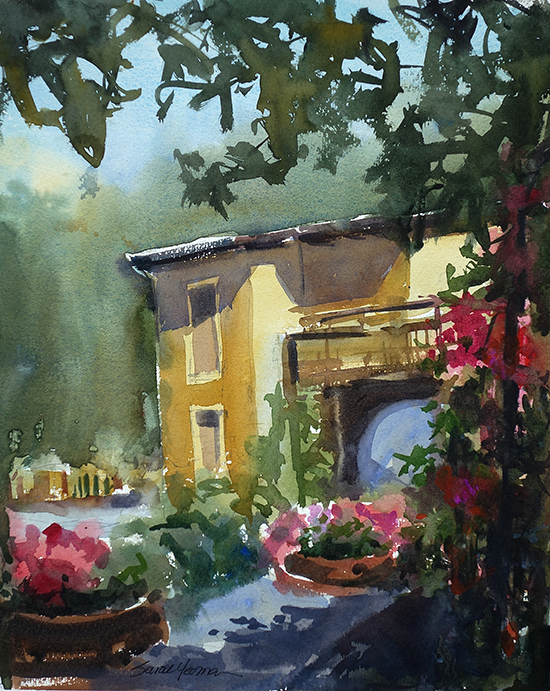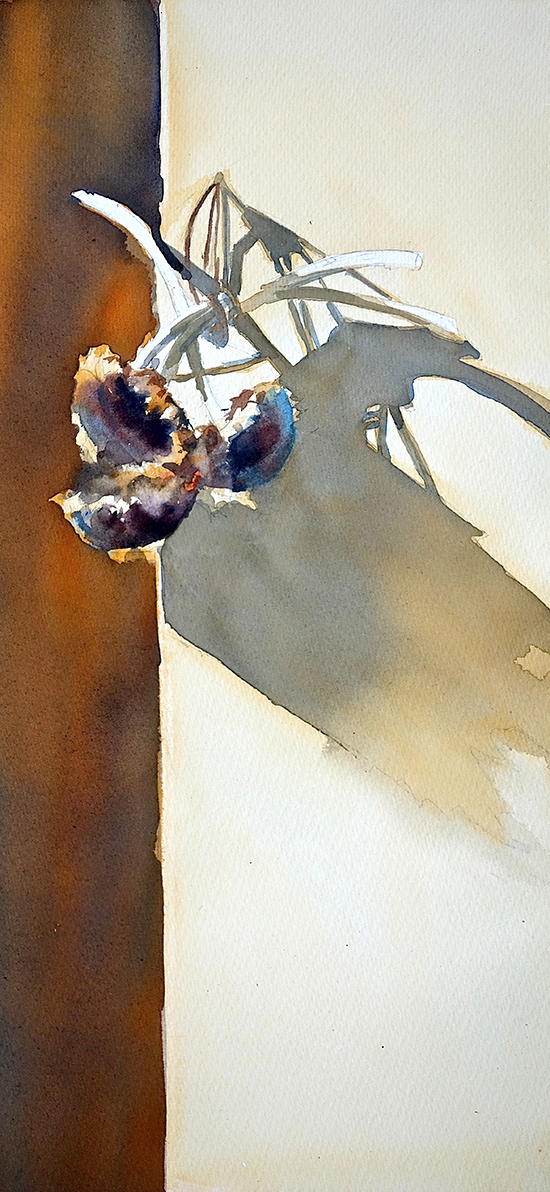 Tuscan Light 14 x 21" Watercolor Tuscan Suns 9 x 21" Watercolor

I find inspiration in regularly looking at the Group of Seven especially Tom Thomson and his paintings of the Canadian wilderness. (The Group of Seven was also known as the Algonquin School and consisted of a group of Canadian landscape painters from 1920 to 1933. The artists of the Group of Seven created paintings inspired by the Canadian landscape working directly from nature. They are considered to be the founders of the first major Canadian national art movement.)

Winslow Homer, also, with his connection to the Adirondacks has always been an inspiration.

Contemporary artists whose work I admire include Tom Schaller and Iain Stewart.

Why do you paint in watercolor? What is it about watercolor that has made it your medium of choice? And, do you prefer to work mostly outdoors or in the studio?

I love the unpredictable nature and the fluid transparent quality of the paint. I love the ability of the paint to suggest light. I started as an oil painter and also do acrylic and mixed media, but watercolor is my first love.

I get in a kayak or climb a mountain or walk for miles before I paint. I tend to do the actual painting in the studio unless I am teaching a plein air class or get the urge to go outside and paint. Most of my painting subjects have come in from the outdoors to be painted. The whole process usually involves observation of the natural world, bringing it to the studio and painting.

What would you like to communicate to your audience through your paintings?

Sometimes I see something, a moment, a certain light, an atmosphere, a time of day, a mood and I want to capture this with paint. Every panting is different. With my crows I want to capture the movement and the life spirit of the interactions between those birds, those forms. If I can capture the spirit, if it can dwell in the painting, if I feel it in my gut, I am compelled to paint. This is more about recognizing moments that reveal themselves and choosing to paint them.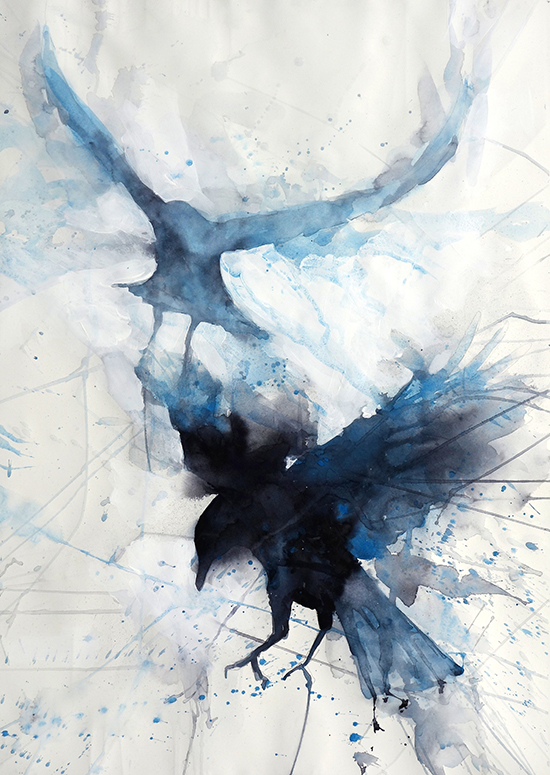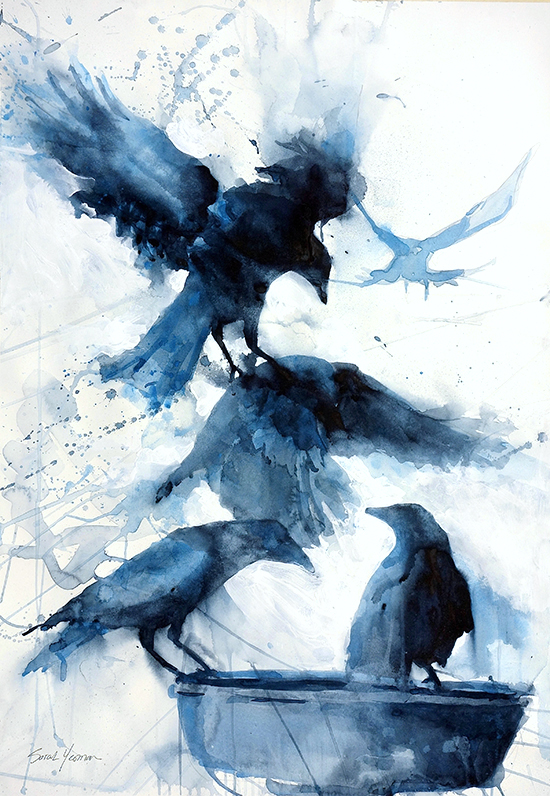 Here and There 22 x 30" Watercolor Totem 22 x 30" Watercolor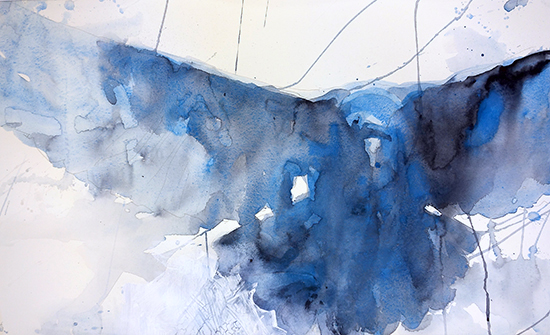 Crow 19 x 25" Watercolor

Can you tell us about your process, from inspiration to final strokes on a painting?

If I don't have my materials with me, I take a photograph of whatever I want to paint. I usually spend a long time observing what I am taking pictures of. I bring this back to the studio. I will sketch, doing studies before I start to make sure that my light source and shadows capture the mood and atmosphere. Often the value studies are as powerful as the painting.

What do you feel makes your work unique?

What people have said to me is that the way I capture light is unique. I think my painting has a sculptural feel, that I am pulling the shapes out of the white paper, that these shapes already exist in this paper and I am finding form by gradually revealing the light and shadow.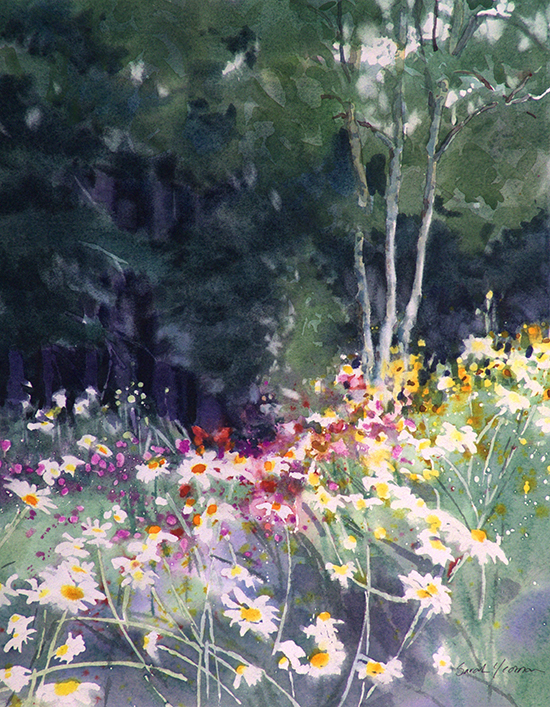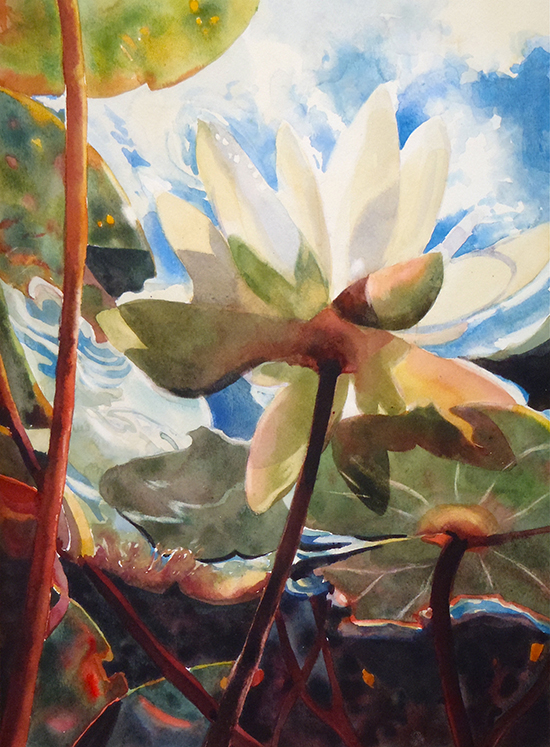 Forest Garden 14 x 20" Watercolor Surface Dance 16 x 20" Watercolor

Yeoman has loyal students who have studied with her for many years. Her own education comes from experimentation with watercolor over a lifetime. She teaches her students by giving them the tools and encouraging them to find their own expression within the medium.
What words of encouragement would you give a beginning artist?

Keep painting, keep painting, keep painting! I hand out an Andy Warhol quote to all my students: "Don't think about making art. Just get it done. While everyone else is deciding whether it's good or bad, whether they love it or hate it, make more art."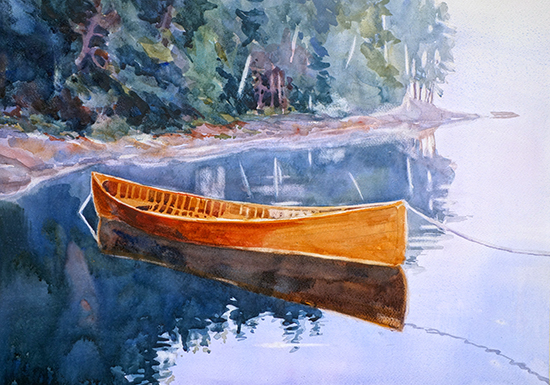 Guideboat 22 x 30" Watercolor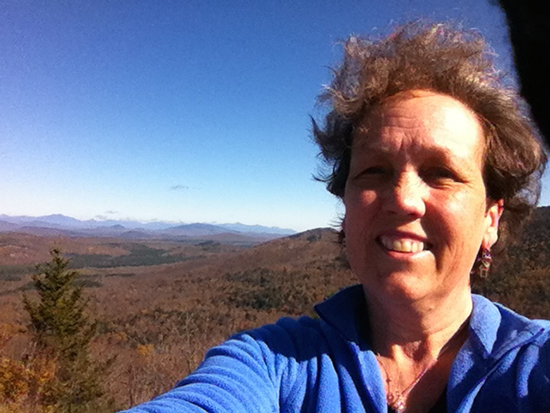 Visit Sarah Yeoman's website to see more of her paintings.
All artwork copyright Sarah Yeoman.