Taking It to the Streets
Perspectives No. 158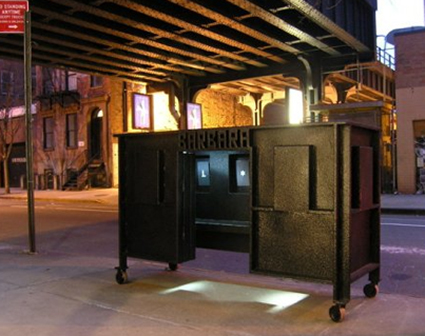 Barbara the Mobile Art Gallery
F
or some artists, creating a painting is a very private and personal endeavor and exposing the work to the public can be akin to having a diary read aloud. Others thrive on the contact with their audience and enjoy working en plein air with passers-by interacting and commenting throughout the process. We have always felt that a part of the artist's responsibility is not only to create, but also to release and give their work back. This is the full circle of art-making and sometimes the viewer's reaction to the artwork is as important as the artist's intent.
Seeking venues to exhibit our work is not always easy. And even after gaining acceptance into a professionally-run gallery, an artist has little control over how the work will be shown or to whom it is shown or how often.
One artist we know has boldly decided to take the situation into his own hands and created his own gallery on the streets of New York City. "I wanted to be able to show my art where I want, when I want. So I created Barbara."
In case you are wondering, Barbara is the moniker for the rolling art gallery which Marvin Gates designed and built. Gates researched the N.Y.C. Rules and Codes for a sidewalk-sized vending cart and made his gallery fit those requirements. Barbara is five feet high, eight feet wide and three feet deep. He applied for and received the necessary permits to operate his mobile gallery, which weighs over a thousand pounds, on the streets of New York.
Inside Barbara there is a bench on three sides where viewers can sit and look at Gates's small artworks, which themselves sit inside wall niches lit cleverly by daylight coming through hidden apertures. The bottom section of Barbara is open to the street, and one can close the accordion-style doors for privacy or contemplation.
One of the unexpected discoveries that Gates found in making and using Barbara was the magical effect of isolation from the outside world one experiences with the doors closed. "It is as if the outside world temporarily goes away and we are in a sheltered, more peaceful place where the art fills our attention and our thoughts."
He goes on to explain that what makes his mobile gallery such an enriching experience for him personally are the reactions of the passers by who stop in for a look. He is literally taking his work to the streets. To help people find him, he has a website devoted to the project, barbara2013.
On the site, one can find where and when Barbara will be exhibiting, currently on the Lower East Side. He also puts up posters in advance and updates on Facebook so that his growing following can track him down.
We are amazed at what Marvin Gates is doing. Barbara has become not only a place to show his art, but an artwork in her own right. The total experience of Barbara - the transient nature of each exhibition, the reactions of the public to Barbara and to the art inside, the thrill of the hunt, are part and parcel of the project. Mr. Gates says that these experiences exceed what he could have predicted when he started Barbara. Like all good art, we learn more from it than we originally thought to put into it.