Voices of Experience

Eric Michaels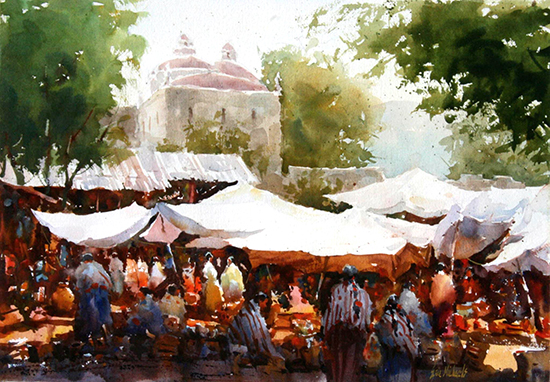 El Mercado - Etla, Mexico 14 x 22" Watercolor


"A life in Art is a fabulous journey."

- Eric Michaels
Eric Michaels has embraced the fabulous journey of being an artist both figuratively and literally. He has traveled the world painting across four continents and is equally fluent in watercolor, oil and pastel. He has not limited his subjects to the landscapes he visits, but has also mastered the genre of historic painting. Michaels is a signature member of the Oil Painters of America, the National Watercolor Society, and the Pastel Society of America. Michaels grew up in Illinois and received a B.F.A. in art. He shared with us his personal journey.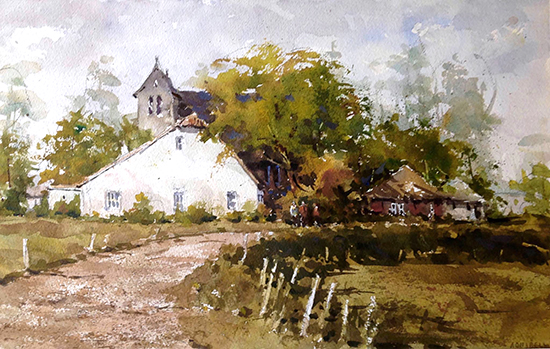 A Bend in the Road, Sussex 15 x 22" Watercolor
"I guess I always had a penchant for art. My mom would tell me that, when I was a toddler, I would spend hours drawing in the shag rug with my fingers, then wiping it out and starting again—kind of an early version of Etch-A-Sketch. That eventually led to drawing Disney cartoon characters, animals, sports figures, etc. My best friend was Frank LaLumia (AWS), and, throughout grade school and high school, we spent hours at each others' houses drawing anything and everything. Of course, at that time, neither of us knew that those fun and creative hours, would be the genesis of our future vocations.

I did go off to a small college in Iowa, where I earned a Bachelor's Degree in Art. It was basic and fundamental, but it did expose me to a wide variety of mediums and techniques, and the eighteen credit hours of Art History would eventually come in quite handy.

To digress a bit, I started learning guitar when I was ten. I took lessons from an old Vaudeville banjo player, Larry Tobler. He taught me all the fundamentals of technique and music theory, and I became quite proficient. So, after college, I tried a couple of normal jobs, and then took off on the road to play music for the next ten years. During that time I took a hiatus to San Francisco to study classical guitar. And, it so happened that my friend, Frank Lalumia, was there beginning his watercolor career. He introduced me to the works of Donald Teague, Robert E. Wood, John Pike, Millard Sheets, and so many others. Although it would be another five years before I would take up the mantle of watercolorist, the seeds were planted.

In 1981, I arrived in Santa Fe, New Mexico with my partner, Maxine. At that time, Santa Fe was the representational art capital of the U.S., with about 125 galleries. I was playing music seven nights a week, and spent a good part of my days browsing the galleries, and looking at works by Donald Teague, Charles Reid, Lowell Ellsworth Smith, James Kramer, Morris Rippel, and so many others. The juices started flowing, and I came home one day and told Max I was going to start painting seriously.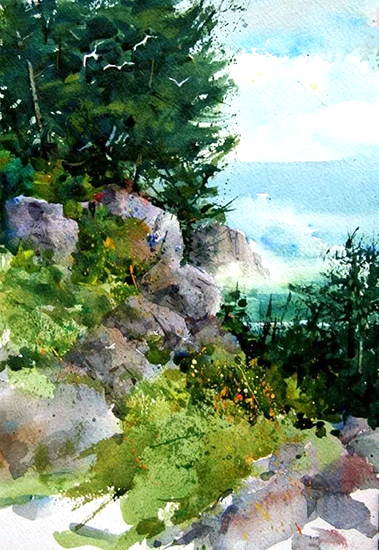 Sea Breeze 12 x 9" Watercolor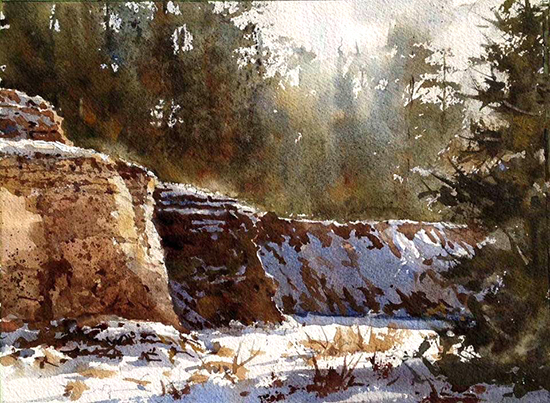 Lost Canyon 9 x 12" Watercolor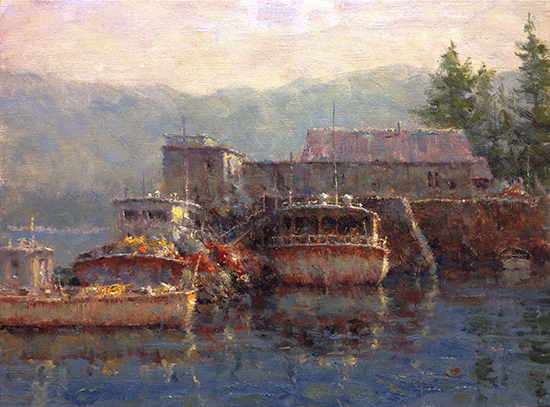 Jordan River, Anchorage 9 x 12" Oil

Well, after going through a lot of paper, I won some awards, became a signature member of the National Watercolor Society and began what would become a forty-year career.

At that time, there were so many great artists in Santa Fe. I got to be friends with the likes of Clark Hulings, Bettina Steinke, Paul Strisik and James Kramer, to name a few. I was unabashed about seeking their criticisms and suggestions. I would eventually go on to become a signature member of the Pastel Society of America and the Oil Painters of America.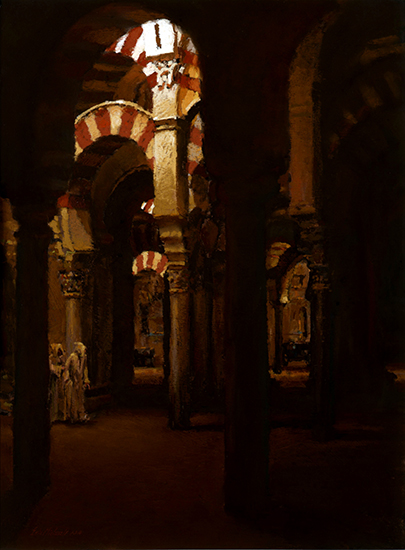 In the Great Mosque, Cordoba, Spain 24 x 18" Pastel
I told Max on the first day that, if this ever became a job I'd quit. So, my subject matter has remained very eclectic over all these years. I've traveled and painted across the U.S. and a number of developed and third world countries on four continents. I have also painted dozens of Western and historical paintings that I don't exhibit at galleries. Those pieces are commissions, or go to auctions and are in private, corporate or museum collections.

I've enjoyed every place I have ever gone to paint, but here are a few of my favorites: Bali, the state of Chiapas in Mexico, the Dordogne in France, Cornwall and Devonshire in England, Vancouver Island in Canada and the Pacific Coast from Monterey to Big Sur.

When traveling, my medium of choice is watercolor. I use the En Plein Air Pro "Traveler" watercolor easel. It's compact, lightweight and everything I need to go painting for a few weeks. It fits into a day pack that fits under the seat on an airplane. I helped design it, and it's the easel I always wanted for painting excursions.

Watercolor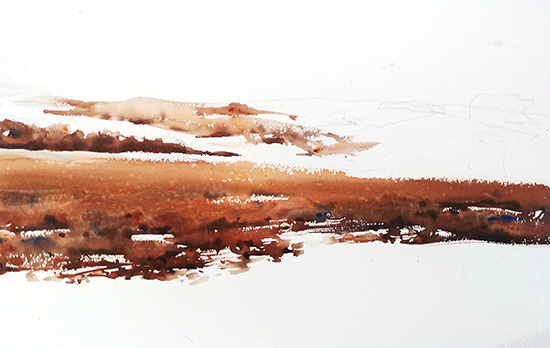 February Patterns (demonstration), Step One Watercolor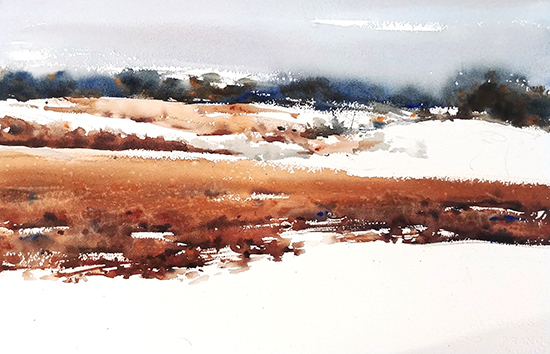 Step Two

When I'm painting on-location, I try to ignore the detail and synthesize the scene down to its basic identifiable masses. If I can paint those larger shapes the right size, value and color, and render them in an interesting way, the painting will have strength and convey a sense of light and place. This is the foundation. If this is weak, all the detail and one-hair brushwork won't salvage the painting.

For that reason, when I'm working in watercolor, I tend to use my large brushes for about eighty percent of the painting. Those would be some squirrel mops and a one-inch flat. A couple of decent rounds, and a couple of detail brushes, are about all that are needed to do the calligraphy and finish work. These are generally synthetic blends.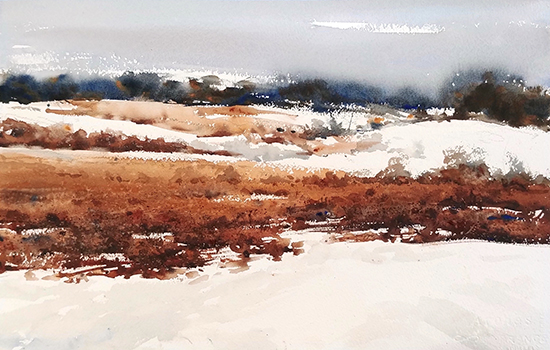 Step Three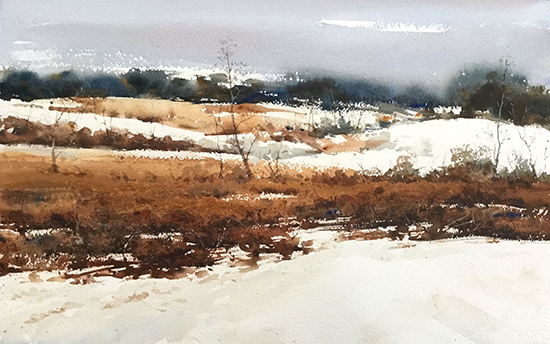 February Patterns 13 x 20" Watercolor

My palette is pretty basic and composed of DaVinci watercolors: Ultramarine Blue, Cobalt Blue, Cerulean Blue, Viridian, Hansa Yellow Light, Gamboge Hue, Raw Sienna, Cadmium Red Medium, Alizarin Crimson, Venetian Red, Burnt Sienna, Titanium White. (I don't often use white. I generally prefer my whites to be the paper, but I'm not a purist, and, when necessary, will use it.) For paper, I like Arches 156# rough. When in the studio, I use a John Pike palette, and on-location I use a Holbein folding palette.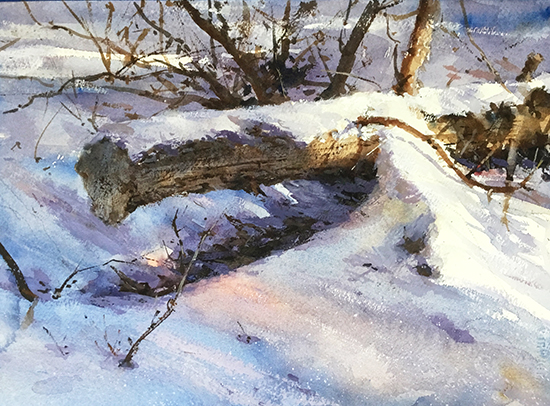 Old Veteran 9 x 12" Watercolor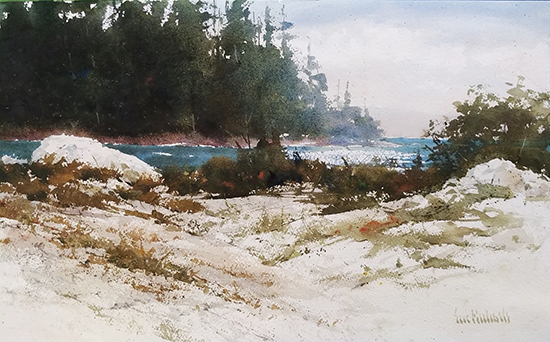 On North Point 13 x 20" Watercolor
Oil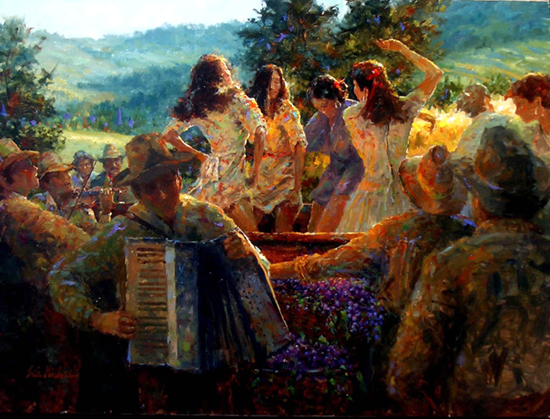 Stomping the Grapes 30 x 40" Oil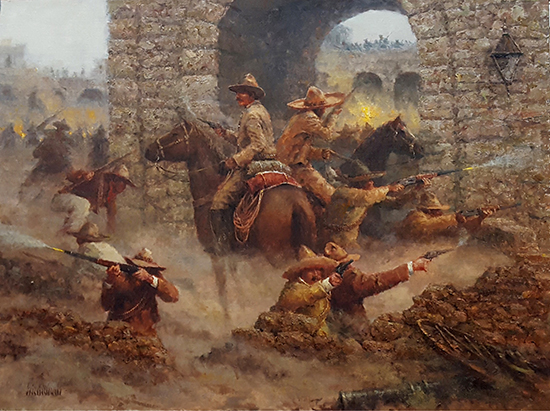 Villa Takes Zacatecas, June 23, 1914 30 x 40" Oil

For my oil work, I make my own oil painting panels using double-primed Belgian Linen. My oil brushes are both bristle and synthetic rounds and flats. I'm hard on my oil brushes, so I use good quality, but not the most expensive – often watching for sales.

The pigments I use in oil painting are Utrecht and Rembrandt: Ultramarine Blue, Cobalt Blue, Viridian, Hansa Yellow Light, Cadmium Yellow Medium, Quinacridone Gold, Cadmium Red Medium, Alizarin Crimson, Terra Rosa, Transparent Oxide Red, Titanium White.

"I have a number of friends who are successful artists. If you ask ten of them how they got there, you will hear ten different stories. But there is a common thread that they all share: they love what they do. They have all spent long, lonely hours, through triumphs and frustrations, honing their craft. Not one of them started out as an accomplished artist. Life as an artist is a calling, and those who don't recognize that the process itself is the reward generally don't last. For those who do stick with it, the struggle is an affirmation, and the universe will give its benediction on a life well spent. It's been a fabulous journey."


Eric Michaels has exhibited at the Royal Watercolour Society in London and has been a regular exhibitor in the Artists of America, the Great American Artists and the "Quest for the West" exhibition at the Eiteljorg Museum in Indianapolis, Indiana. His paintings hang in private, corporate, museum and state collections, including the Albuquerque Museum of Fine Art, the Booth Museum of Western Art, the Americana Museum, the Haggin Museum, the Pearce Museum of Western Art, the Institute of American Indian Arts, Phillips Petroleum, IBM, Honeywell-Sperry Inc., Puma International and the State Collection of the Governor's Gallery, Santa Fe, NM.
To see more of Eric Michaels's work, go to
https://ericmichaelsfineart.com
All artwork copyright Eric Michaels