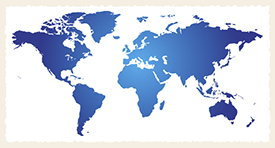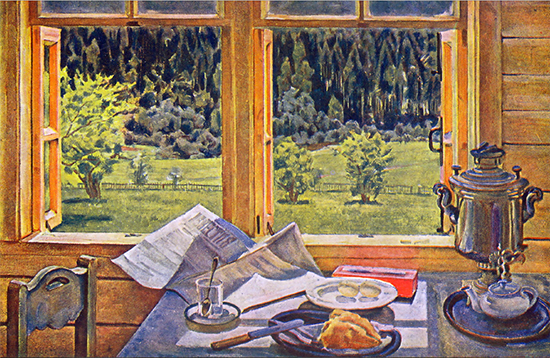 Window to Nature, Ligachevo, May 1928 Konstantin Yuon
We all learn from each other.
Discover what top artists like Albert Handell, Marc Hansen, Kathy Anderson, James Gurney, Howard Friedland, Peter Fiore and many more have to say about their work and lives as artists in our regular


Voices of Experience

feature by subscribing now.
H

aving spent a lifetime exploring and finding purpose and fulfillment through art, we decided to build this art and painting website to share what we have learned and to inspire others in their creative lives.
Much of the important content (over 500 articles) you'll find here is instructional - the steps to making paintings in oil, pastel or watercolor -

often illustrated by v

ideos

, slide shows and Step-by-Step demonstrations.

As a member, each month you'll receive a new in-depth educational or art travel article along with a new, illustrated Voices of Experience interview with a top-flight artist. Enjoy the free content.

We believe that you will find value and inspiration in it. If you do, please consider joining as a member now to access all the members-only in-depth articles and to add your valuable support to

this important effort. And don't forget,

members receive discounts

on all the useful products, downloads, books and many live workshops in our Store.


B
ecome a

Member

of The Artist's Road Now.



Click

Click
We believe that more artists in the world is a good thing for everyone.
"Together, John and Ann have decades of experience to share in watercolor, pastel, and oil painting, and they are some of the savviest, committed plein-air painters I've come across. Their expertise makes The Artist's Road a one-of-a-kind resource and Artist Daily is lucky to have them as contributing writers to our Plein Air blo
g".

Courtney Jordan, Editor, Artist Daily

Workshops

2015:

September 13 thru 19, SKB Foundation - Dubois Wyoming. September.
Click here for more information.

Sold Out!
2016:
May 1 - 7,

Domaine du Haut Baran in Southwest France.
Click here for more information.
SKB Foundation - Dubois Wyoming. September.

Hot Off the Presses!
International Artist Magazine Features
Oil Painting Demonstration by Ann Trusty
International Artist Magazine honored Ann recently with an impressive 10 page article titled, Directly from Life, in the August/September 2015 issue. Ann takes us through her oil painting process in a step-by-step demonstration of her still life painting of the ephemeral Coral Charm peonies.

"The editor asked me if I could create a demonstration of my oil painting techniques for the magazine, and I immediately thought of painting the gorgeous Coral Charm peonies. Their temporary urgency reminds me to be present in the moment as they are. Their blooming time can be so short; it is like painting a sunrise followed by a sunset. I loved the risk and challenge of the situation and the staff at the magazine were terrific to work with".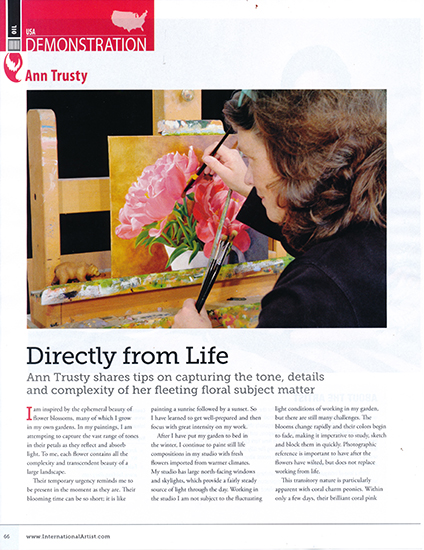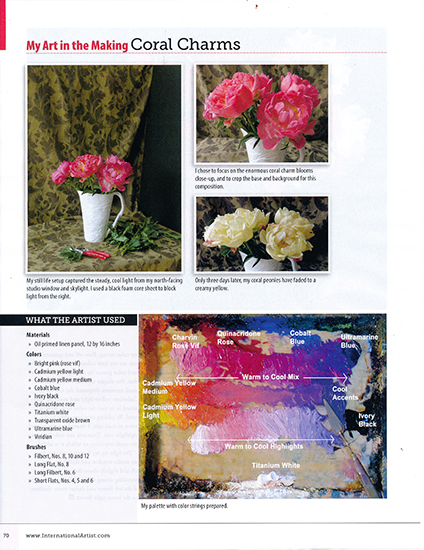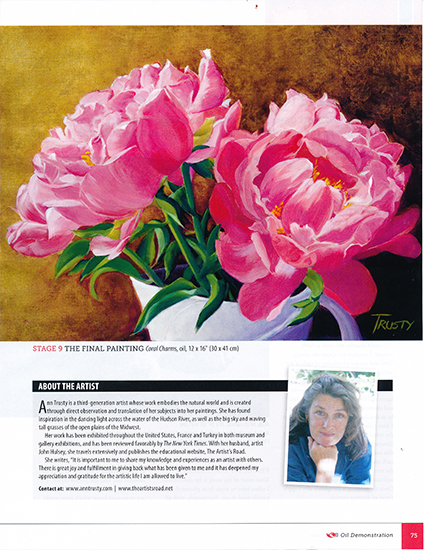 Sample Pages from the Article, "Directly from Life".

New Member Content This Month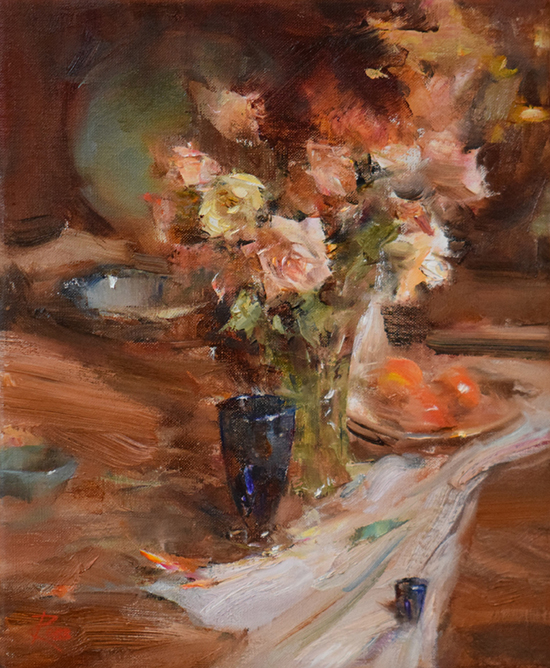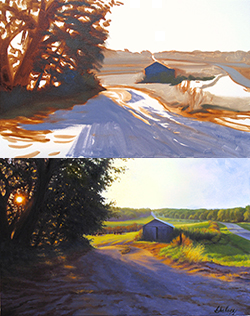 Voice of Experience:
A Walk in the Country:
Laura Robb
A Step-by-Step Oil Demo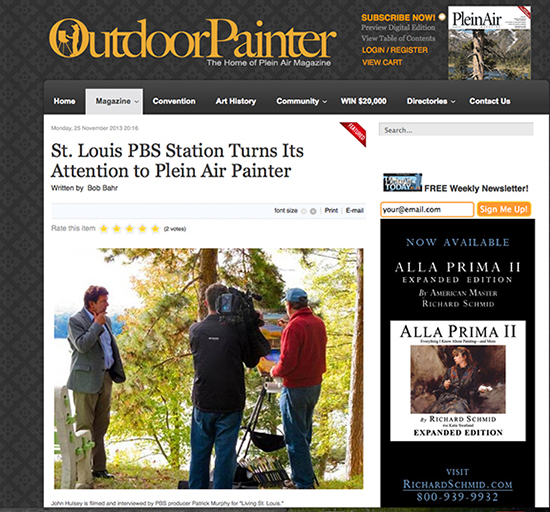 Page from the recent interview by Bob Bahr of
The Artist's Road co-founder John Hulsey

in Outdoor Painter (Plein Air Magazine). John shared with Bob his experiences this fall
being filmed by PBS St. Louis while he demonstrated

plein air paintiing high above the Mississippi River near Alton, Illinois.
Click HERE to watch the plein air video demonstration.
"I consider my membership one of the best investments I have ever made.
I LOVE it!!!"
-
Joanne K.
"I love your Artist's Road site better than ANY other fine art site I have ever seen! I especially love the education, demonstrations with various media, just so many wonderful informative articles. I thank you both for making it so interesting, allowing us to be more creative."

- Diane S.

Blue Skies

Perspectives No. 250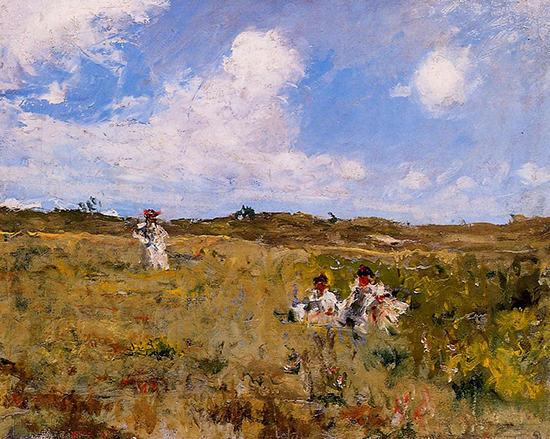 Shinnecock Landscape William Merritt Chase

As artists, we breathe a sigh of relief when the Wizard of Oz movie takes us from black and white into full color. After all, colors are the artist's tools and it is unimaginable to think of life without them. But why do people have different favorite colors?

Many studies have been conducted to try to answer the question, with varying results. Psychology Today magazine cites a study done by psychologists at the University of California Berkeley (1) which tested 48 participants who rated 32 colors in order of how much they liked each color. They found that muted or pastel colors were less favored than bright colors. Blues, reds and greens were most highly favored. Brown and olive green ranked lower than orange or yellow. The researchers continued by having study participants rate the appeal of certain objects—objects which tend to have specific colors (for example, red apples and brown dirt). They compared these ratings with those given by different participants viewing solid color swatches. The preferences between the two groups matched perfectly. The conclusion drawn by this study is that we derive our color preferences from the objects that we prefer.

Scientists have long thought that color preferences might be tied to things that promote survival and health. Blue, which tends to rank high across most cultures, may be favored because of its relationship to clear blue skies and calm weather.

In addition to those studies asking participants to name their favorite colors, scientists have also investigated the physiological effects of color on the brain by measuring blood pressure and doing brain electroencephalograms while participants studied color swatches of red, green and blue. (2) The studies concluded that red caused higher brain activity in the areas of attention and of perception and possibly elicited more anxiety than blue.

A study done in the marketing and business world (3) asked participants from eight countries to rate their color preferences of ten colors. Blue, green and white were similarly high ranking.

Interestingly, while blue seems to consistently rank high as a favorite and yellow low, in the small percentage of males who suffer from red-green dichromacy (color-blindness), yellow was ranked high and blue much lower. (4)

Although the drama of a stormy sky or the smoldering colors of a Midwest sunset are candy to an outdoor painter, blue skies still carry the day for creating a sense of calm and relaxation in life and in art.
(1) Stephen Palmer and Karen Schloss in the 2010 Proceedings of the National Academy of Science.
(2) Ai Yoto, University of Shizuoka, Shizuoka-shi, Japan, 2007.
(3) Thomas Madden, Kelly Hewett, Ma1rtin Roth, Journal of the American Marketing Association, 2000.
(4) Leticia Álvaro, Humberto Moreira, Julio Lillo, Anna Franklin, Proceedings of the National Academy of Sciences of the United States of America, 2015.

It's easy and inexpensive to join
our large and growing community of talented artists.
Click

Click
Get on The Artist's Road
today!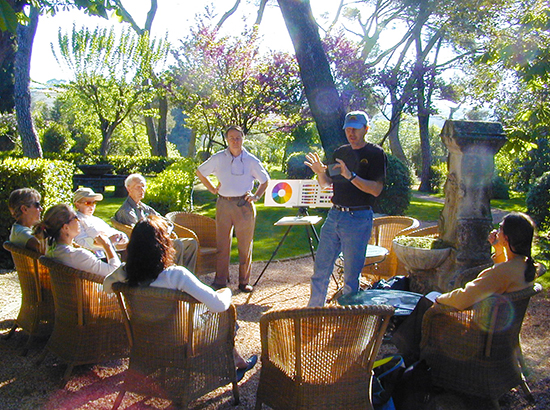 John Teaching in Provence, France
F

ew educational experiences can beat watching a professional at work for quick learning. If you are a beginner, John will show you how to get started the right way. Or, if you are an experienced painter and want to take your skills up to a new level, then this is the learning experience for you. You will be able to soak up
valuable technical advice and pointers while

watching John create a demonstration painting each morning. In the afternoons, learn the secrets of the pros first-hand
, as John gives you the kind of individual advice that not only can make your painting stronger, but cuts your learning curve in half. C
onsider enrolling in one of our painting workshops today.


Click here to see our current workshop schedule.
"Thanks for The Artist's Road, a constant source of inspiration." -

Marilyn N.


"This is an amazing site. I am such a beginner, you inspire me."

- Chris R.
"You guys are an inspiration. An inspiration to old artists, young artists,
and far more importantly, people of all ages . . . " - Ken B.


Copyright Hulsey Trusty Designs, L.L.C. (except where noted). All rights reserved. No portion of this website may be copied in any manner for use other than by the subscriber without permission from the publisher.
Become an Artist's Road Member Today!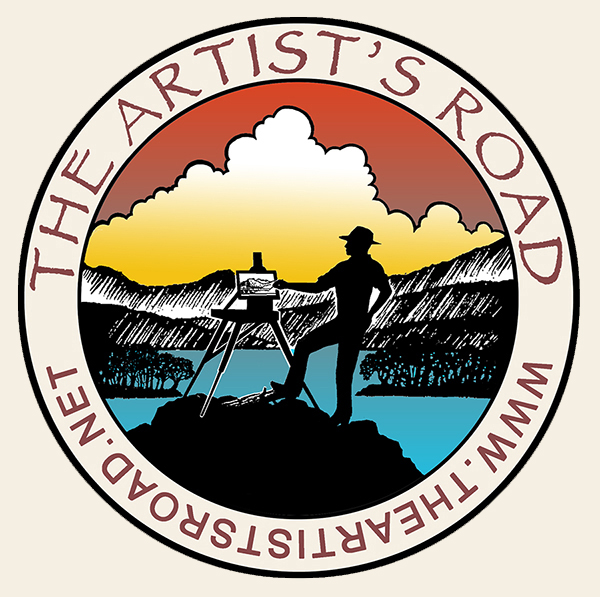 Click here to become a Member and enjoy access to all the in-depth painting and travel articles, videos and tutorials. Guaranteed!

Already a Member?
Log in here. To renew your membership, log in and follow the links.
The Artist's Road Store
This ultra-light handy tool fits most easels (maximum leg thickness just under 1.25"), and creates a great platform for your palette. We keep one in every painting kit.

Also in our Store: check out our tips and guides for the artist/traveler, and some of the tools and other products that we use in our own art and travels. We only offer things for sale in our Store that we enthusiastically believe in.

The Artist's Road School
About Us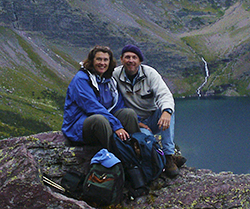 We are artists, authors and teachers with over 35 years of experience in painting the world's beautiful places. We created The Artist's Road in order to share our knowledge and experiences with you, and create a community of like-minded individuals. You can learn more about us and see our original paintings by clicking on the links below.

About Ann
About John
Hulsey Trusty Studios
We are also regular contributors to the Plein Air blog at Artist Daily.