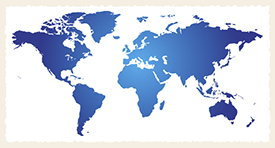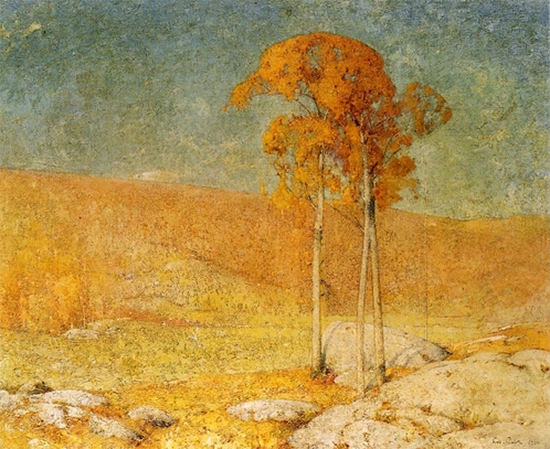 October Summer 1904 Emil Carlsen
We all learn from each other.
Discover what top artists like Albert Handell, Marc Hansen, Kathy Anderson, James Gurney, Howard Friedland, Peter Fiore and many more have to say about their work and lives as artists in our regular


Voices of Experience

feature by subscribing now.
H

aving spent a lifetime exploring and finding purpose and fulfillment through art, we decided to build this art and painting website to share what we have learned and to inspire others in their creative lives.
Much of the important content (over 500 articles) you'll find here is instructional - the steps to making paintings in oil, pastel or watercolor -

often illustrated by v

ideos

, slide shows and Step-by-Step demonstrations.

As a member, each month you'll receive a new in-depth educational or art travel article along with a new, illustrated Voices of Experience interview with a top-flight artist. Enjoy the free content.

We believe that you will find value and inspiration in it. If you do, please consider joining as a member now to access all the members-only in-depth articles and to add your valuable support to

this important effort. And don't forget,

members receive discounts

on all the useful products, downloads, books and many live workshops in our Store.


B
ecome a

Member

of The Artist's Road Now.



Click

Click
We believe that more artists in the world is a good thing for everyone.
"Together, John and Ann have decades of experience to share in watercolor, pastel, and oil painting, and they are some of the savviest, committed plein-air painters I've come across. Their expertise makes The Artist's Road a one-of-a-kind resource and Artist Daily is lucky to have them as contributing writers to our Plein Air blo
g".

Courtney Jordan, Editor, Artist Daily

Hot Off the Presses!
International Artist Magazine Features
Oil Painting Demonstration by Ann Trusty
International Artist Magazine honored Ann recently with an impressive 10 page article titled, Directly from Life, in the August/September 2015 issue. Ann takes us through her oil painting process in a step-by-step demonstration of her still life painting of the ephemeral Coral Charm peonies.

"The editor asked me if I could create a demonstration of my oil painting techniques for the magazine, and I immediately thought of painting the gorgeous Coral Charm peonies. Their temporary urgency reminds me to be present in the moment as they are. Their blooming time can be so short; it is like painting a sunrise followed by a sunset. I loved the risk and challenge of the situation and the staff at the magazine were terrific to work with".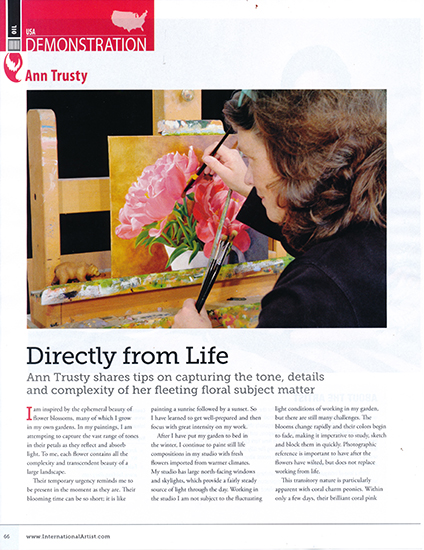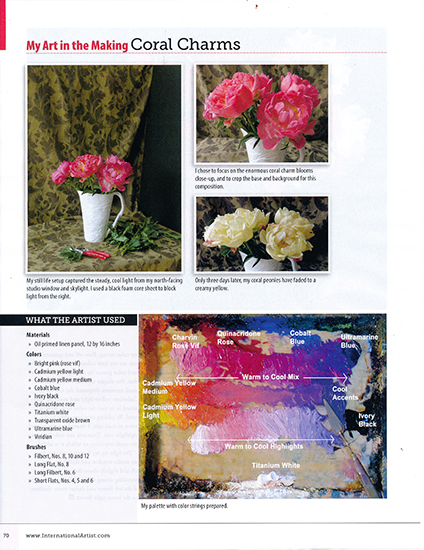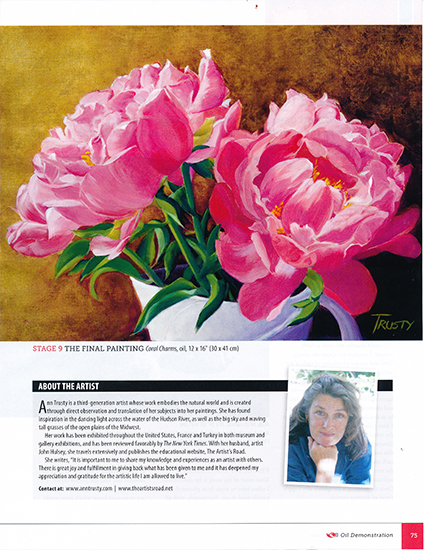 Sample Pages from the Article, "Directly from Life".

New Member Content This Month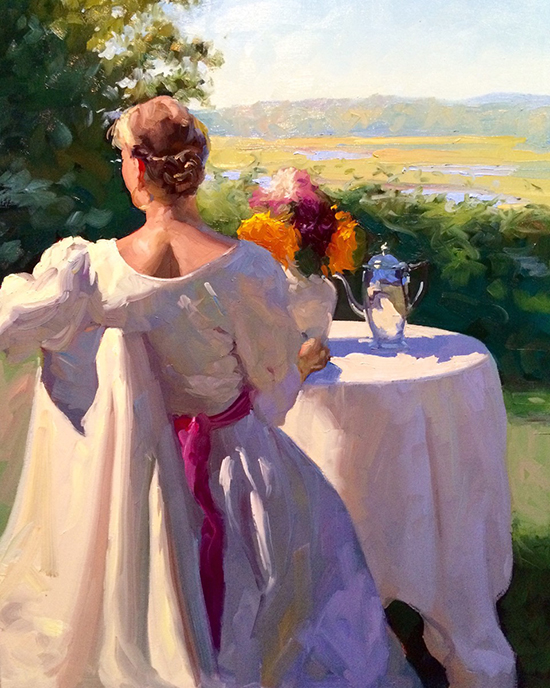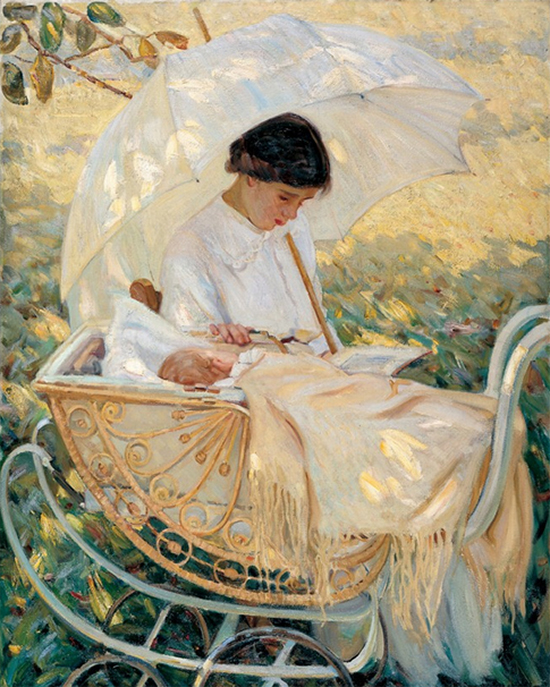 Voice of Experience:
Discovering the
Dennis Perrin
Women Impressionists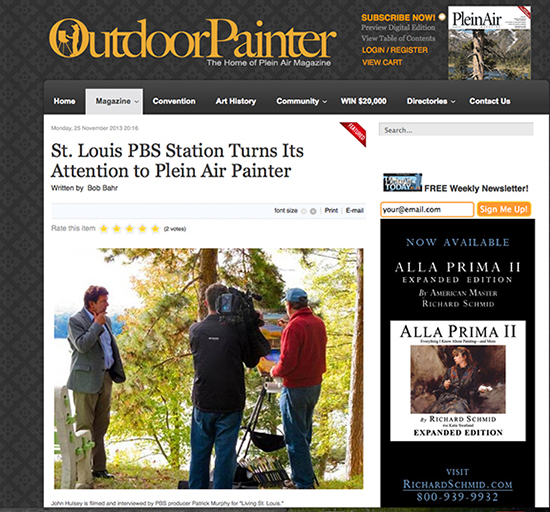 Page from the recent interview by Bob Bahr of
The Artist's Road co-founder John Hulsey

in Outdoor Painter (Plein Air Magazine). John shared with Bob his experiences this fall
being filmed by PBS St. Louis while he demonstrated

plein air paintiing high above the Mississippi River near Alton, Illinois.
Click HERE to watch the plein air video demonstration.
"I consider my membership one of the best investments I have ever made.
I LOVE it!!!"
-
Joanne K.
"I love your Artist's Road site better than ANY other fine art site I have ever seen! I especially love the education, demonstrations with various media, just so many wonderful informative articles. I thank you both for making it so interesting, allowing us to be more creative."

- Diane S.

The Philosopher's Camp

Perspectives No. 253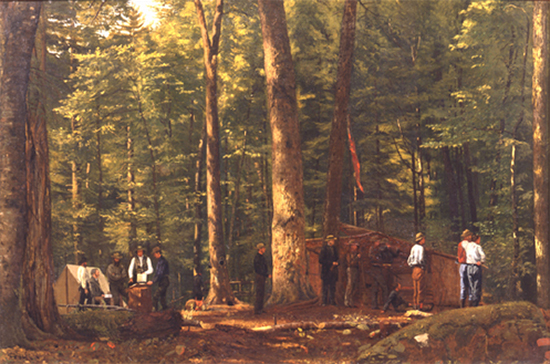 The Philosopher's Camp 1858 William James Stillman

A

now famous journey was undertaken in 1858 by a group of ten men to a place called Follensby Pond in the Adirondacks. These men, from Boston and Cambridge, Massachusetts constructed a primitive lodge from materials they found. The place became known as The Philosopher's Camp.
Most well known among the adventurers was poet, Ralph Waldo Emerson. Accompanying him was another poet, James Russell Lowell, two doctors, two scientists, two lawyers, the younger brother of writer Oliver Wendell Holmes, and an artist, William James Stillman.
Stillman organized the trip, as he had explored the region on many painting trips. As the only artist member, he has left us with a visual record of what has become a significant gathering of some of the most famous thinkers of the time. At the time the trip was organized, the area was still difficult to access, requiring days of extensive preparations and travel by train, wagon and boat. The trip incited interest in the Adirondacks as it became publicized in newspaper accounts across the country.
Although each member of the group held his own distinct views, all seemed to share a common attitude of deep respect for the beauty of nature and its importance in artistic and intellectual creativity and inspiration.
When William James Stillman returned to the camp twenty-six years later, he found it developed and commercialized. The disfigurement fueled conservationists to begin the fight to establish the Adirondack Park in 1892. Follensby Pond is now protected by the Nature Conservancy.
James Schlett has written a new book, A Not Too Greatly Changed Eden: The Story of the Philosophers' Camp in the Adirondacks
,
which tells the story of the famous gathering.
Emerson wrote a poem about the trip titled "The Adirondacs - a Journal Dedicated to My Fellow Travellers" in August, 1858. You can read it in its entirety by clicking here.

"Thanks for The Artist's Road, a constant source of inspiration." -

Marilyn N.


"This is an amazing site. I am such a beginner, you inspire me."

- Chris R.
"You guys are an inspiration. An inspiration to old artists, young artists,
and far more importantly, people of all ages . . . " - Ken B.


Copyright Hulsey Trusty Designs, L.L.C. (except where noted). All rights reserved. No portion of this website may be copied in any manner for use other than by the subscriber without permission from the publisher.
Become an Artist's Road Member Today!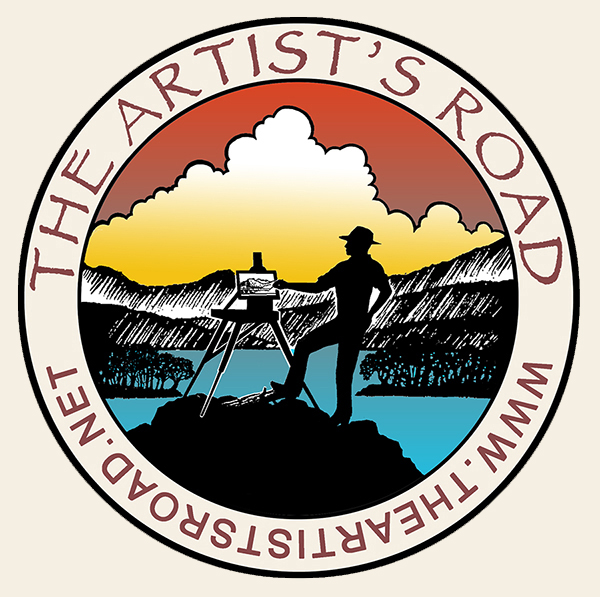 Click here to become a Member and enjoy access to all the in-depth painting and travel articles, videos and tutorials. Guaranteed!

Already a Member?
Log in here. To renew your membership, log in and follow the links.
The Artist's Road Store
This ultra-light handy tool fits most easels (maximum leg thickness just under 1.25"), and creates a great platform for your palette. We keep one in every painting kit.

Also in our Store: check out our tips and guides for the artist/traveler, and some of the tools and other products that we use in our own art and travels. We only offer things for sale in our Store that we enthusiastically believe in.

The Artist's Road School
About Us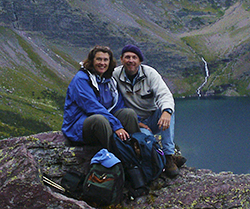 We are artists, authors and teachers with over 35 years of experience in painting the world's beautiful places. We created The Artist's Road in order to share our knowledge and experiences with you, and create a community of like-minded individuals. You can learn more about us and see our original paintings by clicking on the links below.

About Ann
About John
Hulsey Trusty Studios
We are also regular contributors to the Plein Air blog at Artist Daily.