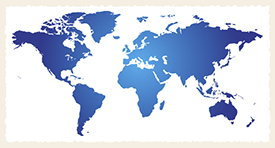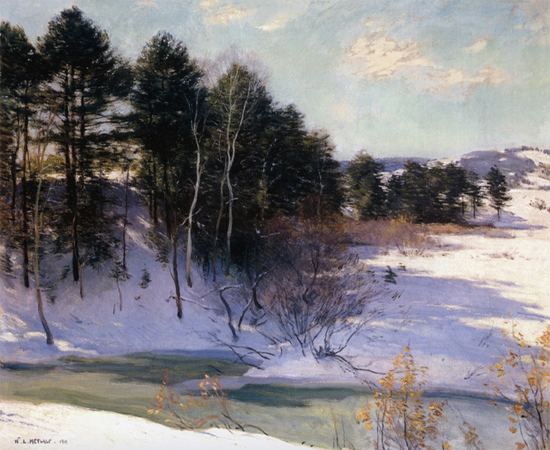 Thawing Brook 1911 Willard Metcalf
We all learn from each other.
Discover what top artists like Albert Handell, Marc Hansen, Kathy Anderson, James Gurney, Howard Friedland, Peter Fiore and many more have to say about their work and lives as artists in our regular


Voices of Experience

feature by subscribing now.
H

aving spent a lifetime exploring and finding purpose and fulfillment through art, we decided to build this art and painting website to share what we have learned and to inspire others in their creative lives.
Much of the important content (over 500 articles) you'll find here is instructional - the steps to making paintings in oil, pastel or watercolor -

often illustrated by v

ideos

, slide shows and Step-by-Step demonstrations.

As a member, each month you'll receive a new in-depth educational or art travel article along with a new, illustrated Voices of Experience interview with a top-flight artist. Enjoy the free content.

We believe that you will find value and inspiration in it. If you do, please consider joining as a member now to access all the members-only in-depth articles and to add your valuable support to

this important effort. And don't forget,

members receive discounts

on all the useful products, downloads, books and many live workshops in our Store.


B
ecome a

Member

of The Artist's Road Now.



Click

Click
We believe that more artists in the world is a good thing for everyone.
"Together, John and Ann have decades of experience to share in watercolor, pastel, and oil painting, and they are some of the savviest, committed plein-air painters I've come across. Their expertise makes The Artist's Road a one-of-a-kind resource and Artist Daily is lucky to have them as contributing writers to our Plein Air blo
g".

Courtney Jordan, Editor, Artist Daily

New Member Content This Month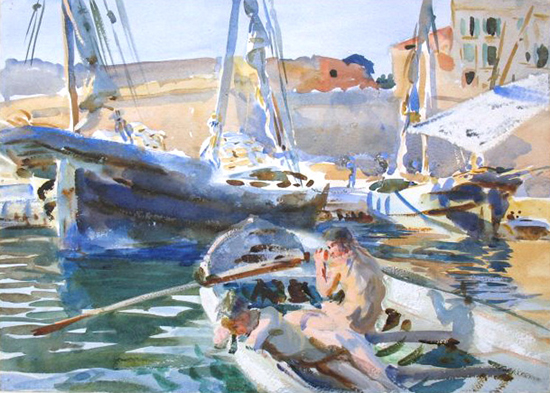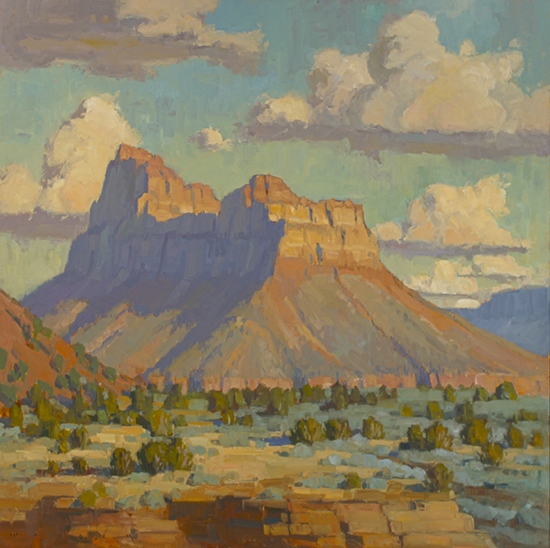 The Elegance and Power
Voices of Experience:
of Middle Values by David Rankin
Jim Wodark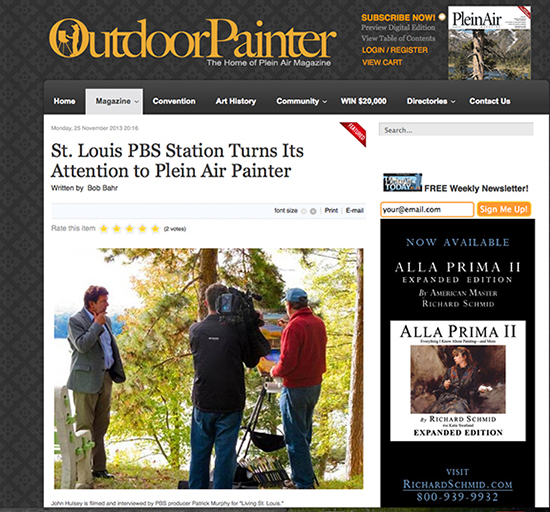 Page from the recent interview by Bob Bahr of
The Artist's Road co-founder John Hulsey

in Outdoor Painter (Plein Air Magazine). John shared with Bob his experiences this fall
being filmed by PBS St. Louis while he demonstrated

plein air paintiing high above the Mississippi River near Alton, Illinois.
Click HERE to watch the plein air video demonstration.
"I consider my membership one of the best investments I have ever made.
I LOVE it!!!"
-
Joanne K.
"I love your Artist's Road site better than ANY other fine art site I have ever seen! I especially love the education, demonstrations with various media, just so many wonderful informative articles. I thank you both for making it so interesting, allowing us to be more creative."

- Diane S.


Here is an example of one of our free "Perspectives" email postcards -

Glowing Embers

Perspectives No. 259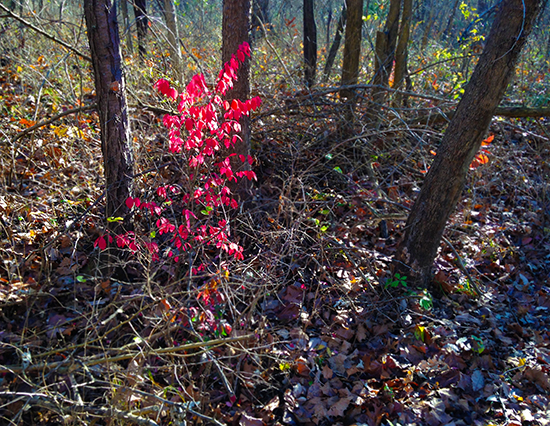 Photograph of Euonymus Alatus Monstrosa in the Forest © J. Hulsey

What is it about this time of year which can send us into a creative tailspin? Yes, the sunlight has diminished in hours and intensity, and that can account for part of the mood changes, no question. But, as we were walking through the bare forest and fields this morning, it occurred to us that it can also be caused by the riot of fall colors we just enjoyed. Painting in the light of those blazing days made for an easy glory on canvas or paper. Now that it is over, we feel kind of like the morning after a really sensational party, stumbling around in the wreckage and dazed by the cornucopia we just consumed. We are suffering from a visual hangover, and it takes some getting used to.

This is the part of the year which makes us draw deeply on our inner resources and sense of purpose as artists, and that in itself is a good thing to revisit every once in awhile. Having to really search hard for compelling subject matter in a landscape devoid of entertaining mountains, oceans, soaring cliffs or pristine alpine lakes sharpens the eye and broadens the spirit. Each one of us owns a landscape nearby, wherever we live. The best subject for any artist to explore is the one closest at hand. Delve deep into the commonplace and you will be rewarded with a jewel that belongs only to you. This is how artists differentiate themselves and forge reputations as individuals. What is it that uniquely moves us? Trust in that and look no further.

Today, we found that our burning bushes (euonymous alatus monstrosa) had been seeded by birds across our property and the neighbor's. As we walked through the naked forest, we were delighted and inspired to find little spots of bright red and orange leaves shining in the early morning sunlight. They are distributed randomly, but perfectly, along our way like little necklaces and crowns of color against the amber and brown leaves. And, each year they will get larger and create a new subject to paint, just when we need it. It is not a big thing, but it reminds us that we need not feel that winter's hand is heavy upon our shoulders. Nature also has a light touch and that alone should inspire the explorer in all of us.

"Thanks for The Artist's Road, a constant source of inspiration." -

Marilyn N.


"This is an amazing site. I am such a beginner, you inspire me."

- Chris R.
"You guys are an inspiration. An inspiration to old artists, young artists,
and far more importantly, people of all ages . . . " - Ken B.


Copyright Hulsey Trusty Designs, L.L.C. (except where noted). All rights reserved. No portion of this website may be copied in any manner for use other than by the subscriber without permission from the publisher.
Become an Artist's Road Member Today!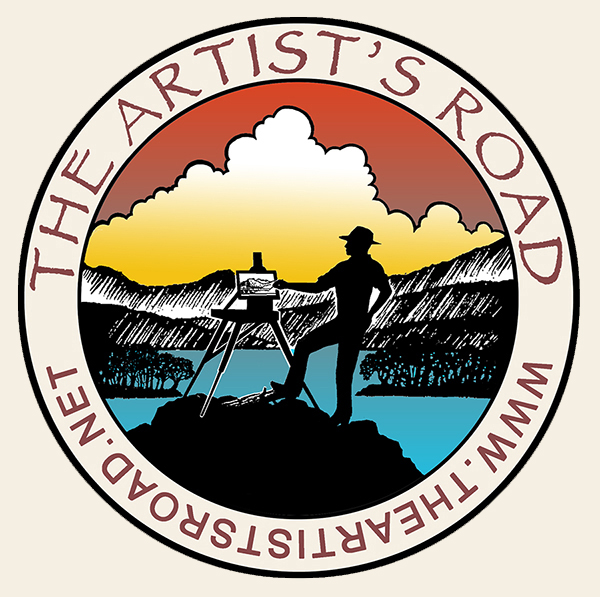 Click here to become a Member and enjoy access to all the in-depth painting and travel articles, videos and tutorials. Guaranteed!

Already a Member?
Log in here. To renew your membership, log in and follow the links.
The Artist's Road Store
This ultra-light handy tool fits most easels (maximum leg thickness just under 1.25"), and creates a great platform for your palette. We keep one in every painting kit.

Also in our Store: check out our tips and guides for the artist/traveler, and some of the tools and other products that we use in our own art and travels. We only offer things for sale in our Store that we enthusiastically believe in.

The Artist's Road School
About Us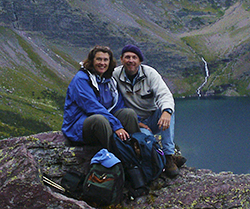 We are artists, authors and teachers with over 35 years of experience in painting the world's beautiful places. We created The Artist's Road in order to share our knowledge and experiences with you, and create a community of like-minded individuals. You can learn more about us and see our original paintings by clicking on the links below.

About Ann
About John
Hulsey Trusty Studios
We are also regular contributors to the Plein Air blog at Artist Daily.