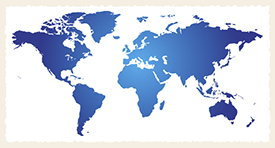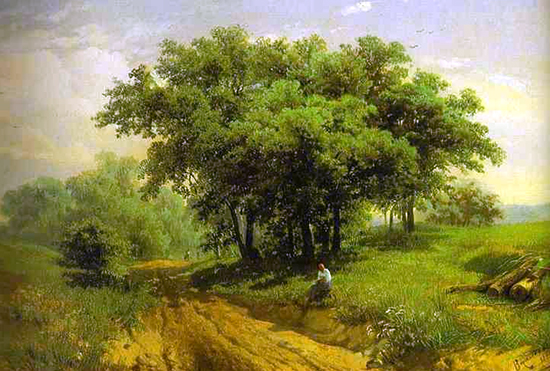 Summer Hot Day (cropped) 1869 Fyodor Vasilyev
We all learn from each other.
Discover what top artists like Albert Handell, Marc Hansen, Kathy Anderson, James Gurney, Howard Friedland, Peter Fiore and many more have to say about their work and lives as artists in our regular


Voices of Experience

feature by subscribing now.
H

aving spent a lifetime exploring and finding purpose and fulfillment through art, we decided to build this art and painting website to share what we have learned and to inspire others in their creative lives.
Much of the important content (over 500 articles) you'll find here is instructional - the steps to making paintings in oil, pastel or watercolor -

often illustrated by v

ideos

, slide shows and Step-by-Step demonstrations.

As a member, each month you'll receive a new in-depth educational or art travel article along with a new, illustrated Voices of Experience interview with a top-flight artist. Enjoy the free content.

We believe that you will find value and inspiration in it. If you do, please consider joining as a member now to access all the members-only in-depth articles and to add your valuable support to

this important effort. And don't forget,

members receive discounts

on all the useful products, downloads, books and many live workshops in our Store.


B
ecome a

Member

of The Artist's Road Now.



Click

Click
We believe that more artists in the world is a good thing for everyone.
"Together, John and Ann have decades of experience to share in watercolor, pastel, and oil painting, and they are some of the savviest, committed plein-air painters I've come across. Their expertise makes The Artist's Road a one-of-a-kind resource and Artist Daily is lucky to have them as contributing writers to our Plein Air blo
g".

Courtney Jordan, Editor, Artist Daily

Workshops

2015:

September 13 thru 19, SKB Foundation - Dubois Wyoming. September.
Click here for more information.

Sold Out!
2016:
May 1 - 7,

Domaine du Haut Baran in Southwest France.
Click here for more information.
SKB Foundation - Dubois Wyoming. September.


New Member Content This Month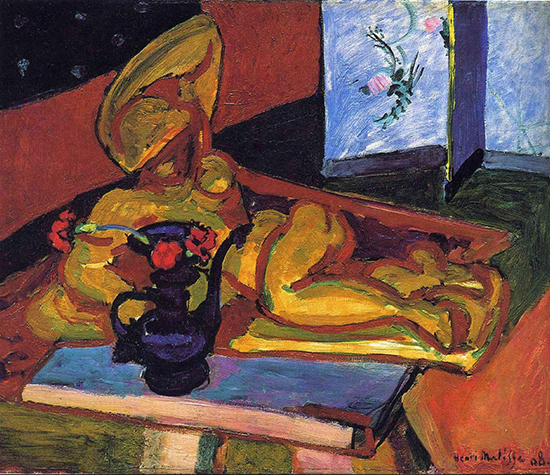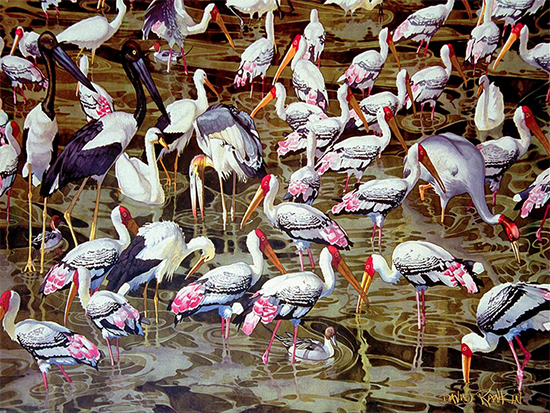 How to Turn Your 2-D Dreams
Voices of Experience:
into 3-D Sculpture
David Rankin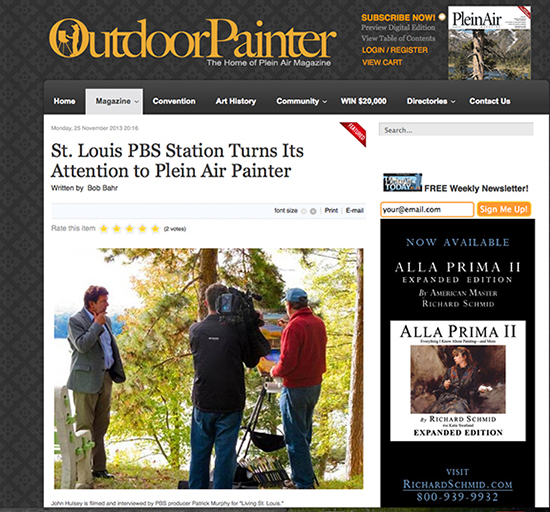 Page from the recent interview by Bob Bahr of
The Artist's Road co-founder John Hulsey

in Outdoor Painter (Plein Air Magazine). John shared with Bob his experiences this fall
being filmed by PBS St. Louis while he demonstrated

plein air paintiing high above the Mississippi River near Alton, Illinois.
Click HERE to watch the plein air video demonstration.
"I consider my membership one of the best investments I have ever made.
I LOVE it!!!"
-
Joanne K.
"I love your Artist's Road site better than ANY other fine art site I have ever seen! I especially love the education, demonstrations with various media, just so many wonderful informative articles. I thank you both for making it so interesting, allowing us to be more creative."

- Diane S.

To Catch a Thief

Perspectives No. 243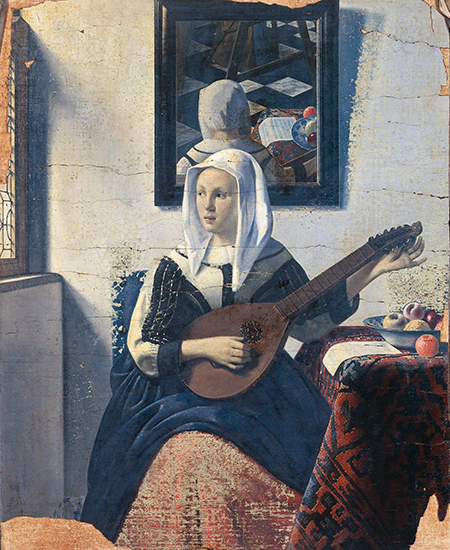 Woman Playing the Lute ca. 1933 Han van Meegeren (a Vermeer forgery)

T

he more we learn about art forgeries past and present, the more we understand that the business of making forgeries of paintings by sought-after artists has probably been with us since the market for paintings began. Art forgers must be very knowledgeable, talented and hard-working to succeed at their deceptive craft. One might wonder why they do it - many of them could make a good living as legitimate painters, hands down. Perhaps it is the thrill of fooling everyone, or maybe a smug sense of superiority or disdain for the ignorance of the buyers. Investigators have a tough job in detecting the frauds created by the cleverest forgers, but new technologies are helping. Forgeries have now been discovered in reputable museums and galleries all over the world: "...in some places, such as Russia, it is estimated that more than half of all artworks on the market are fakes." (from The Brilliant History of Color in Art
by Victoria Finlay.)
One of the greatest forensic tools investigators have at their disposal is the pigment itself. The availability and use of pigments has changed over the centuries and knowledge of the chronological histories of color developments is essential to the investigation process. Forgers often find old canvasses and scrape them down to paint their "new discoveries" on, making sure to recreate the craquelure of old paint. On the surface, they look genuine. However, if the forger fails to use exactly the proper pigments of the era, prepared in the traditional manner by hand, chemical analysis will show up the fake.
Victoria Finlay's book is an entertaining collection of stories all centered around specific pigments. The story of cobalt blue involves a famous forgery.
An Amsterdam art dealer, Han van Meegeren sold an "undiscovered" Vermeer to Nazi Reichsmarschall Hermann Goering in 1943. Goering was led to believe that it was an extremely valuable painting by the great 17th-century artist. Unknown to Goering, van Meegeren had been forging Pieter de Hooches and Vermeers for some time and had become very wealthy as a result. Unfortunately for van Meegeren, at the end of the war he was arrested for collaborating with the Nazis by selling them Dutch art. Now he had to prove that his Vermeer was a fake and that he had deliberately tricked Goering into buying it! No one believed that he could create such a perfect fake and they even locked him in a room and made him paint another. But even that wasn't good enough to get him released.
What finally proved him innocent of collaboration, but guilty of forgery, was one of the pigments he used. Van Meegeren was well informed about which pigments were in use in which centuries and he was careful to purchase what he thought was the purest Afghan ultramarine for the painting. Fortunately for him, the man who sold the ultramarine to him was a bit of a crook himself and had cut it with the cheaper cobalt blue, a pigment which had not been available as paint until 1802. When the investigators discovered cobalt in the paint layers, they realized at once that the painting could not have been made in the 1660s. This single piece of evidence spared van Meegeren the death penalty.
To read more of the fascinating story of the color cobalt, see Getting Blue - Perspectives No. 59.

It's easy and inexpensive to join
our large and growing community of talented artists.
Click

Click
Get on The Artist's Road
today!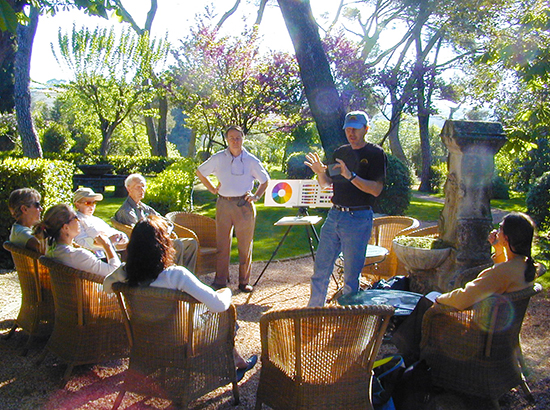 John Teaching in Provence, France
F

ew educational experiences can beat watching a professional at work for quick learning. If you are a beginner, John will show you how to get started the right way. Or, if you are an experienced painter and want to take your skills up to a new level, then this is the learning experience for you. You will be able to soak up
valuable technical advice and pointers while

watching John create a demonstration painting each morning. In the afternoons, learn the secrets of the pros first-hand
, as John gives you the kind of individual advice that not only can make your painting stronger, but cuts your learning curve in half. C
onsider enrolling in one of our painting workshops today.


Click here to see our current workshop schedule.
"Thanks for The Artist's Road, a constant source of inspiration." -

Marilyn N.


"This is an amazing site. I am such a beginner, you inspire me."

- Chris R.
"You guys are an inspiration. An inspiration to old artists, young artists,
and far more importantly, people of all ages . . . " - Ken B.


Copyright Hulsey Trusty Designs, L.L.C. (except where noted). All rights reserved. No portion of this website may be copied in any manner for use other than by the subscriber without permission from the publisher.
Become an Artist's Road Member Today!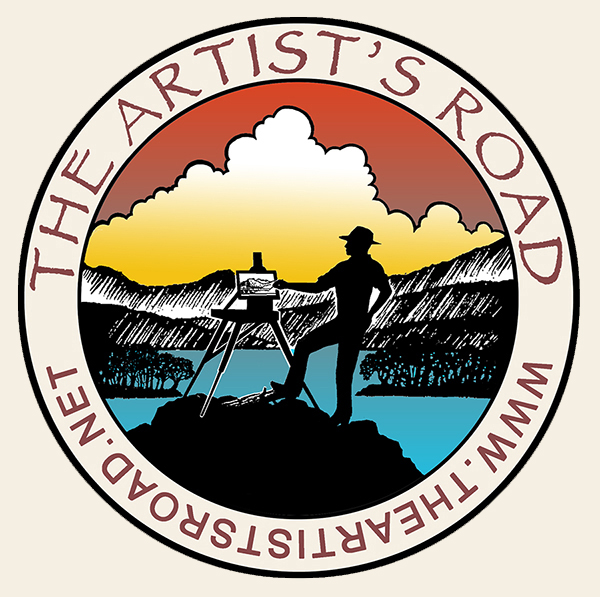 Click here to become a Member and enjoy access to all the in-depth painting and travel articles, videos and tutorials. Guaranteed!

Already a Member?
Log in here. To renew your membership, log in and follow the links.
The Artist's Road Store
This ultra-light handy tool fits most easels (maximum leg thickness just under 1.25"), and creates a great platform for your palette. We keep one in every painting kit.

Also in our Store: check out our tips and guides for the artist/traveler, and some of the tools and other products that we use in our own art and travels. We only offer things for sale in our Store that we enthusiastically believe in.

The Artist's Road School
About Us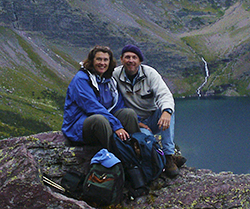 We are artists, authors and teachers with over 35 years of experience in painting the world's beautiful places. We created The Artist's Road in order to share our knowledge and experiences with you, and create a community of like-minded individuals. You can learn more about us and see our original paintings by clicking on the links below.

About Ann
About John
Hulsey Trusty Studios
We are also regular contributors to the Plein Air blog at Artist Daily.