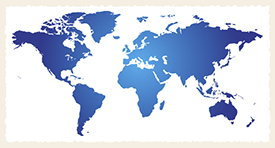 Welcome to The Artist's Road
A home for creative people with a passion for ART and TRAVEL.
H

aving spent a lifetime exploring and finding purpose, meaning and fulfillment through art, we decided to build this website to

share what we have learned

and to

inspire others

in their creative lives.
Some of the important content you'll find here is

instructional

- the steps to making paintings in

oil, pastel or watercolor

. But just as important are the

stories of the experiences and adventures

we have had in nearly 40 years of making our way along the Artist's Road, in the

U.S. and

abroad.

Enjoy the free content.

It is our hope that you will find value and inspiration in it. If you do, please consider joining as a member in order to

access all the members-only in-depth articles

and to add your valuable support to

this important effort.
We believe that more artists in the world is a good thing for everyone.
To become a Member of The Artist's Road, Go here
Now.
"Together, John and Ann have decades of experience to share in watercolor, pastel, and oil painting, and they are some of the savviest, committed plein-air painters I've come across. Their expertise makes The Artist's Road a one-of-a-kind resource and Artist Daily is lucky to have them as contributing writers to our Plein Air blo
g".
Courtney Jordan, Editor, Artist Daily

EXCITING NEW PROGRAM!
The Artist's Road Announces New Personalized Online Mentoring Course

"W

e developed this watercolor course to serve those wishing to have the one-on-one learning experience available to our workshop students, but without the expense or scheduling headaches of travel to distant locations. Building upon the essential information we included in

The Field Guide to Plein Air Painting in Watercolor,

this monthly course allows you to proceed at your own pace, taking up to three weeks to complete each section.

"


Perfect for those who have busy schedules.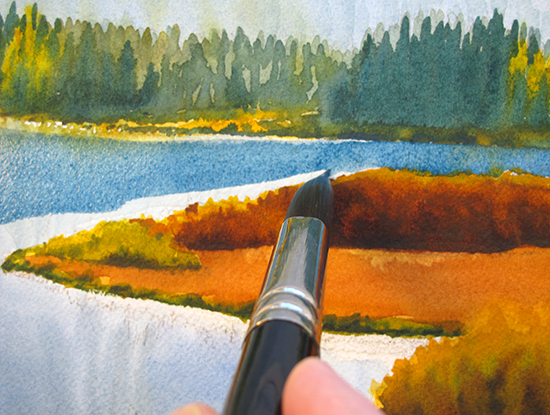 Now you can learn to paint professional watercolors at home and receive

personalized critiques and discussion

with us as you progress. Our teaching program guides you with step-by-step demonstrations

as you paint along with us.

Each month's demonstration is followed by a simple assignment that you complete, using the new skills and techniques just learned. We film a

video critique

of your work at the end of each month and offer helpful demonstrations and guidance so that you

learn quickly and have fun

doing it. Course registration includes a

free copy

of the Field Guide! Find Out More Here.


New Member Content This Month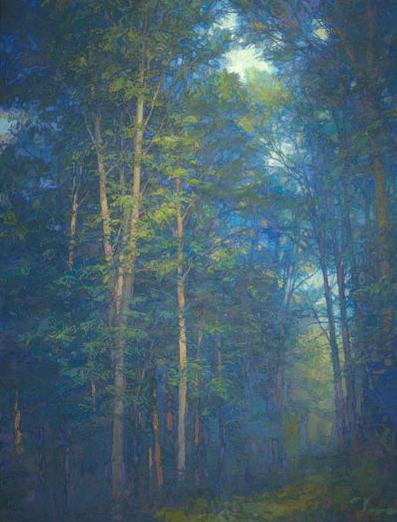 It's Not Easy Seeing Green:
12 Artists Share
Their Favorites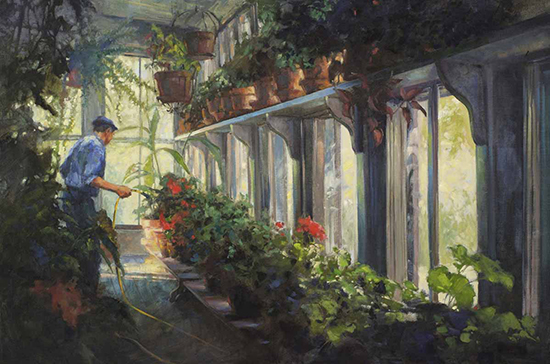 Enjoy this week's free Artist's Road Perspectives


Point of View
Perspectives No. 133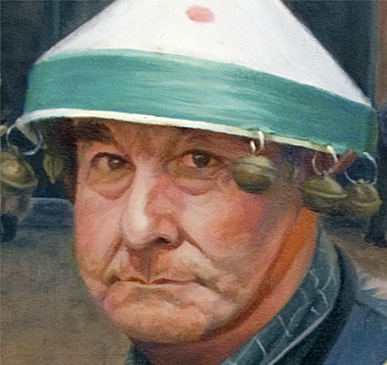 The Street Musician, Venice (detail) 40 x 30" Oil
W

e have been enjoying the book The Artist's Eyes: Vision and the History of Art
, by ophthalmologists Michael Marmor and James G. Ravine. One of our favorites among the many fascinating subjects they cover, is the eerie phenomenon or illusion in some portraits that the subject's eyes follow you no matter where you stand in the room. The eyes in the image above are from a portrait John painted, The Street Musician, Venice. Visitors to the studio often remark that the figure seems to follow them around the room. There was no plan or intention to create this effect. It just comes with painting any figure with a fixed gaze looking at the viewer. Because the portrait is a flat two-dimensional representation, it cannot change in perspective as we move around it. The directional cues are fixed and so it must always gaze at us. This phenomenon has often been referred to as "life-like", but of course, it is anything but that. A portrait of a person looking slightly off-center will never look at us, no matter where we move. A live model staring straight ahead or even a three dimensional portrait, as in a sculpture, do not appear to follow us with their eyes, because as we move around, our point of view changes and so do all the visual cues. We see less of the iris and more of the white as we move sideways. This gives us the sense that the object before us has three-dimensional form and occupies that space. A flat painting can never be as life-like as a three-dimensional object.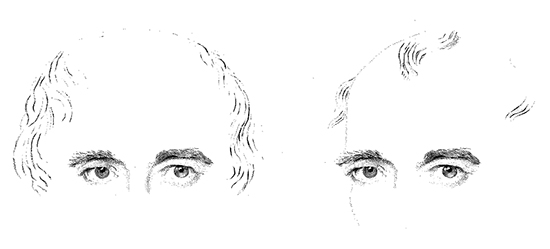 W. H. Wollaston On the Apparent Direction of Eyes in a Portrait

This eye-following effect is nothing new and was noticed early on by the ancient Greeks and Romans. In 1824, William Hyde Wollaston published a series of plates where he illustrated this phenomenon as part of a larger treatise on the complexity of facial perception and linear perspective. Wollaston went much further than the fixed gaze effect to show that the same set of eyes, set in faces with different directional cues, would magically appear to change the direction of the gaze! The picture above is from Wollaston's work and illustrates how those cues - nose direction, forehead/hair relationship, change our perception of where the gaze is looking. Wollaston demonstrated that our judgement of where a subject's eyes are looking is linked to the direction that we believe them to be looking. Thus we are employing our psychological expectations along with the visual cues to interpret the subject. This is a fun exercise to try at home. Paint a pair of realistic eyes - your own, perhaps, on a canvas, hang it on the wall, and wait for the comments from your friends and family. Then add a bit of nose facing left or right and see what happens. Who says art shouldn't also be fun?
If you are not already a member, won't you consider joining us? We know that you will find the information at our place informative, useful and interesting. Guaranteed. And remember, members enjoy a healthy discount on all of our workshop adventures. Just go here now to join our community and get the benefits of being on The Artist's Road today.
Want to know more about The Artist's Road?
Simply sign up to receive our free weekly email postcard Perspectives, in the right-hand column. Each week Perspectives brings you interesting and informative new insights into the world of painting and art.

Click Here for Our 2013
Painting Workshop Schedule
(More workshops will be added as they are scheduled.)
"Thanks for The Artist's Road, a constant source of inspiration." - Marilyn N.


"This is an amazing site. I am such a beginner, you inspire me." - Chris R.


"You guys are an inspiration. An inspiration to old artists, young artists, and far more importantly, people of all ages . . . " - Ken B.

"I love your Artist's Road site better than ANY other fine art site I have ever seen! I especially love the education, demonstrations with various media, just so many wonderful informative articles. I thank you both for making it so interesting, allowing us to be more creative." - Diane S.

Copyright Hulsey Trusty Designs, L.L.C. (except where noted). All rights reserved. No portion of this website may be copied in any manner for use other than by the subscriber without permission from the publisher.
Become an Artist's Road Member Today!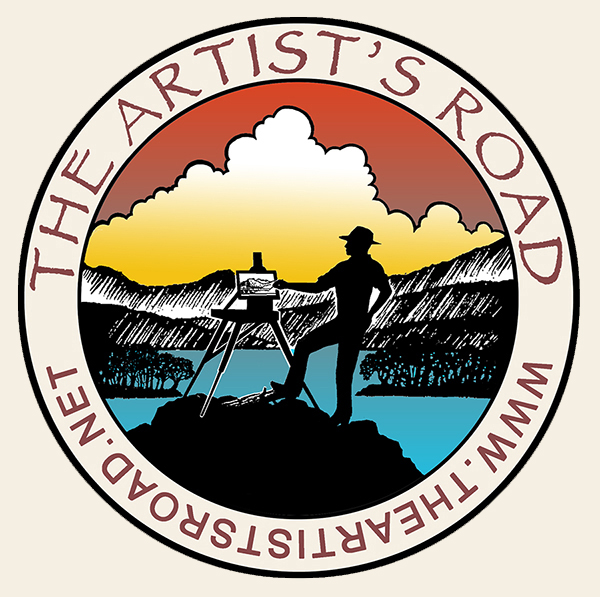 Click here to become a Member of The Artist's Road and enjoy access to all the in-depth articles.
Already a Member?
Log in here. To renew your membership, log in and follow the links.

Not ready to become a Member yet? Subscribe to our free email postcard "Perspectives". Enter your email address below.
The Artist's Road School
The Artist's Road Store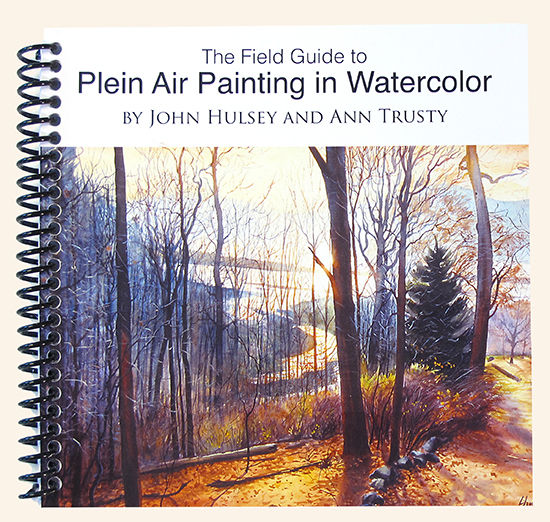 NEW!
Just out - our
latest
eBook
, The Field Guide to Plein Air Painting in Watercolor.
52-pages, illustrated in color and b+w. This informative instructional manual breaks down the essentials of watercolor technique in step-by-step demonstrations.
Also in our Store
: check out our
tips and guides for the artist/traveler, and some of the tools and other products that we use in our own art and travels. We only offer things for sale in our Store that we
enthusiastically believe in.
About Us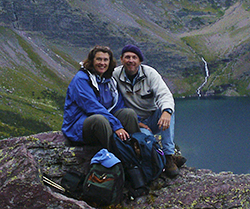 We are artists, authors and teachers with over 35 years of experience in painting the world's beautiful places. We created The Artist's Road in order to share our knowledge and experiences with you, and create a community of like-minded individuals. You can learn more about us and see our original paintings by clicking on the links below.

About Ann
About John
Hulsey Trusty Studios
We are also regular contributors to the Plein Air blog at Artist Daily.