Voices of Experience

Mort Solberg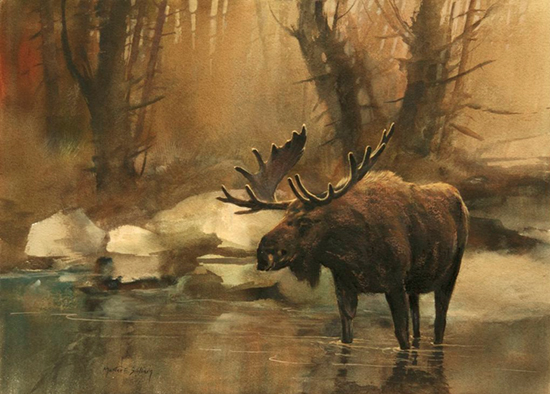 Afternoon Moose Watercolor
Mort Solberg understands that accidents can lead to wonderful paintings. He has learned throughout his artistic career how to embrace the mercurial characteristics of his primary medium of watercolor that resist the control of the artist and that can produce those "wonderful accidents". Within a wash of colors flowing together he is able to see a stream edge or a roaring waterfall. And with his very deft hand, he is able to pull out the rocks that edge the stream and add the moose lit by late afternoon sun wading in the water.

The technique requires a keen sense of timing and patience. Solberg calls it a "happy way to paint" His paintings with their sense of mystery invite the viewer's participation and interpretation. Although he also works in oil and acrylic, watercolor holds his greatest fascination.

Tarzan was his childhood hero, presaging his lifetime love of nature and wildlife. Solberg begins his paintings by creating a loose design on the paper with watercolor washes to create emotion and atmosphere. This conveys to him what the subject of the painting will be. His time spent in nature studying flora and fauna allow him to add realistic wildlife to his loose atmospheric background. He has traveled in Mexico, Canada and Africa. He creates most of his work in the studio using his outdoor time to study animals and their reactions and to take photographs for reference. "I keep painting and trying to push myself in two directions," he says. "When I'm doing the realism I'm trying to get as tight as I can. At the same time I'm trying to create atmosphere and strong design and do it in as few strokes as I can."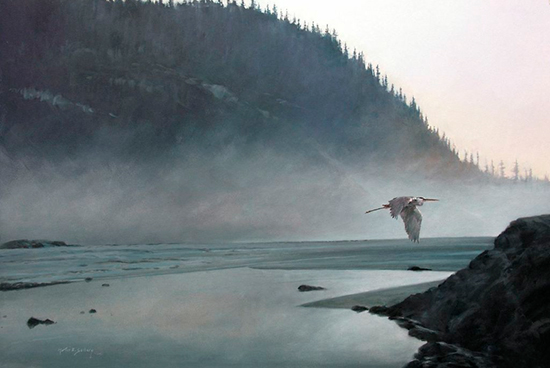 Morning Flight Watercolor
His grasp of both abstract and representational work began at West Tech High School in Cleveland, Ohio. Traditional realism was emphasized in his art classes there. He later attended the Cleveland Institute of Art, where abstract art was the focus. After finishing his studies, Solberg worked as an illustrator for magazines and advertisers. He moved to California and studied photography (developing his compositional skills), later becoming an art director for a greeting card company. During this time he developed his style of painting loose watercolor washes with realistic images of figures, landscapes and wildlife integrated into them.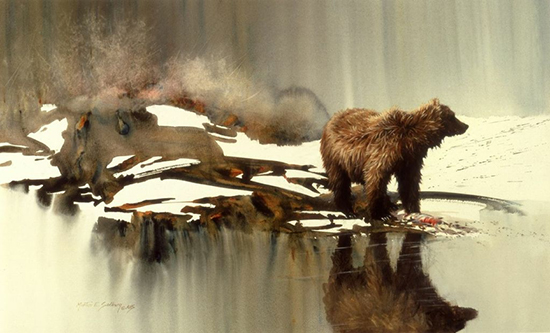 Bad Water Bear Watercolor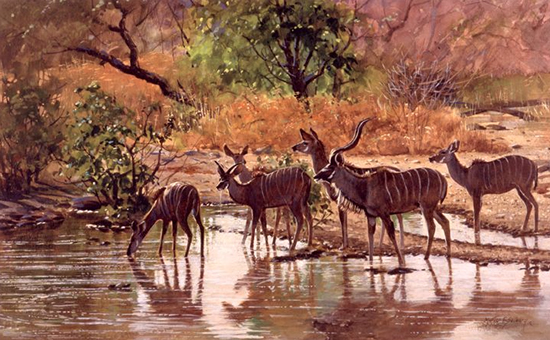 Where the Leopard Waits Watercolor
His work was brought to a larger audience beginning in 1977 when two of his paintings were published by the Greenwich Workshop in limited edition fine art prints. He became one of their most popular artists. Since then he has won numerous top awards in exhibitions including the Arts for the Parks Grand Prize of $25,000, the American Watercolor Society and the National Watercolor Society. He is a frequent juror and teacher.

Solberg believes that the role of the artist is to translate what he sees and feels about a subject in order that the viewer might also experience those feelings and senses. He says, "Good art has a beginning that captures your attention, a middle that makes you look closer and an end that leaves you with a reaction and an understanding of something that goes beyond the borders of the work of art."

Growing up, he was inspired by the works of Winslow Homer with their strong design elements. He appreciates the watercolor paintings of Andrew Wyeth—the spontaneity of lights and darks, the shapes that allow interpretation, the mysterious quality that makes the viewer rethink what he is seeing. He finds that sense of mystery also in Robert Bateman's work. He says, "I am trying to create paintings that let people interpret what they see. All we are doing when we paint is interpretation anyway."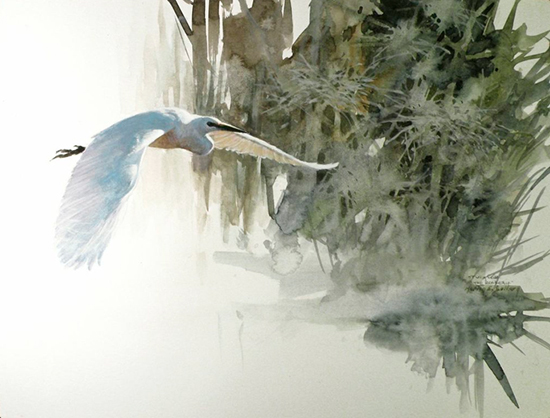 The Rookery Study Watercolor
His palette may change, but it always holds Winsor and Newton Burnt Sienna and Payne's Gray. Winsor and Newton is the only Payne's Gray he uses and he is happy to point out to students the differences in pigment between it and other brands. Winsor and Newton Payne's Gray is made from black, ultramarine blue and pthalo blue. Other brands usually do not have pthalo blue in the mix and are less lively. He says, "I can make an entire painting out of just those two colors." Other colors that he may use include Olive and other greens, Ultramarine Blue and Burnt Umber (for skies and to make whites warmer or cooler) and occasional Violets and Lavenders. He will add gouache or acrylic to a painting to get the effects he wants.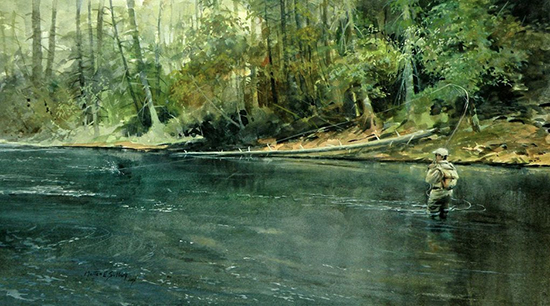 Keep a Tight Line Watercolor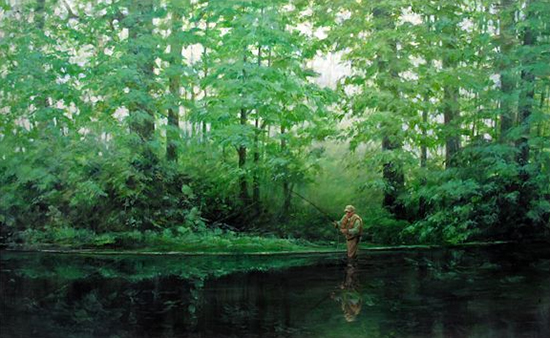 This Must Be Heaven Watercolor
Solberg feels a particular affinity for painting First Nations subjects, pulling upon the Native American side of his ancestors. When he is creating these works, he feel a sense that he is merely a conduit that the paintings are coming through. There is a strong spiritual connection happening. When he has finished a painting, he doesn't know how he painted it.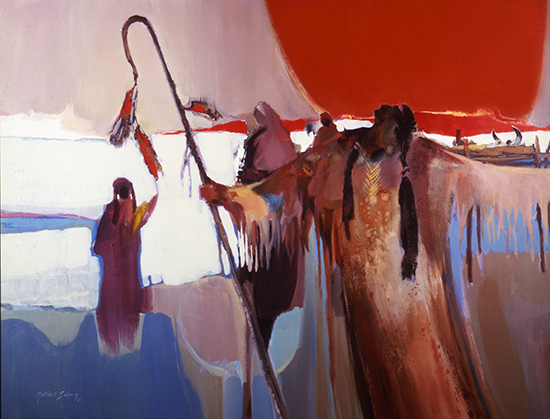 Accept My Father's Spirit Watercolor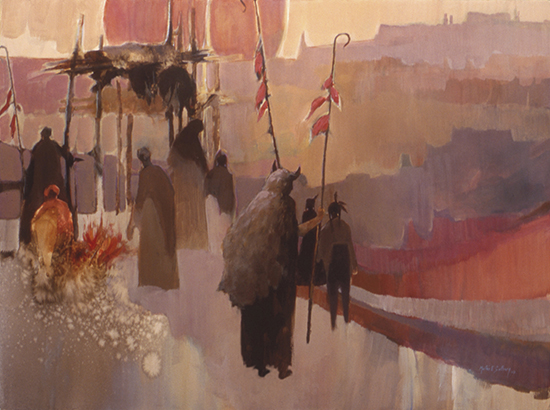 Gone to Meet the Buffalo Watercolor
Creativity has come through the generations. Another influence on his creativity came from his Norwegian grandmother (on his father's side), who worked in fiber, creating large, beautiful tapestries. Creativity continues through his three sons and three daughters.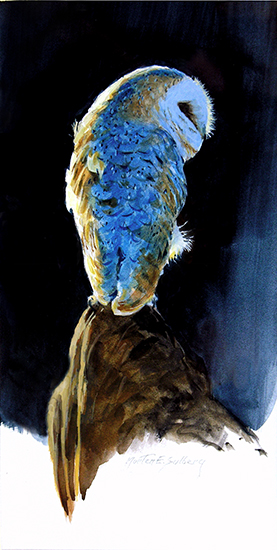 Barn Owl Study Watercolor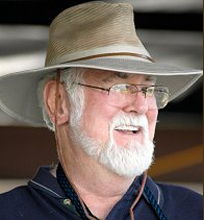 Visit Mort Solberg's website to see more of his paintings.
All artwork copyright Mort Solberg